Domestic Electrical Installation Software
May 31, 2018 - 5 minutes
Producing domestic electrical installation certificates is a crucial part of the field service professional's role. However, manually filling out certificates is inconvenient and time-consuming. Converting to digital electrical certificate software can help eliminate many of the headaches associated with the task.
Domestic electrical installation certificates are issued to confirm that electrical installation work has been designed, constructed, inspected and tested in accordance with BS 7671 (IEE Wiring Regulations). Domestic electrical installation certificates are only produced for the initial certification of a new installation, or for an addition or alteration to an existing installation where new circuits have been introduced.
Traditionally, domestic electrical installation certificates have been filled out manually in duplicate, with one copy given to the customer, and the other retained by the field service company. However, manual certificates are costly and inconvenient in all sorts of ways.
The Problem with Manual Certificates
Manual certificates normally come on thick paper pads, sometimes with a sheet of carbon paper for producing duplicates. One of the main problems with pads of forms is that they are prone to running out. It can be very frustrating to complete a job, head to the van to fill out the paperwork, only to discover that your pad is empty. Then, on top of that frustration, there is the added cost – both in money and time – of having to return to the office to pick up a fresh pad.
Manual domestic electrical installation certificates can also fail to project a professional image. The vans of field service engineers can often be disorganised and dirty, and any paperwork can quickly become dog-eared and smudged with grease. In addition, there are also issues related to spelling and grammar errors and illegible handwriting – all combining to present a less-than-stellar image for your company.
On top of this, manually produced certificates also require a significant amount of admin. Everything needs to be produced in duplicate, the copies need to be dropped off at the office, and then someone must file them – which takes up time and space. Then there's the issue of what happens when paperwork gets lost or misplaced.
The problems with manually produced domestic electrical installation certificates are myriad. However, all these issues can be addressed by switching to an effective electrical certificates software solution.
Domestic Electrical Installation Certificates Software
With a digital domestic electrical installation certificates software solution, engineers will never run out of the forms they need. All certificates are digitally accessible on any mobile device – such as a smartphone or tablet. On top of this, the certificates produced can be transmitted electronically, eliminating the need for paper completely. Paperwork cannot be lost, and there is no filing required – everything is stored alongside the customer within the software system.
And every certificate will be crisp and clean.
Going paper-free is also a great way for a field service business to reduce their impact on the environment. Paper consumption and production puts a huge strain on natural resources, so anything a company can do to minimise its use will be an important step along the road towards sustainability.
Thanks to the advances in touchscreen technology, electrical certificates software can even capture the customer's signature and apply it to the digital document. The entire purpose of a digital solution would by scuppered if it was necessary to produce a print-out to obtain a signature. Software often comes with a built-in customer database as well. This means that engineers can save time by auto-filling basic customer information directly from digital records.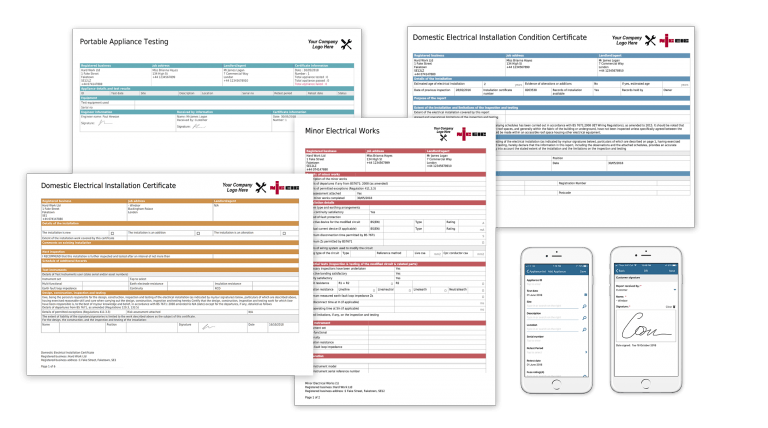 Issues with spelling, grammar, and illegible handwriting will also all be solved with digital software. Handwriting becomes a non-issue due to forms being typed, but you can also add drop-down boxes to eliminate the need to write anything. Engineers simply choose from a pre-set list of options to fill out the form. Not only will this solve any spelling or grammar issues, but it will also eliminate the problem of engineers using complicated jargon which can be confusing for customers and their non-engineer colleagues.
Final Thoughts
It's clear that filling out domestic electrical installation certificates from a pad of paper is a cumbersome, time-consuming, and inconvenient process. Dirty and damaged scraps of paper, inconvenient admin processes, poor spelling, grammar, and handwriting all conspire to put a big dent in the time, finances and professionalism of any field service business.
However, with a digital electrical certificates software solution, all these problems evaporate overnight. Cleaner, infinite, convenient, and not a single filing cabinet required, digital software is the clear domestic electrical installation certificate solution for the modern field service business.
Are You Ready to Take Your Business Up a Notch?
If you're looking for a digital solution for your business, come and see for yourself how Commusoft's electrical certificates software can empower you to meet the day-to-day demands of the modern field service environment. Join hundreds of like-minded professionals and add Commusoft's electrical certificates software to your toolbox today. Book a call today!