HVAC SOFTWARE
Transform Customer Care With Professionalism at All Stages
Whether over-the-phone, or on-site, Commusoft's all-in-one HVAC software helps HVACR businesses master their quality of service and exceed customer expectations.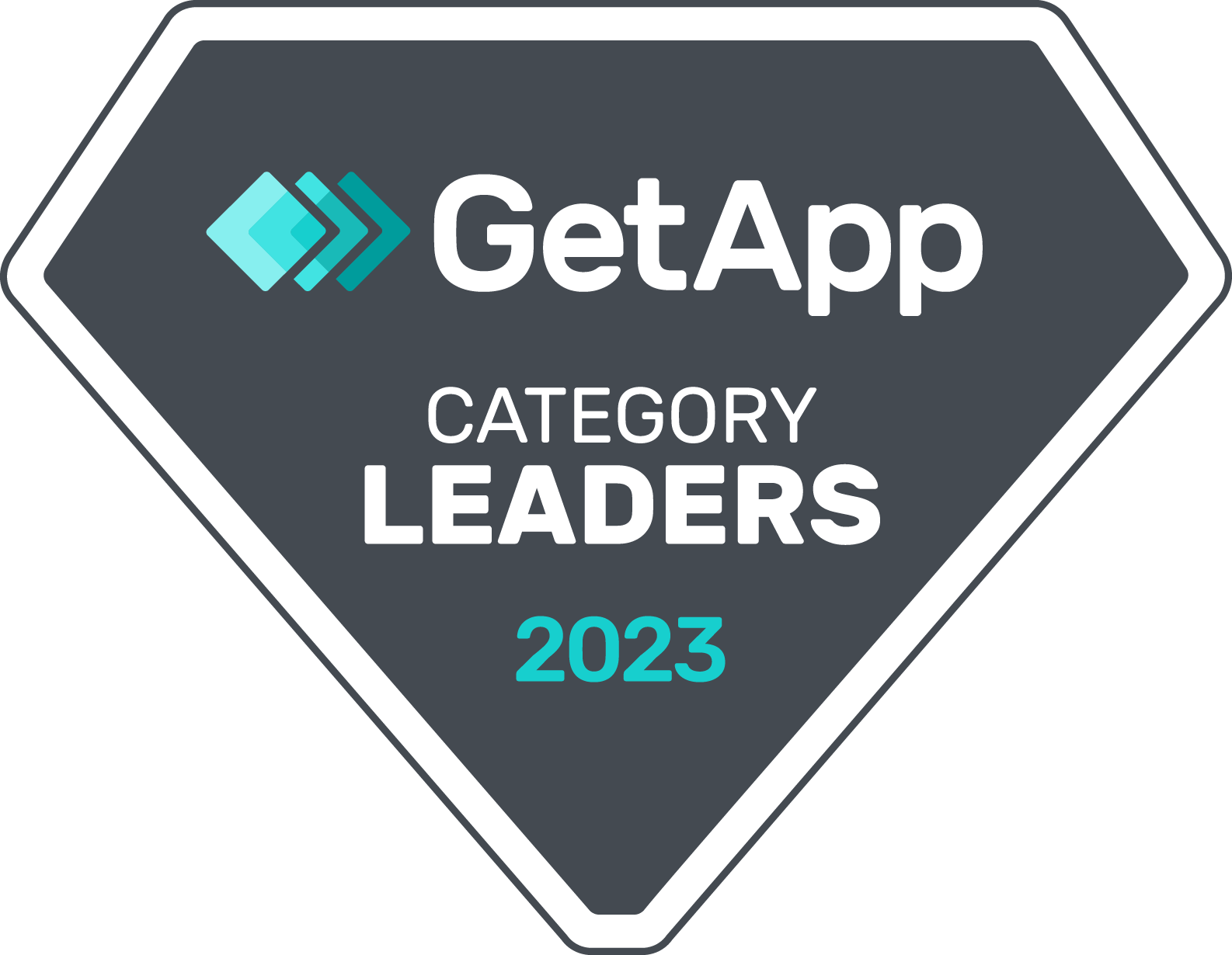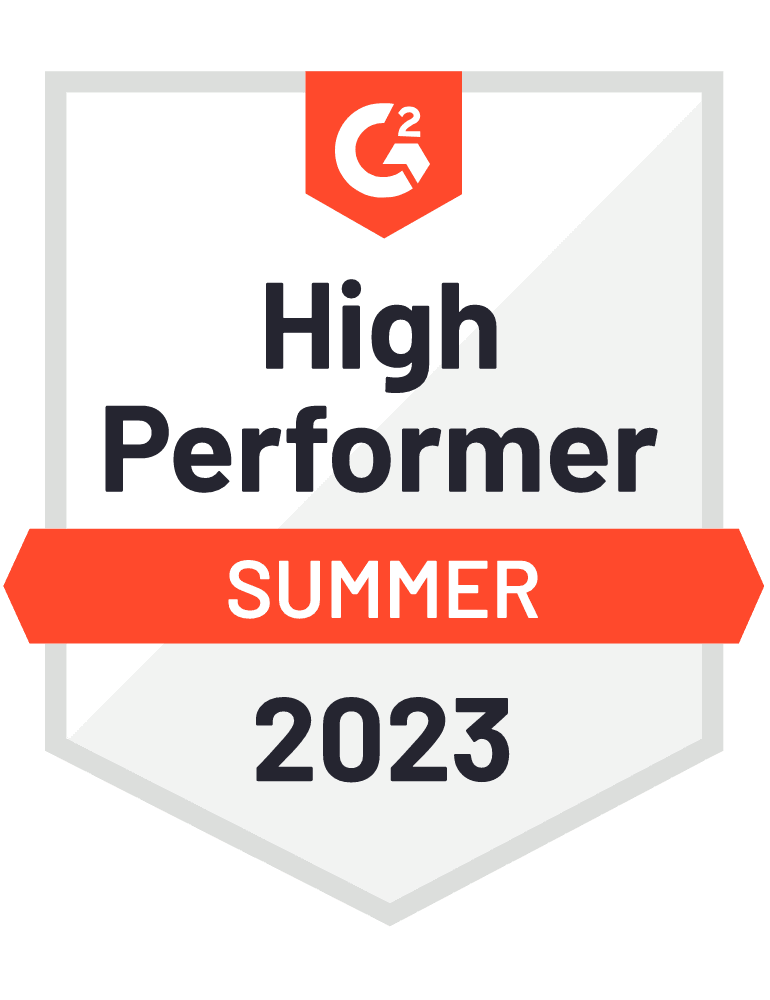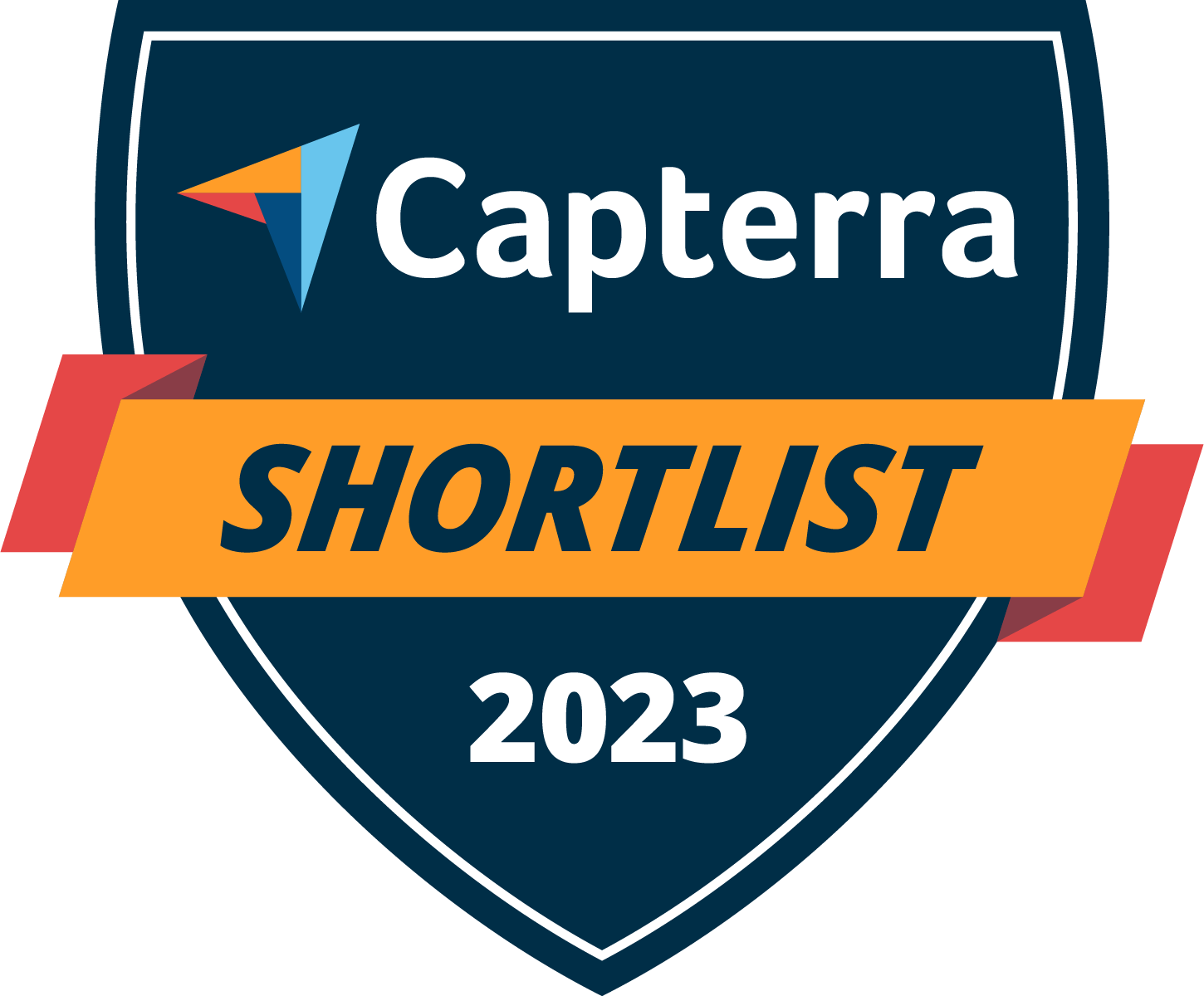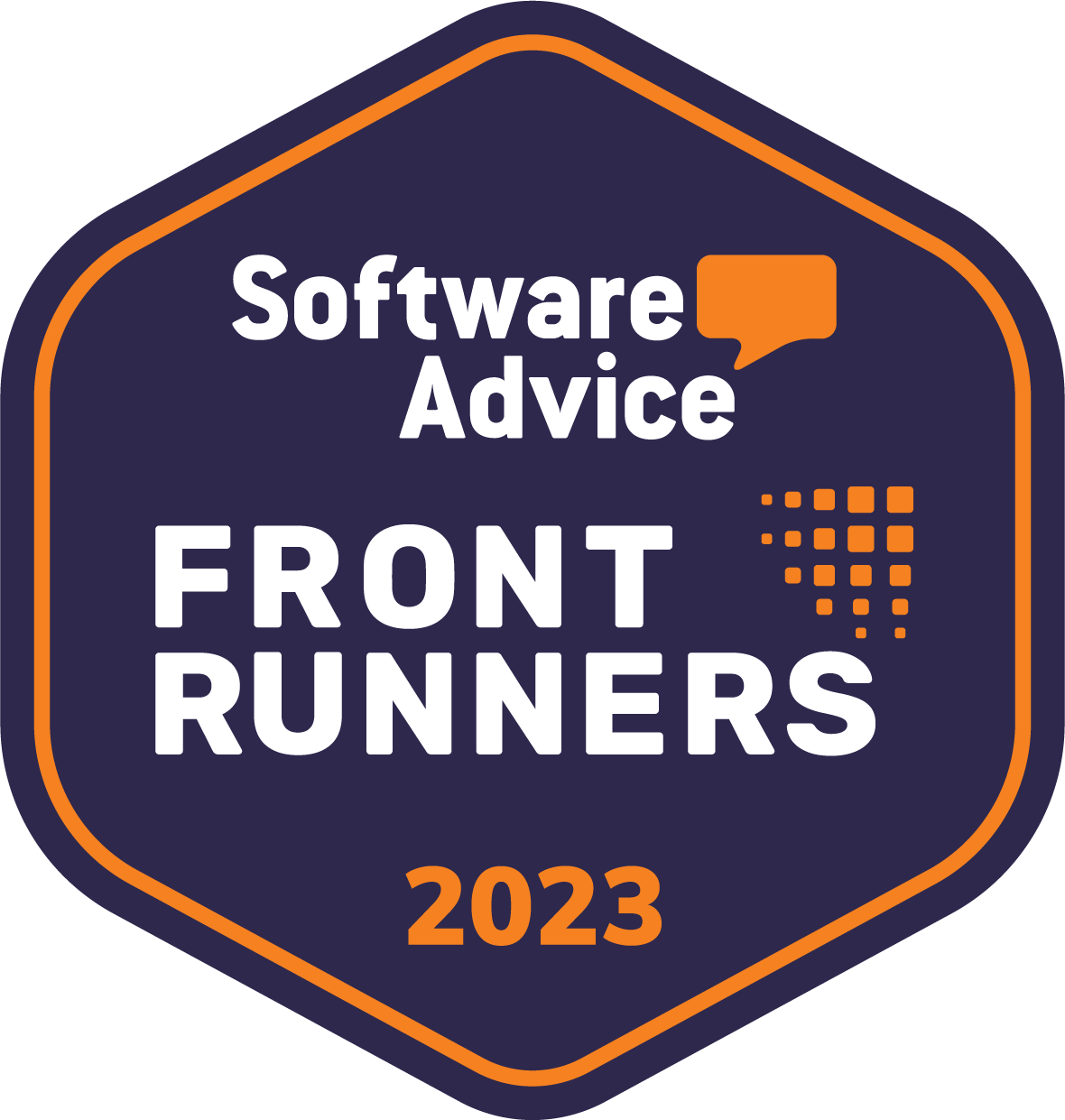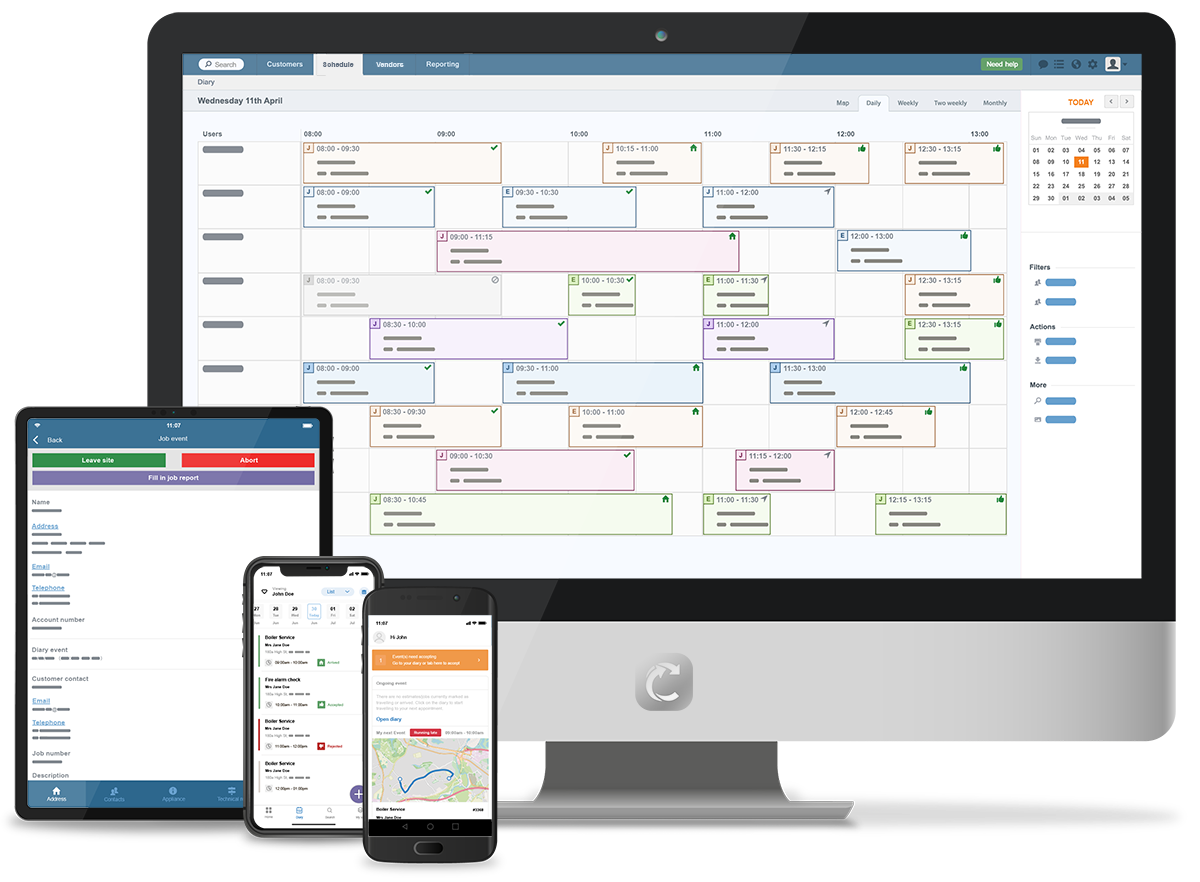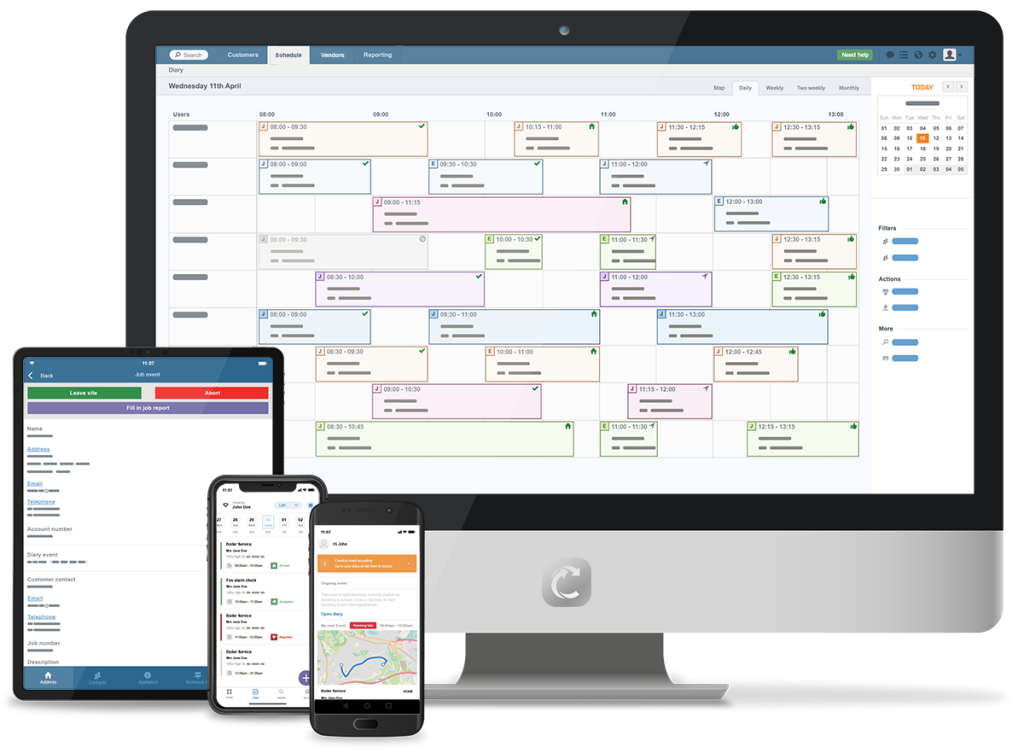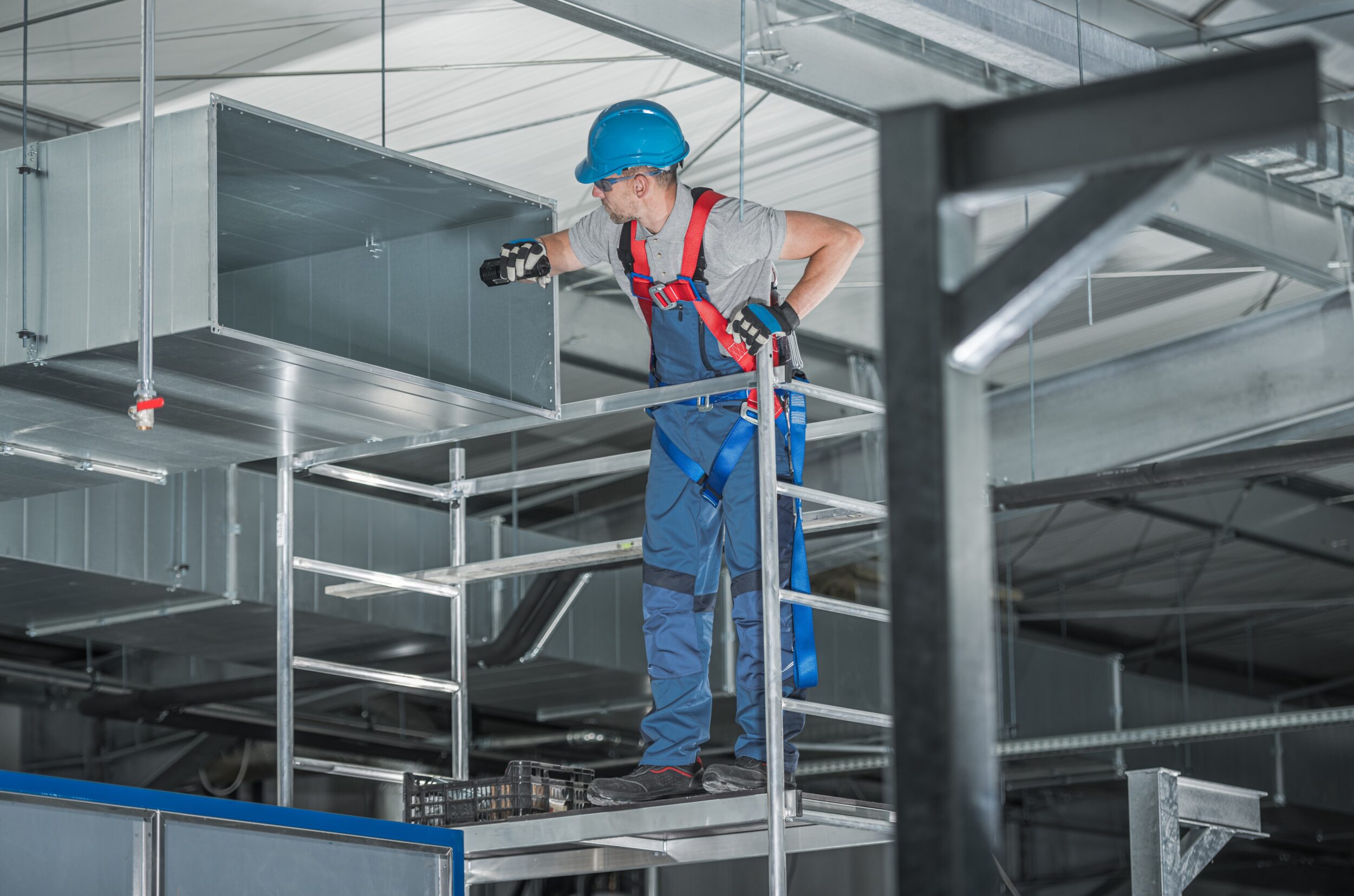 Join Thousands of Clients
2275673
Jobs created in 2022
821309
Customers added in 2022
1460123
Invoices raised in 2022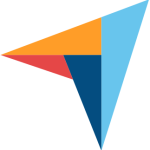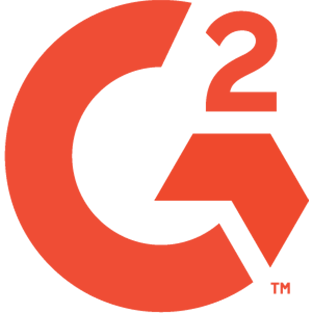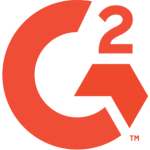 Stay Cool While Your Competitors Sweat
Commusoft's all-in-one HVAC business software tracks customer histories, sends jobs straight to engineer phones, and invoices customers on the same day. When daily operations are organised, satisfying customers and increasing company profitability has never been easier.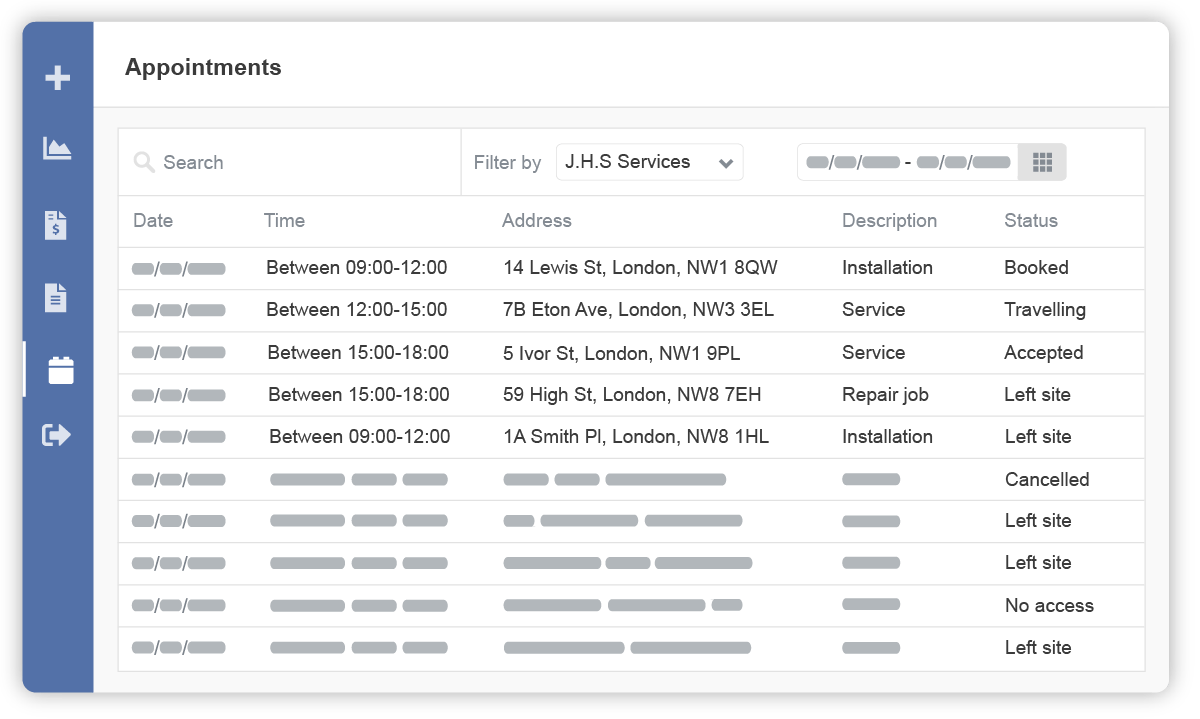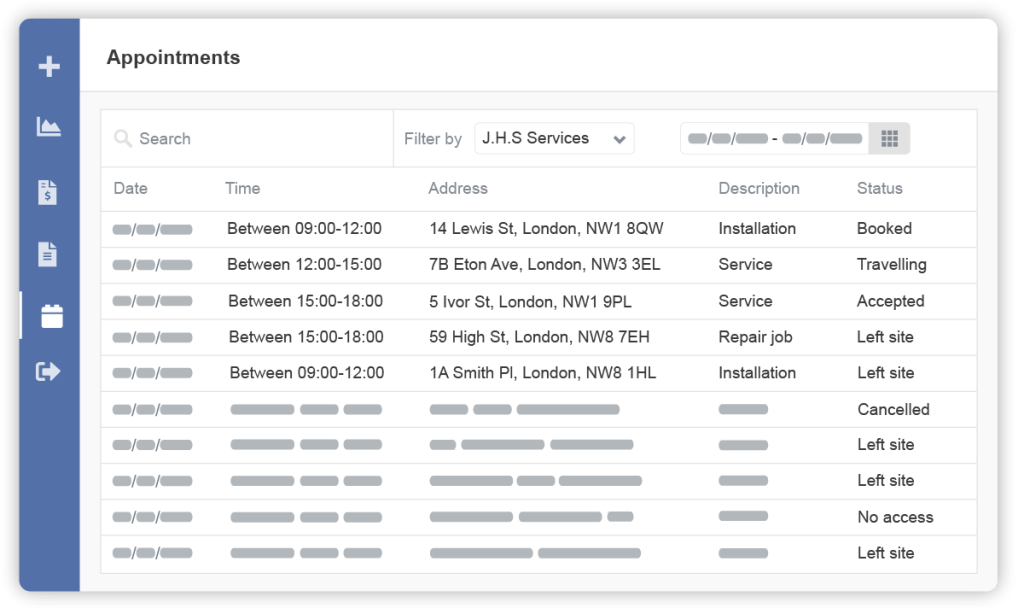 Empower Customers
Reduce Admin Pressure
Rather than contacting the office, building managers and other organisations you serve can access a personalised log-in portal. Any time of day, they can review live job updates, attached files, invoices, and more, for all their properties. Further, they can book appointments whenever they need.
Automatically Update Customers
Want to exceed customer expectations? As soon as your team begins to travel to the job site, your customers will automatically be notified with an on-the-way message and engineer tracking portal link. Customers will know exactly who to expect and when.
Gather Customer Feedback
Gathering customer responses after each appointment allows your team to understand where you excel and what can be improved. Ultimately, gathering customer feedback ensures you can secure more referrals and better reviews, so you can win new and repeat business.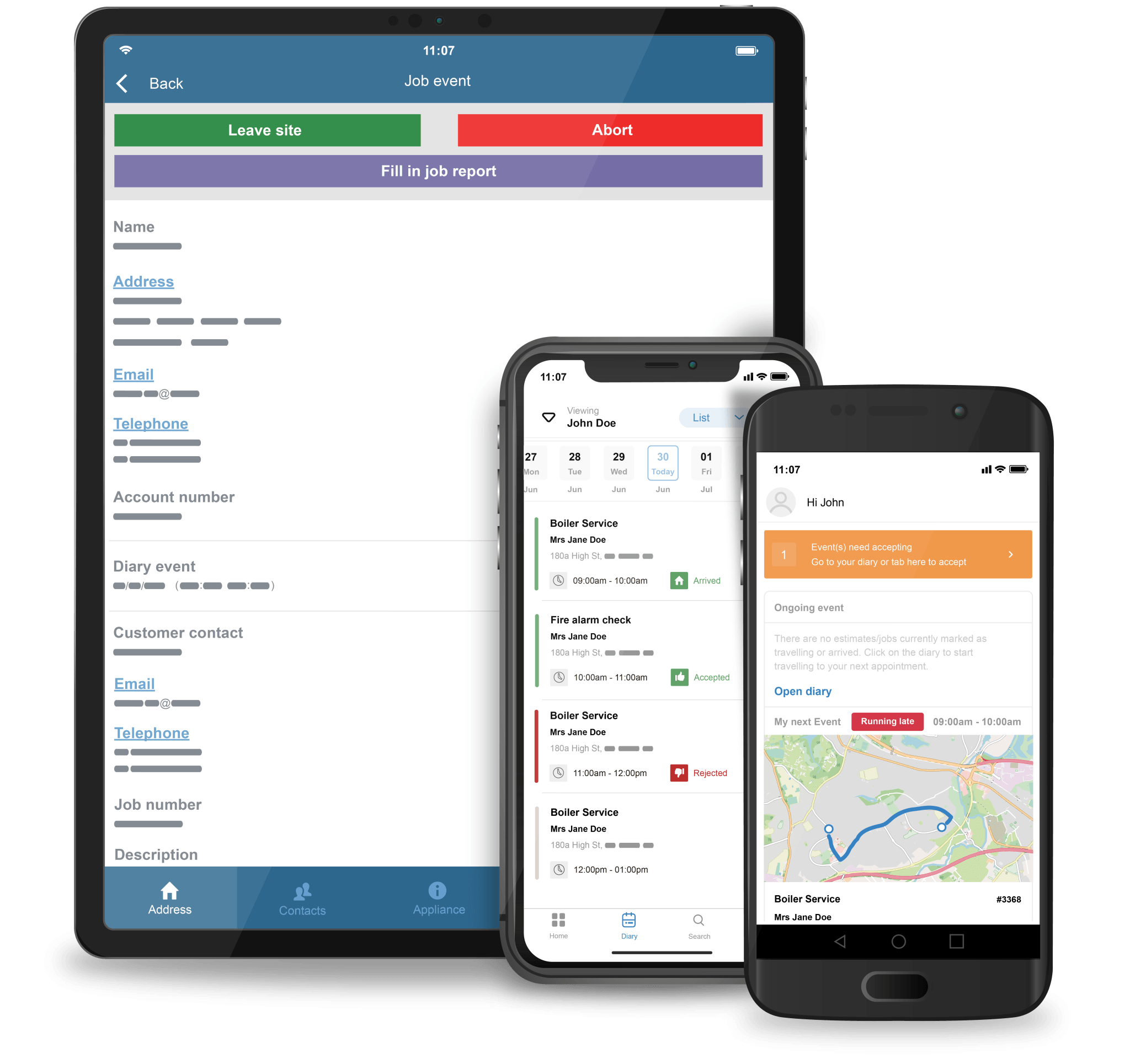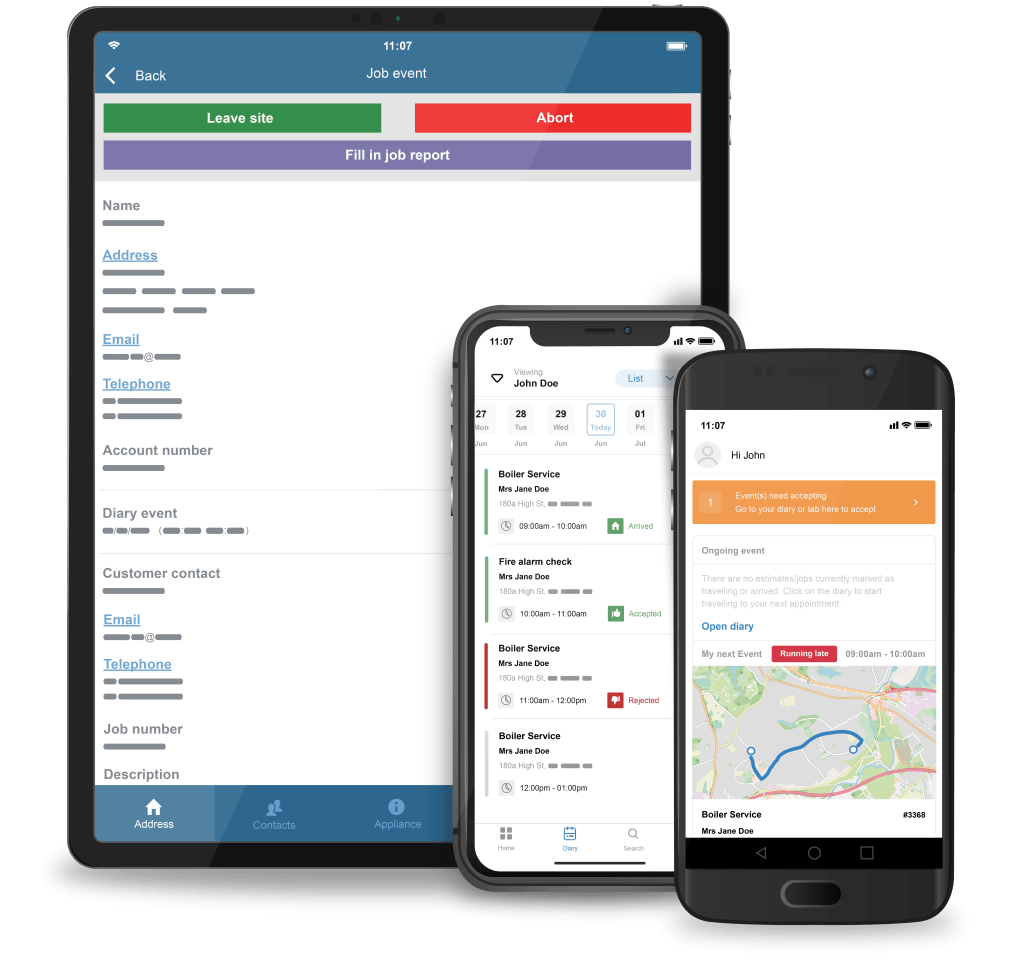 Optimise Field Operations
Centralized Work Order History
Your engineers shouldn't struggle to find the customer data they need. From the job site, they can have access to customer and job details, available stock, and much more, via their mobile app. Supporting techs in the field has never been easier.
Easy-To-Use Mobile App
Your engineers want to focus on their work in the field, not the tedious admin processes behind them. Commusoft's HVAC mobile app automatically updates the office, with travel and arrivals, parts and invoice requests, completed forms, and so much more. Your entire team will be in sync no matter what!
Digital Site Assessment Forms
Completing inspection forms is a considerable part of your HVACR team's days. The best HVAC software streamlines this process, allowing your crew to efficiently complete forms from the field. Further, your team can create customized forms for each HVAC asset, service type, or more; it's up to you.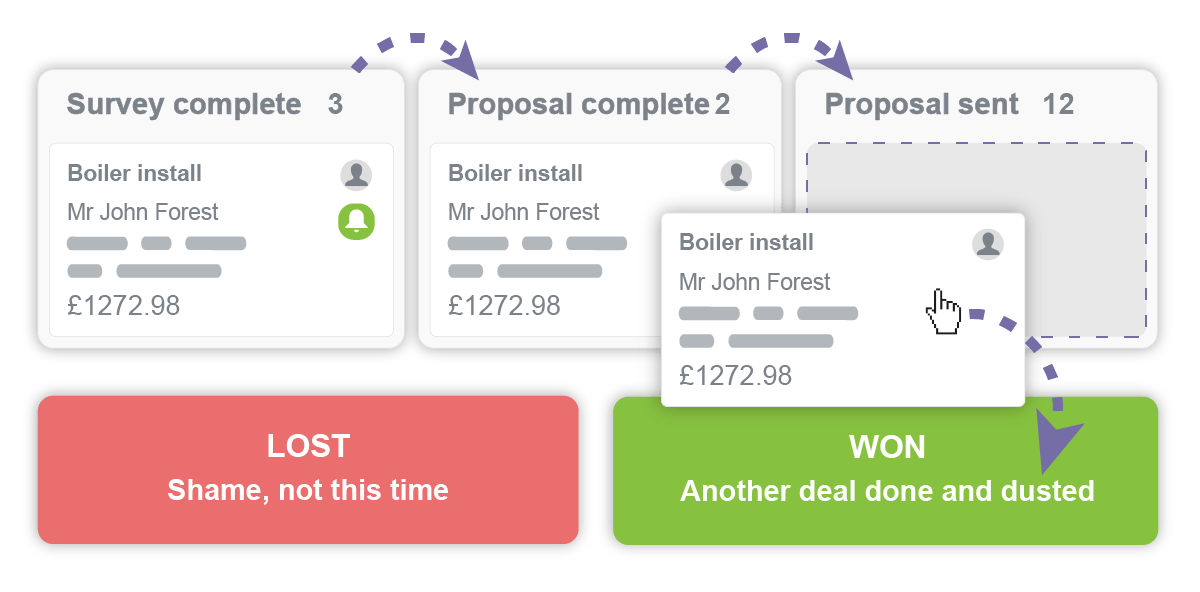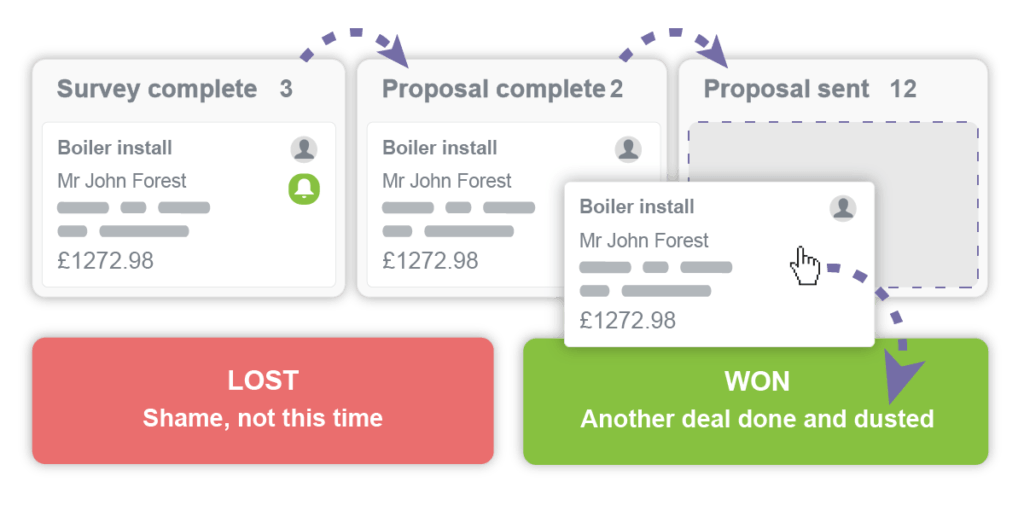 Increase Your Deal Sizes
Upsell Service Maintenance
Your sales team can make the best recommendations with information gathered from the field. They can advise customers on how to limit costs, and whether a repair or full replacement is the best choice. In addition, your team can use this opportunity to introduce service maintenance plans for the future.
Increased Conversion Rate
Whether you want to expand your service territory, win higher-value deals, or both, an organised selling process is essential. Further, a knowledgeable team, and professionally offering the best HVAC services ensure you can consistently win the business you want.
Coordinate Sales and Service Workflows
Proving your dependability is essential. A seamless connection between winning a sale, and booking the appointment proves to customers you care. Moreover, efficiently completing services means your team can get paid faster.
Boost Productivity and Profits, Without All the Stress
Equipping your entire team with powerful HVAC software means enabling them to exceed your customers' high standards. With streamlined installation, maintenance, and repair workflows, your team can go above and beyond every time!
Testimonials for Commusoft
"Using Commusoft helps us give customers service they wouldn't expect from your everyday maintenance company."

Hugo Fonseca
Trio Maintenance
HVAC SITE ESTIMATING

Following an initial enquiry, it's important to schedule an estimating appointment to inspect the job site. Here your HVAC expert can assess the scope of the job, and begin to build a list of recommendations. Further, while on site, they can identify any other issues too. Commusoft Sales makes it easy for your sales team to gather and record valuable customer and job information directly from the site. With this data on hand, your sales team can build custom professional proposals.

HVAC SALES PROPOSALS

Your sales team can create option templates for each HVACR appliance you sell, such as air conditioners, heaters, or refrigeration units. These can be customised with live parts pricing, labour rates, margins, and more. This information makes it easy to understand which service types have the biggest impact on company revenue. Further, your team can including upselling options, such as air filters, fans, and other air quality accessories. Presenting prospective customers with the best recommendations from your site inspection make it easier for your salespeople to win the jobs that matter most to you!

SMART SCHEDULING SOFTWARE

Every HVAC business deals with last-minute cancellations and emergency call-outs. When circumstances change, your customers depend on a coordinated office and field response. This is how the best teams stand out. An Intelligent Scheduling software weighs engineer schedules, travel times, necessary skills such as furnace repair, and suggests appointments from most to least efficient, all in mere seconds. Your admin simply selects the best option, and your engineer's Mobile App automatically updates with everything they need to know. Your team can respond to changes with no stress!

PLANNED PREVENTATIVE MAINTENANCE SOFTWARE

Contracted work is foundational for commercial HVAC works. Commusoft makes it easy for your team to exceed agreements. Further, personalising maintenance schedules and contracts is a great way to prove you care. Your team can set planned preventive maintenance (PPM) schedules and benefit from automated PPM job creation, service task lists, and asset-by-asset service plans. When meeting service level agreements is effortless, you can scale your HVAC business with ease.

CUSTOMER SELF-SERVICE PORTAL

When phone lines are busy, or if they need access to job data outside of working hours, a personalised customer login portal has everything commercial customers need. From job statuses, reports, invoices, safety forms, and more, customer portals set your clients up for victory. This system relieves admin burdens without needing to hire more team members. Further, with this solution, clients can book appointments too; your team can always be there when customers need you!

PERSONALISED STATEMENT PORTAL

From repair appointments, planned inspections, and emergency call-outs, your team likely serve multiple HVAC assets for your commercial clients. Rather than send a new invoice following each appointments, your customers will appreciate consolidated invoices. Further, with Commusoft, your admins can send customised monthly, or quarterly invoices to clients via a secure statement portal. When it's most convenient for them, customers can review and digitally pay. There's no need for them to reach our to admins, this system guarantees your business is open to accept payments 24/7!
HVAC software is a digital solution that allows HVACR business to manage their operations online.

Whether your business repairs heaters, maintains ventilation systems, installs air conditioners, services refrigeration units, or all of the above, Commusoft can handle it. Tracking your appointments, securely storing company data, and organising your entire team has never been easier.

Basic HVAC business software offer a customer database, job management, and basic reports. But our HVAC management software takes it further; our clients can store information about property assets, manage their stock, revamp customer communications, and so much more. With Commusoft, you can easily oversee your entire HVACR business, manage your office and remote teams, organize company finances, and more!

The future of field service is digital; and Commusoft 's HVAC management software is here to make the transition from paper to digital seamless.

Ready to see Commusoft's HVAC software in action? Book a call with our team today!

HVAC scheduling software allows your customers can book online and the appointment will go straight into your engineers' calendars, saving your office staff countless hours of time.

Figuring out how to best plan each engineers' day is a nightmare for many admins. That's why Commusoft's HVAC management software is powerful and flexible, offering a variety of booking options.

Prefer the phone? Easily keep track of calls, records, and easily add new jobs on-the-fly with Commusoft!

Want to take scheduling even further? Use our intelligent scheduling software to pick the best engineer and time for any given appointment. Don't worry, you can always manually schedule and arrange appointments too – you're in charge.

Absolutely; whether you're just getting started, or are rapidly expanding, Commusoft was built specifically for growing HVAC businesses.

Our platform and suite of tools support both small and large HVACR service businesses with a minimum of 4 contracted licenses per account.

Learn more about our pricing and packages!

A digital HVAC management system helps HVACR businesses business grow by freeing up resources to save time and money on processes such as job scheduling, team management, and invoicing.

Commusoft's flexibility and automation sets us apart – we'll help you provide the best and most consistent customer experience possible. This can increase referrals and return business. Further, with Commusoft constantly working in the background, your team can pay attention to larger tasks and make confident, data-backed business decisions.

With Commusoft's HVAC service management software, you can create and attach detailed records of assets to jobs and properties.

Further, your team can store the history of any work that's been done on the asset, and you can store notes such as the location of the asset so it's easy to find once on site. Nothing falls through the cracks!

We understand that asset management is a significant part of HVACR daily workflows. Learn more about how Commusoft can help you with asset management!

Yes, free trial versions of our platform are available upon request, following an online demonstration of the platform with one of our product experts. Trials are a great opportunity to further evaluate Commusoft.
Join Thousands of Trades Professionals
`
More HVAC Industry Content