CUSTOM FORMS
Build Custom Forms for Any Situation
Build and create digital custom forms with Commusoft. These are perfect for every situation, especially as your business evolves. We offer a variety of different question and answer formats, so you can design the perfect form and easily get them into your customers' hands. Increase Your Businesses' Productivity With Custom Forms
Form Builder
Easily build forms with a variety of question and answer types. Your team will always gather error-free information.
Form Templates
Save time with templates: from safety assessments to inspection forms, to anything in-between, you'll be prepared for any situation.
Form Logic & Conditions
Collect precise information with questions based on specific dependencies and conditions.
Microsoft Word
Build and customise your custom forms within Microsoft Word, and upload them to Commusoft.
Mobile and Web
Custom forms are built to be completed by engineers on-site through their mobile app or on the web.
Integrated Records
Save custom forms with job reports and against customer records. This way no important information falls through the cracks.
David
Commercial Director
Ayrshire Tree Surgeons
[With] Commusoft [we] automate and centralise a lot of our checklists. We have a full repository of completed forms, and can refer back to them at any time.
Build Next-Level Custom Forms
Create Forms That Suit Your Needs
ADAPTABLE CUSTOM FORMS
We understand that each business likes to do things a little differently. That's why we give you the freedom to create as many custom forms as you want. Create safety forms, checklists, assessments, whatever you want. The document will then be available for engineers to use on site.
Create as many custom forms as you want

Personalise your forms with different question types

Present a professional and organised image to customers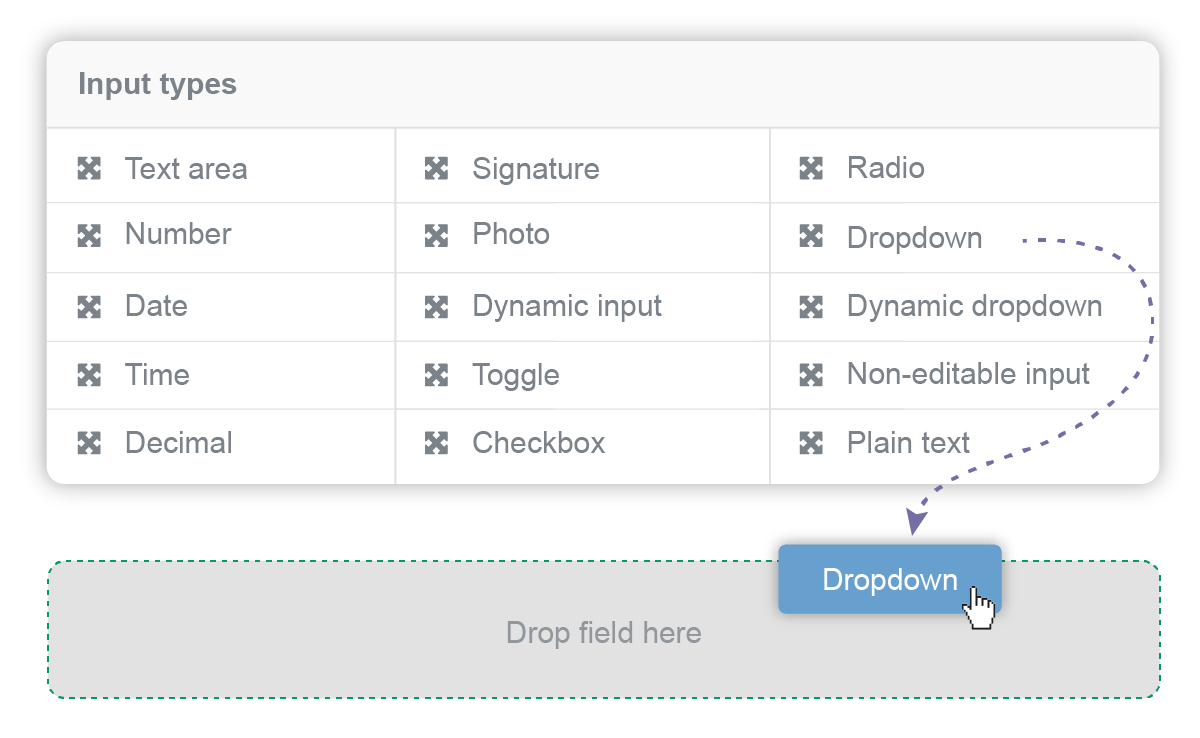 Uncomplicated Form Building
MICROSOFT WORD INTEGRATION
We integrate with Microsoft Word. Build your form template, and use our add-on to sync it to Commusoft. Simply drag and drop to quickly map the answer fields into your document. Generating a PDF that perfectly meets your vision has never been easier.
Create and design personal forms on Microsoft Word

You can then drag and drop to quickly map the answer fields into your document

Generating a PDF that perfectly meets your vision has never been easier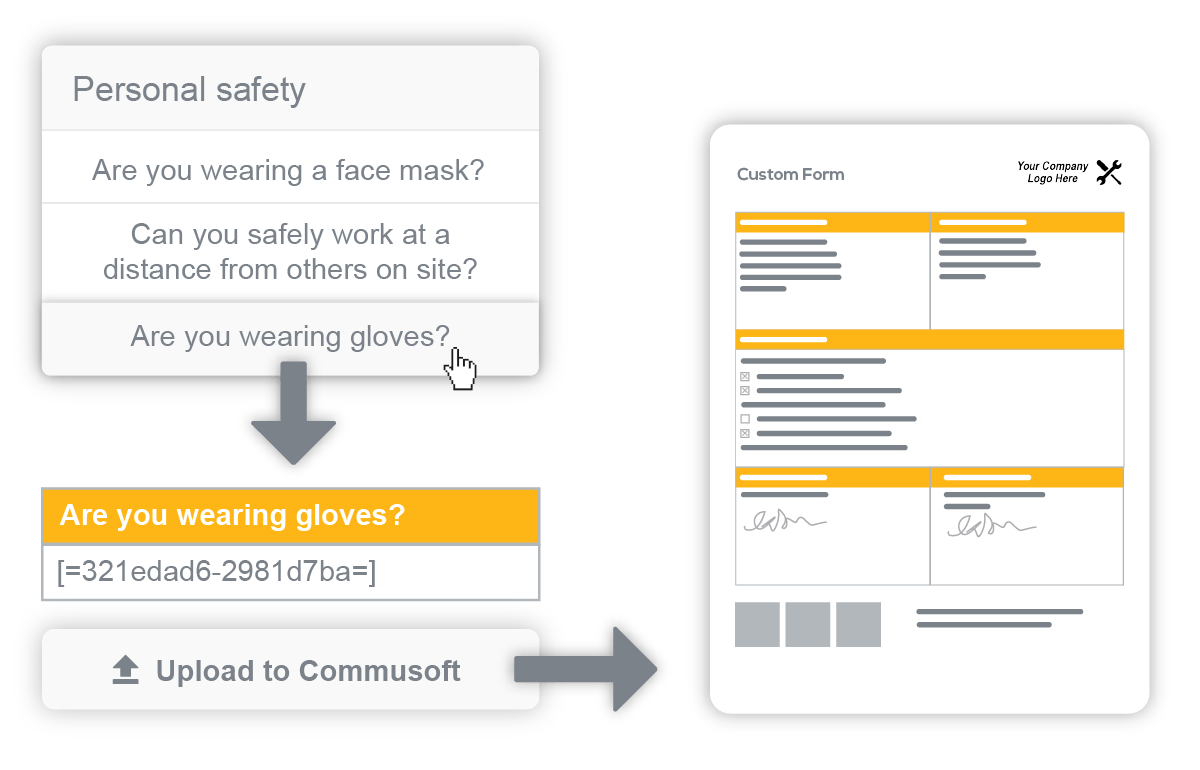 Capture Valuable Job Site Data!
Categorise and Sort Your Custom Forms
An Organised, Paperless Solution
TAILOR-MADE CUSTOM FORMS
Our simple-to-use digital forms multiply employee productivity. Design your form page by page and set up sections within those pages to keep things organised. Your engineers can quickly complete forms and obtain customer signatures from the job site.
Dropdown fields make quick data entry possible

Our forms autocomplete with customer data

Eliminate unnecessary questions to and from customers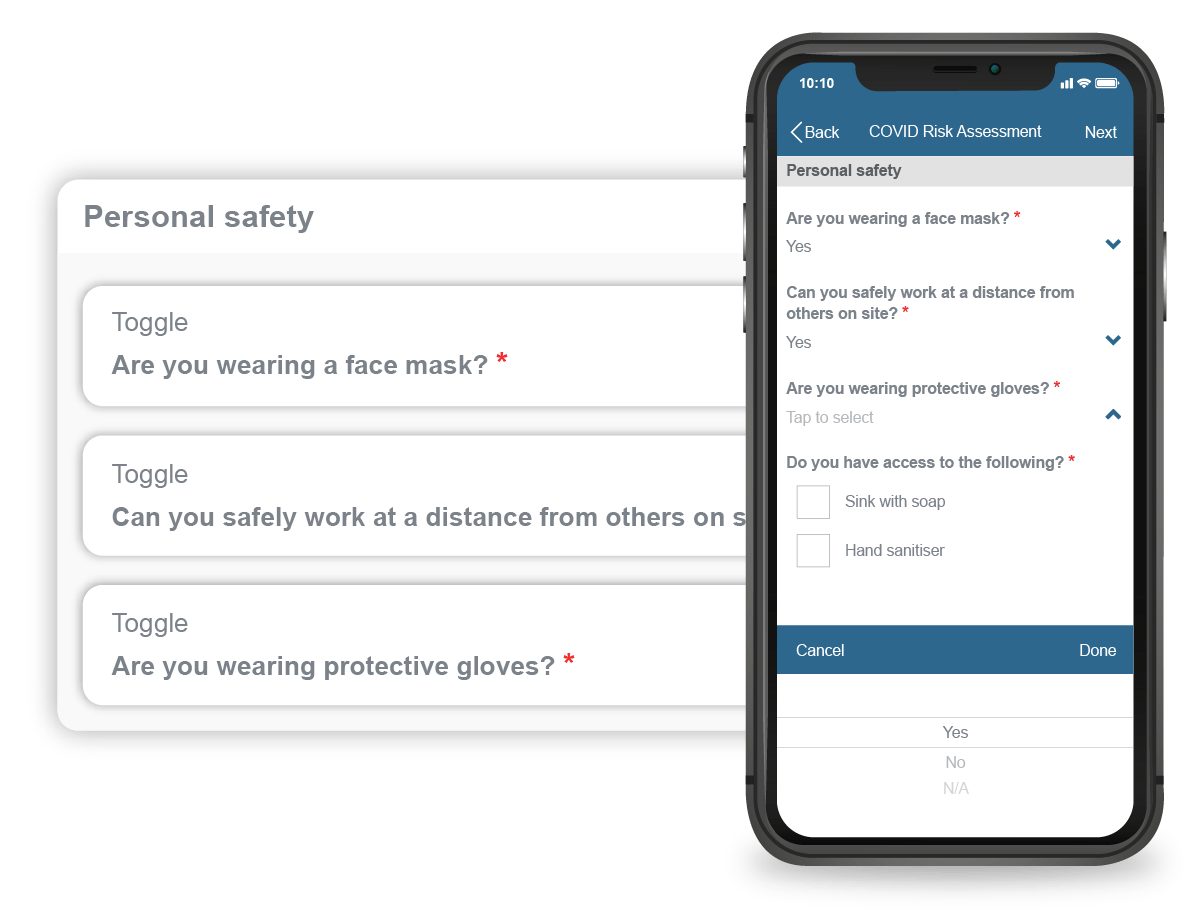 Never Lose Customer Information
SAVE FORMS AGAINST JOBS
Your completed forms are always available. Commusoft's comprehensive customer database and job management features store all actions and documents against the appropriate customer. Your staff will be fully informed when booking new jobs and discussing previous work with customers.
Completed forms are available in your work history,

Office staff can book jobs and speak to customers with confidence

Download, print, or email forms to anyone interested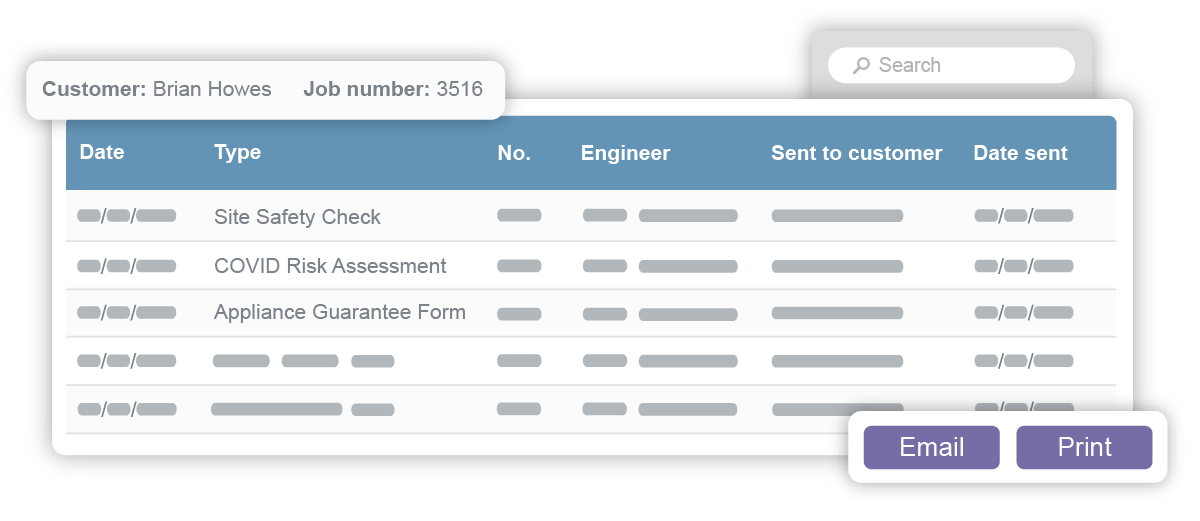 More Custom Form Capabilities
Send Branded Forms to Customers

As soon as a form is complete, the engineer can instantly email a PDF version to the customer. The customer's name, relevant addresses and any captured signatures will be automatically added to the form.

Never Lose Track of Custom Paperwork

Paper files and records tend to get mixed-up and lost. A paperless digital job management software safely stores forms and all your other vital data in the cloud.

Customise With 19 Question Types

We provide different options for question structure, including yes/no questions, text answer fields, checkboxes, dropdown menus, and even file and photo attachments.

Further Customise With Dependencies

Some forms will need follow-up questions and others won't. With dependencies, you can set certain questions to only show based on specific conditions. It's up to you.
Custom forms can help your business enforce site safety, meeting industry regulations, and document important job details for customers. With Commusoft, you can build and customise custom forms for practically any situation.

Some examples include site safety forms, installation checklists, and maintenance workflows. Engineers complete these directly from the job site and receive digital customer signatures. Once approved by your office staff, completed custom forms can be emailed, or mailed straight to customers.

Custom forms add a professional touch to your jobs, and make your business more memorable: increasing your chances of booking future jobs.

Unfortunately, we can't commit to building customised forms for all of our clients.

Don't worry, we'll give you all the tools you need to quickly create professional forms on your own! Our client success team is more than happy to show your team how to create and complete custom forms in your personalised training calls. Learn more about training and onboarding with Commusoft.

If there are any bumps in the road, our client service team is a quick email or phone call away.

Our custom forms software pricing depends on how many licenses you need, and which of our powerful plans you choose.