Unlock Your ROI With Our Automated Scheduling Calculator
With intelligent scheduling, we estimate that your business could gain:
Additional office hours per month
Additional field hours per month
Additional jobs per month
Estimated extra revenue per month
Commusoft investment per month*
Return on investment
See how this works for your business:
*Based on team size specificed, excluding VAT
The smart scheduling ROI calculator works out how much time can be saved throughout the task of weighing your team's availability, engineer travel times, and scheduling the best appointment. scheduling a job and from engineers' time spent driving.
Discover How You Can Streamline Scheduling While Boosting Profits
Pivot When Customers Need You
Boost Productivity and Revenue
Each minute counts when your customers have last-minute emergency appointments. That's why it's important to empower your office staff with an intuitive and effortless scheduling system! A route optimisation algorithm will support your scheduling staff and empower your field crew to take on more jobs per week.
Further, when changes are finalised, there's no need to pick up the phone; job updates and alerts are automatically sent to the right team member. Improving team productivity while securing your business a positive return on investment has never been easier!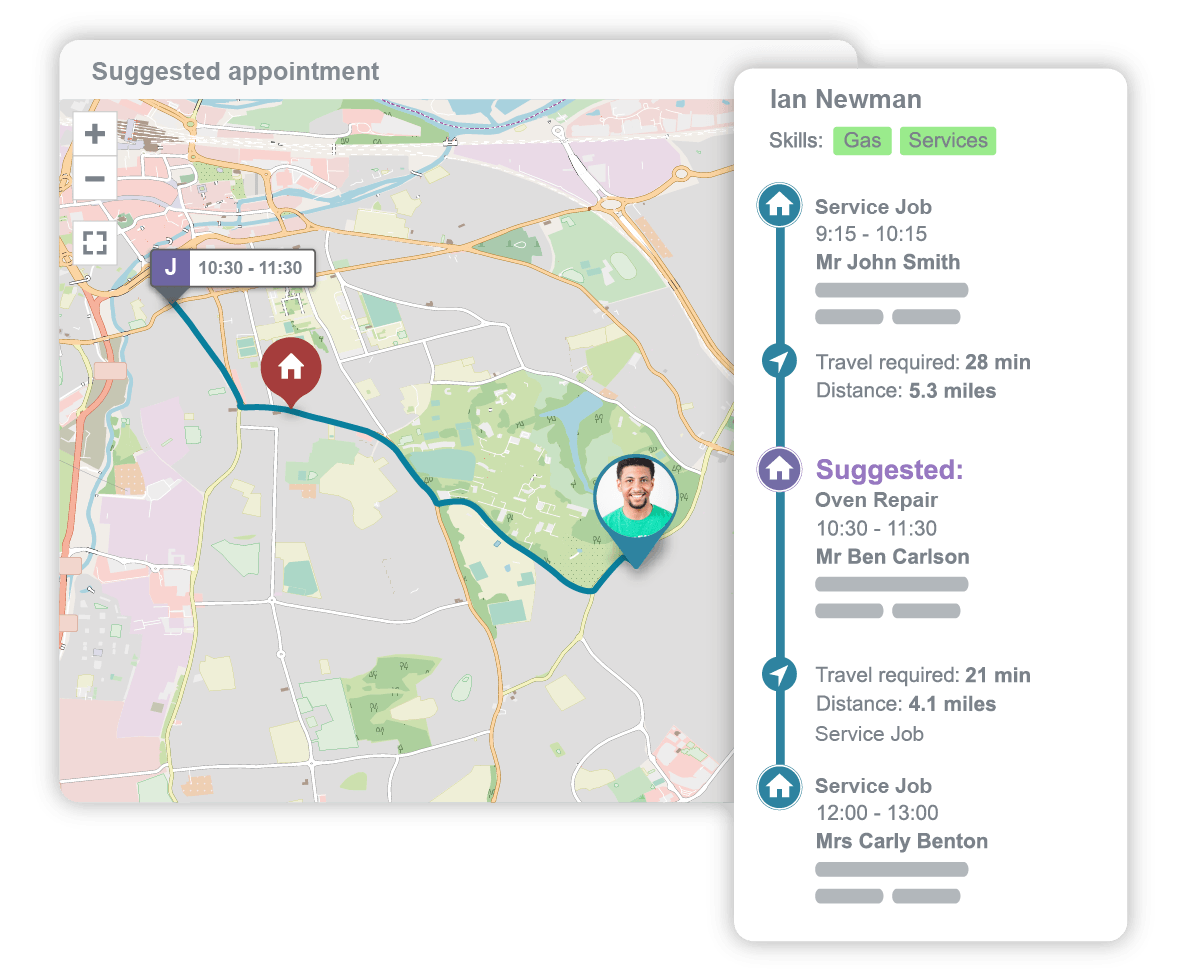 Benefits of Intelligent Scheduling
Route Optimisation
A route optimisation algorithm does the hard work and finds the most efficient date, time, and engineer for a job. Forget about inefficient routing and planning!
Mass Scheduling
Save even more time by booking tens or hundreds of jobs at once with mass scheduling and let the software process thousands of possible combinations.
Better Visibility and Control
With clear overviews of each engineer's diary, Smart Scheduling enables your team to effortlessly pivot when circumstances change. You're in charge.
Enhanced Engineer Performance
Intelligent scheduling doesn't just analyse the driving distance to a job, but considers existing appointments, engineer skills, shift patterns, and service windows.
Increased Revenue Opportunities
Streamlining the scheduling process gives your entire team the capability to take on more jobs per day. You'll see happier customers and higher profits!
Intelligent Scheduling Software FAQs
Automated, Intelligent, or Smart scheduling software is a route optimisation algorithm that suggests appointments. This system lifts admin pressure while ensuring employees work from streamlined schedules.

Leave appointment scheduling optimisation to us! Commusoft's intelligent scheduling software suggests thousands of appointments in seconds based on appointment time, driving distance, engineer skills and shifts, and the type of job. Commusoft sorts suggestions from most to least efficient, so your admins and managers can feel confident making a selection. Once the job is scheduled, Commusoft will automatically alert your engineer's mobile device. This ensures they'll always be kept in the loop.

Learn more about Commusoft's Intelligent Scheduling software here!