Centralise your supplier database with Commusoft
SUPPLIER MANAGEMENT SOFTWARE
Our supplier management software hosts everything you need to know about your supplier invoicing in one place. Whether it's contact details, purchase orders, or upcoming payments, your team will have immediate access to important information with a single click.
Refresh your suppliers and purchasing system
Supplier database
All supplier information is available within Commusoft 24/7. Search for suppliers and edit data anytime.
Purchase orders
Handle all supplier invoices and other relevant data in one system. Find valuable information and raise purchase orders anytime.
View past correspondence with suppliers
Great for disputes; your supplier database stores all supplier communications in one place. Filter by date or with search.
Personalised dashboard
Sort your supplier dashboard how you want. View suppliers, invoices, payments, and more at a glance.
Reporting tools
Our reports offer full access to business debts, when invoices were created, paid, and more.
Job costing
Commusoft allows you to understand how purchase orders and parts pricing affects company profits.
Hannah
Office Manager
JD Services Ltd
I'm looking forward to creating full supplier and parts lists, to make things more straightforward for my engineers. Once you get the hang of it, it really does streamline your business.
Organise your suppliers with Commusoft
Standardise your supplier database
SUPPLIER DATABASE
Don't waste time jumping around for important supplier information. See everything about your suppliers straightaway. Details like contact info, notes, files, purchase orders, invoices, credit notes, and returns are all on a single page.
Emails, documents, and call logs all in one place

Track credit terms, suppliers, payments and more

Confirm pricing on any number of items or parts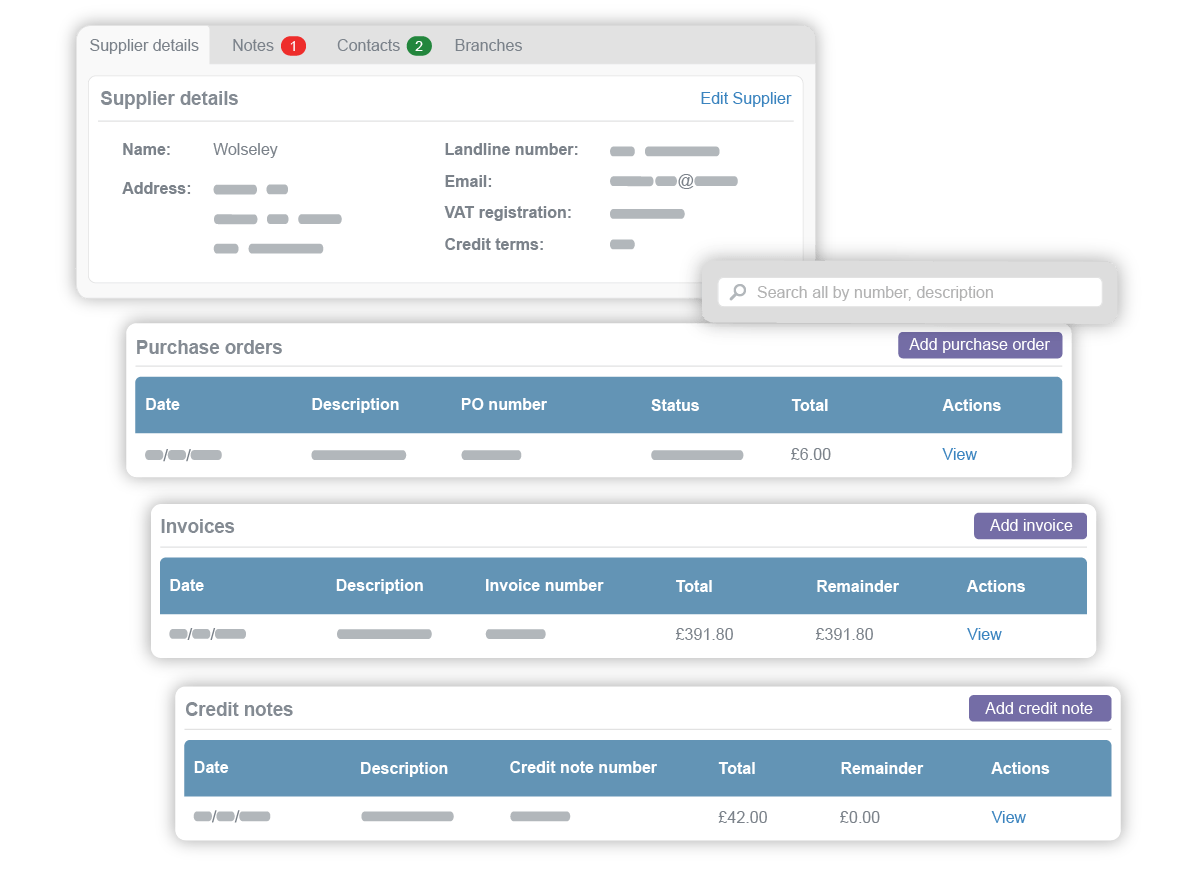 Maintain important business relationships
TRACK SUPPLIER INVOICES
With accurate and on-time payments, you can maintain essential working relationships with suppliers. We handle the heavy-lifting for you, generating professional invoices and tracking all payments. It's everything you need to stay on top of your business.
Keep supplier invoices and receipts in one place

Manage all supplier records with our reporting tool

Raise supplier invoices against a job as an associated cost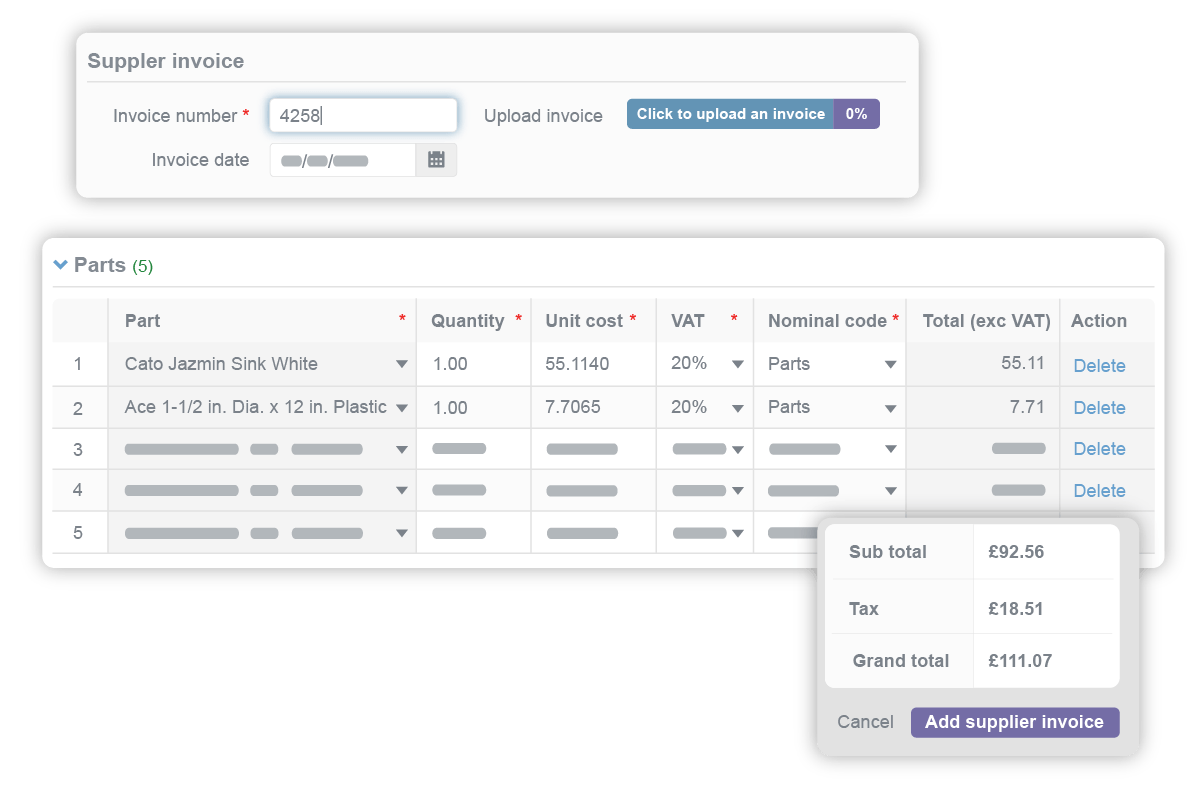 See how our supplier management software streamlines profits!
Systematic supplier invoicing
We've got you covered
AUTOMATED SUPPLIER INVOICE IMPORT
We do the heavy lifting, inputting supplier data for you. Forget painstakingly inputting supplier invoice data into your field service software. Simply drag and drop the file into the browser and Commusoft does the rest. So your team can save time and avoid potential human errors.
We analyse, and import supplier invoices for you

Link suppliers to any existing purchase orders

Our PDF reading technology reduces costly mistakes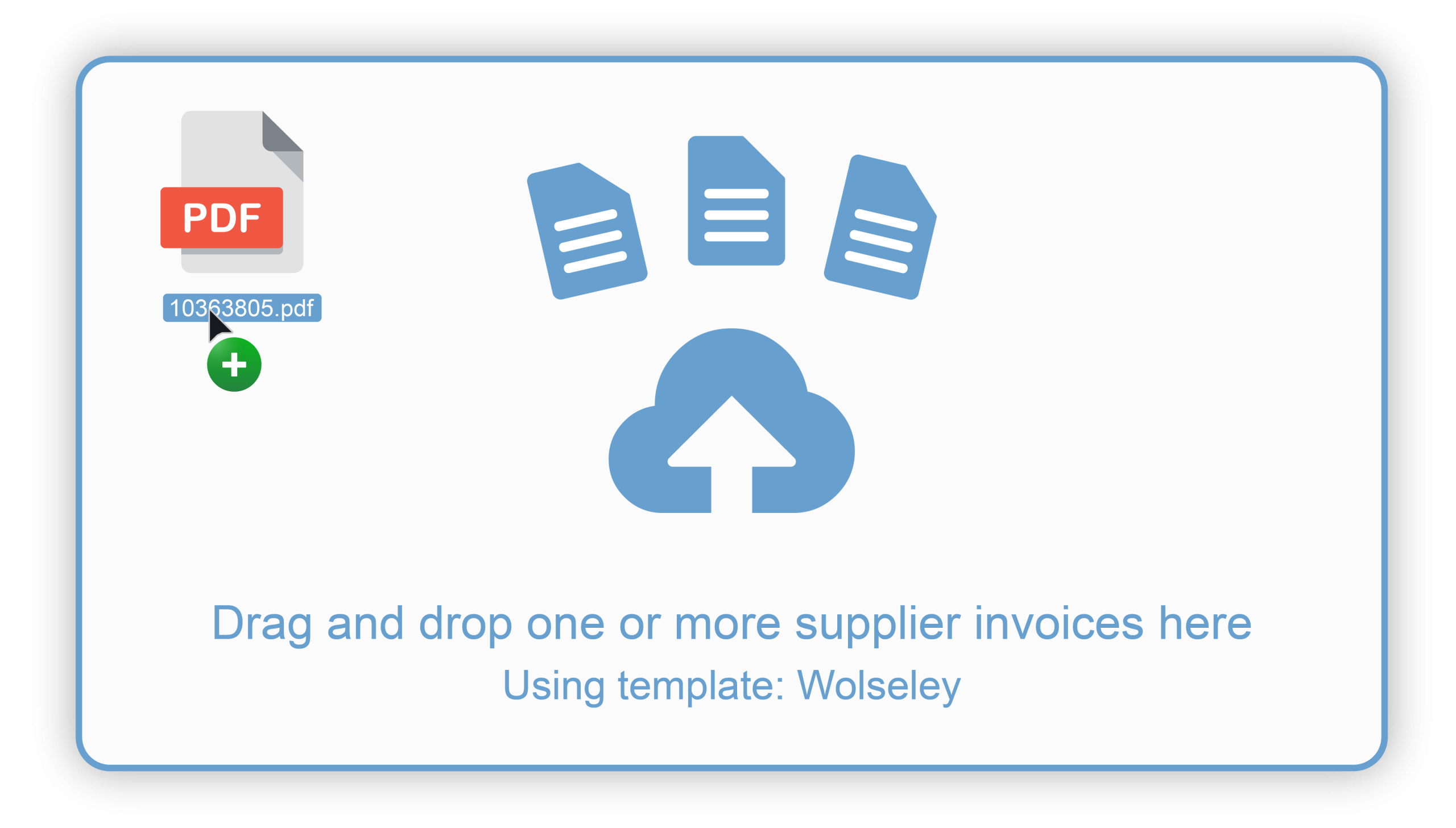 Convert purchase orders into supplier invoices in a jiffy
PURCHASE ORDERS
Commusoft allows you to quickly convert parts into purchase orders, then supplier invoices. Our system organises supplier purchases and important business expenses for you. Your team will never lose track again.
Available on PC, Mac, iOS, and Android devices

Save valuable minutes spent making purchase orders

We assign unique PO numbers, making searching easy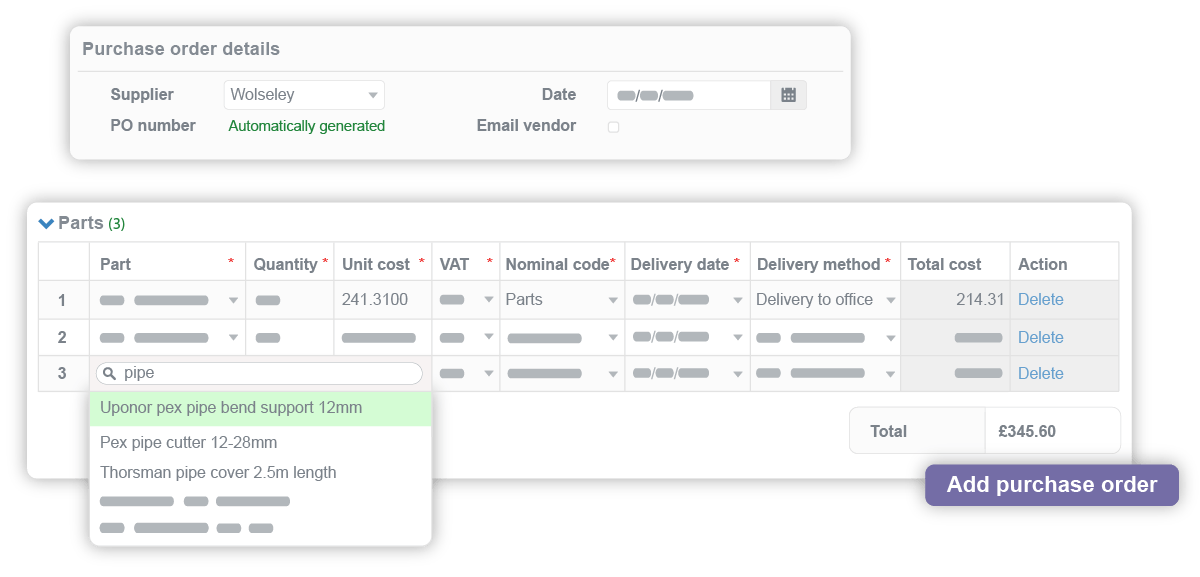 Excite your team with these supplier invoicing features
Commusoft's accounting integrations

Assign supplier payments to invoices using your payment tracking software. Our accounting integrations organise payments, making them quick to locate.

Pin favourite suppliers

If you consistently buy from the same group of suppliers, you can pin them to your supplier dashboard. They'll always be a click away.

Link to existing purchase orders

Commusoft recognises when invoices contain a PO number that exists in your account. The system automatically links the new invoice to the existing PO.

Use stock control after purchase orders

We also offer an all-in-one solution that covers the entire stockroom workflow. After orders arrive, our stock control system handles parts check-in.
Excite your team with these supplier invoicing features
Supplier management software FAQs
Supplier management software helps businesses manage their finances and payments to their suppliers.

But Commusoft is more than a purchase order system for small business. Commusoft streamlines supplier management workflows, allowing users to easily access important supplier information, files, payments, and more, from one centralised location. With details available in one place, our clients can focus on building lasting business relationships with their suppliers.

Commusoft's supplier management software securely organises digital invoices within our supplier database. We set clients up for success, ensuring it's easy for teams to easily track specific supplier payments in seconds.  For example, our training team will show you how to enter invoices for suppliers in personalised 1-1 training sessions. Your team can also build professional invoice PDFs in seconds, set supplier credit terms, create financial reports, and much more.

Commusoft's pricing depends on how many licenses you need and which of our plans you choose. To see all of our pricing details and which features are included on which plans, check out our pricing page.