REPORTING SOFTWARE
Scale Your Growth With Company Data on Hand
Commusoft's reporting software provides full powerful insights into all facets of your trades business. With automated reports on your work orders to unique company finances, decision makers can make confident, data-backed choices.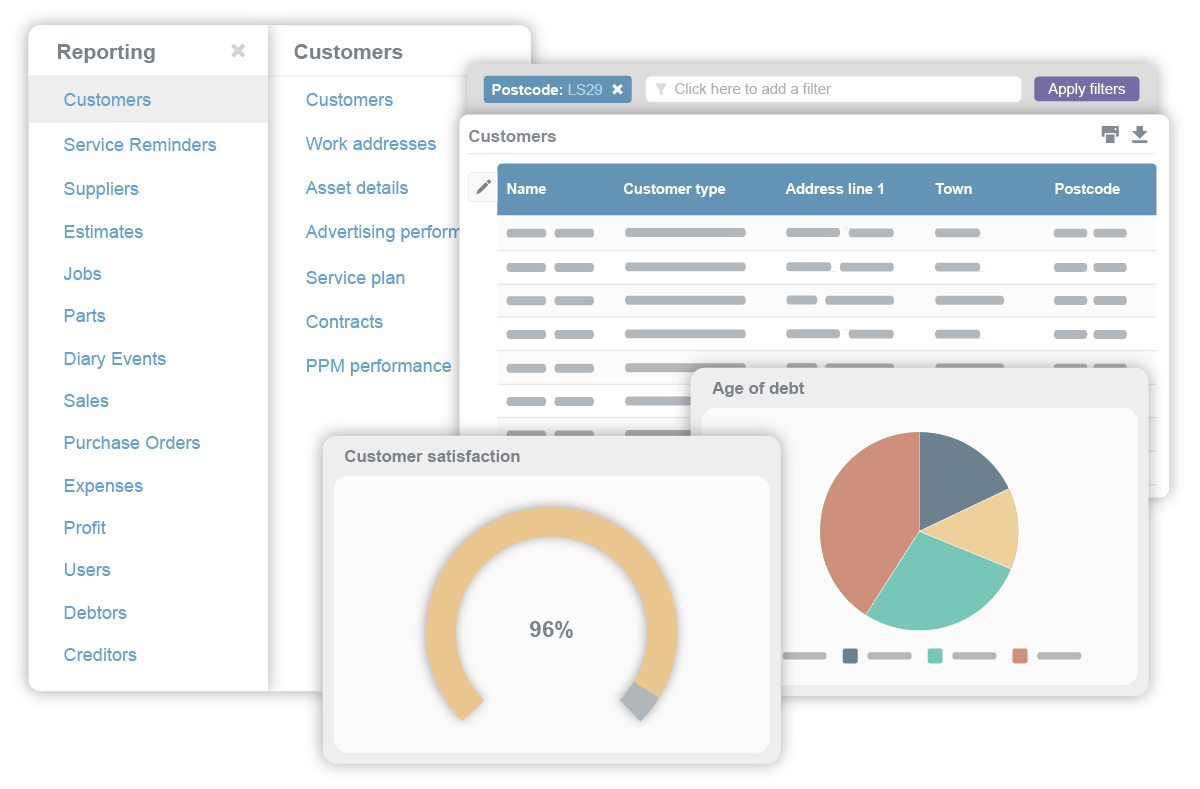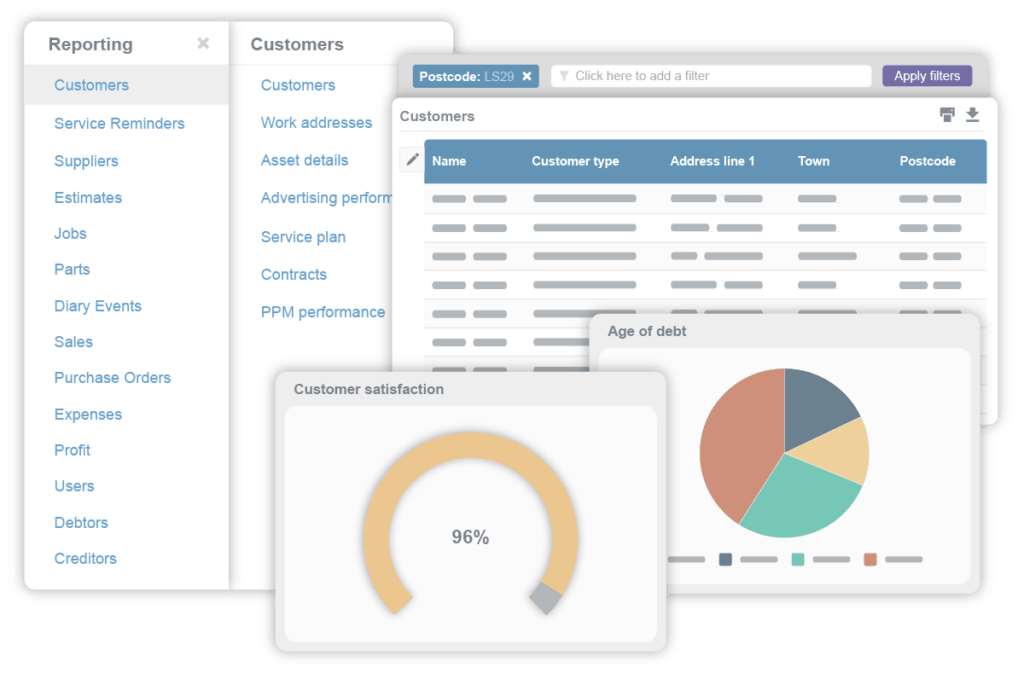 Reports Software Features
Reports Dashboard
Our dashboard displays comprehensive real-time reports concerning your entire trades business.
Preconfigured Reports
Our 40+ preconfigured reports allow you to dive into data on jobs, finances, parts, users, and more.
Customised Reports
Gain crucial business insights and view the exact data you want by creating custom reports.
Data Filters
Create personalised reports with our editable filers at any time and save them for future use.
Angela
Administrator
W. Williams Plumbing and Heating Ltd
The reporting is a very useful and easy to use function, which is one of my favourite aspects of the software. Overall, I am very impressed with the software and very happy I decided to go with Commusoft.
Generate Reports for Any Occasion
Your Go-to Reporting Hub
COMPLETE REPORTS AND DASHBOARD
Harness the information that matters to you with 40+ customizable reports and data filters. Commusoft's reporting software helps admins and managers easily maintain your trades business, so you can focus on your growth.
Put all your company data to work

Perfect customer experiences with reports

Understand where your business is most profitable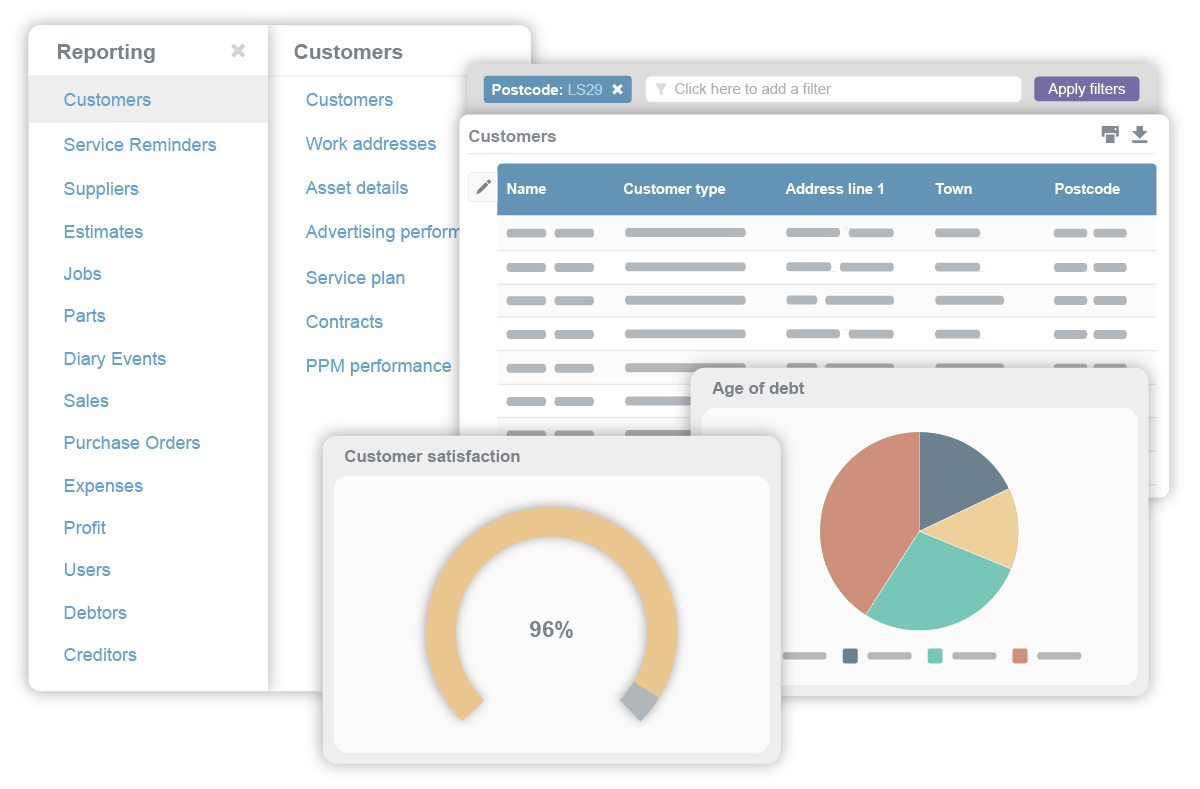 Real-Time Information Within Reach
DYNAMIC REPORT DASHBOARD
Prosper with critical business metrics! Our reporting software offers impactful customizations, allowing you to rearrange your dashboard with drag and drop widgets. Popular client reporting widgets include sales by month, customer satisfaction, and job statuses.
Widgets ensure that vital data is always accessible

Pin reports and widgets to your dashboard

Make tough decisions with real-time data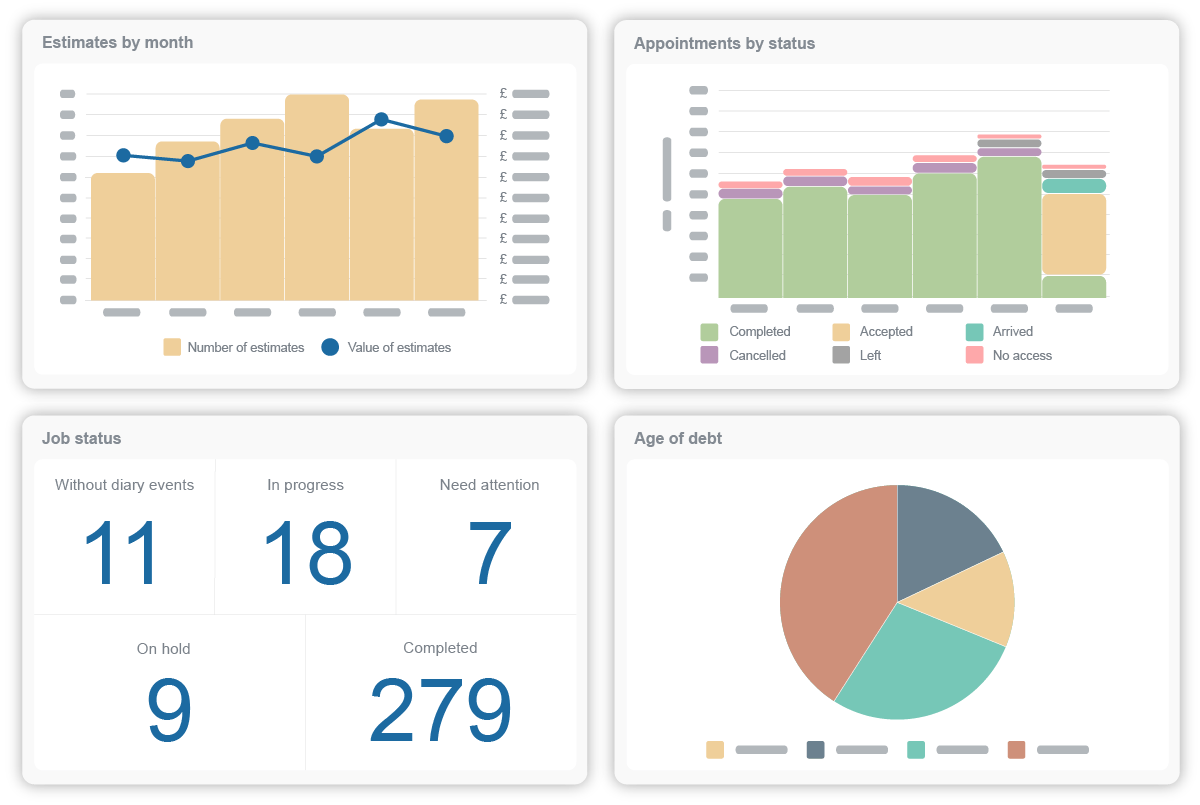 See How You Can Get the Most of Your Data With Professional Reports!
Justify Big Decisions With Accurate Reports
Stay in the Loop
IN-DEPTH COMPANY REPORTING
No company information should ever be a surprise or mystery! Commusoft's reports and dashboard suite makes data comprehension easier, so you can anticipate new growth opportunities, outpace competitors, and expand your business with confidence.
Manage parts, finances, jobs, timesheets, and more

Forecast where your company is headed

Print or download an Excel file of any report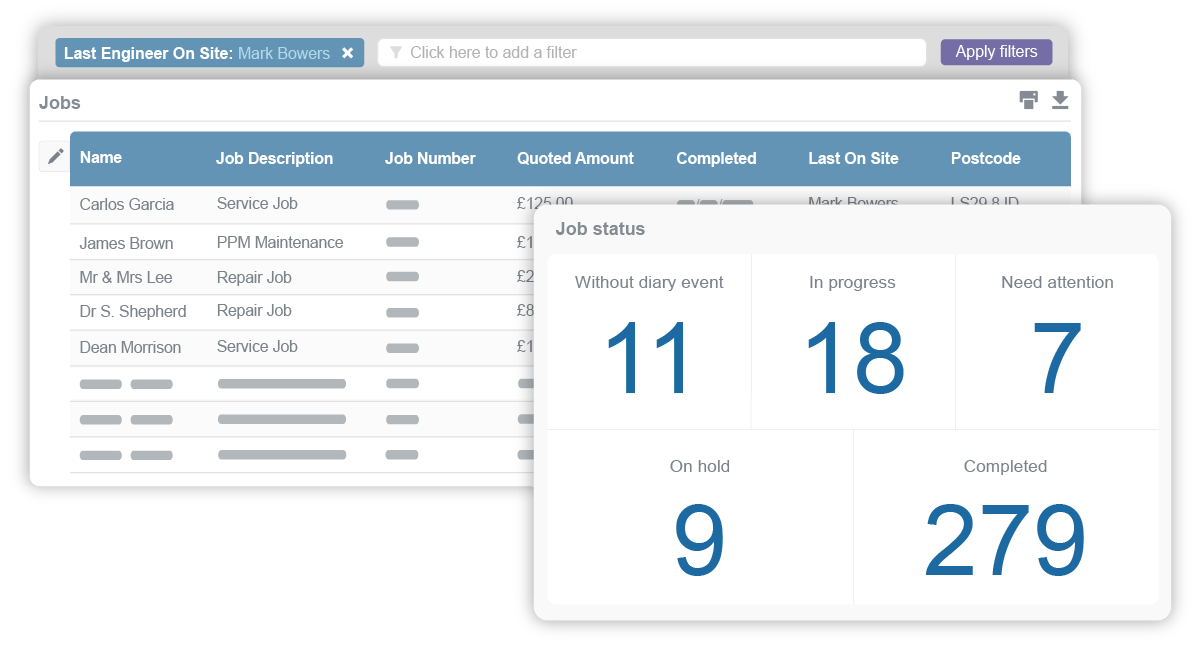 Improve Customer Care
DETAILED CUSTOMER REPORTING
Customer satisfaction is a must. Offering a convenient self-service feedback portal makes it easy for customers to review their appointments. Customers can leave a simple thumbs up or down, and have the option to write a message. When you understand customer needs, you can provide unmatched services! After all, happy customers fuel continuous cash-flow into your business.
Dig in with our customer satisfaction report

Understand what delights your customers

Identify opportunities to improve client experiences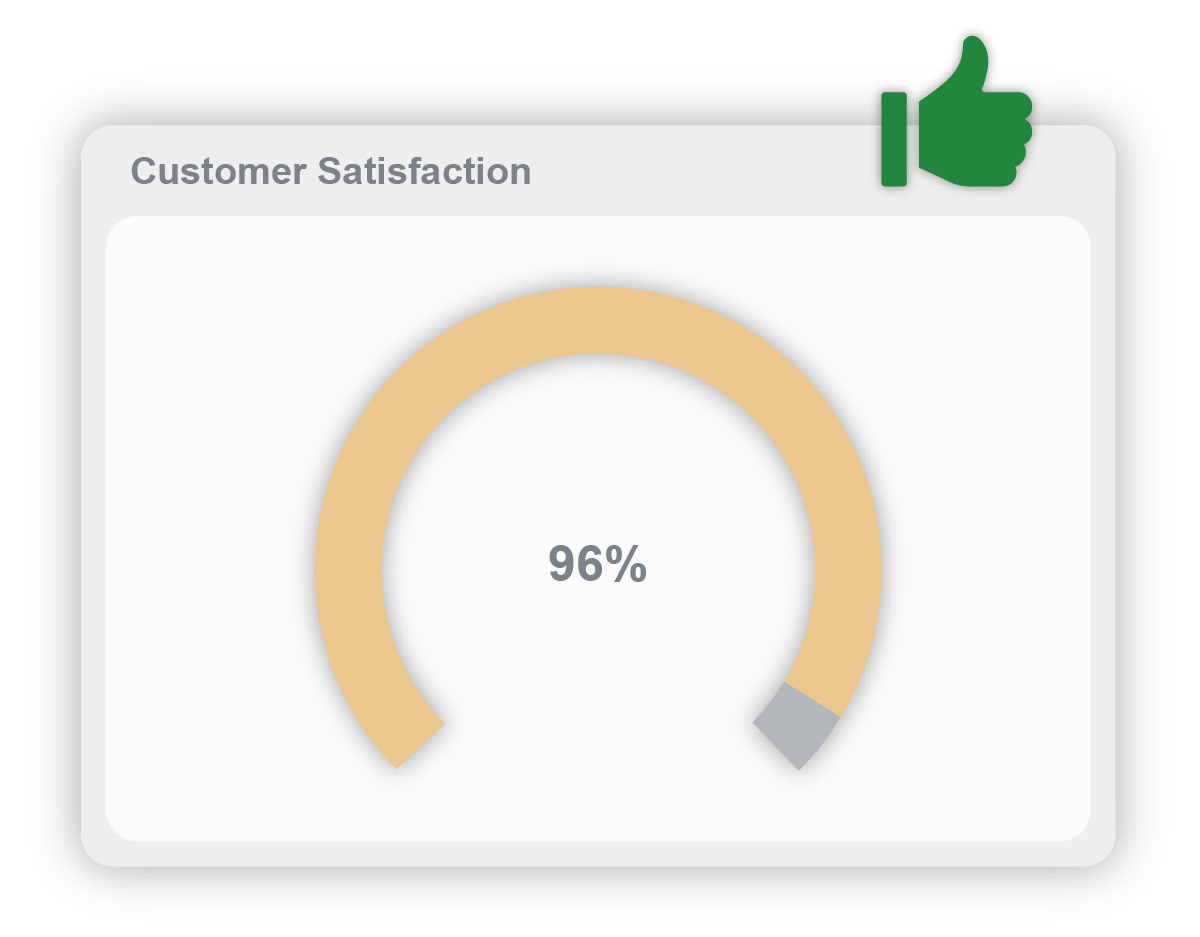 Reporting Software for the Trades
Finance Reports

Commusoft's finance reports track estimates, expenses, purchase orders, profits, debts, sales, and more, so you can make the best financial decisions.

Job Reports

Study every job your company has ever carried out in one report, and see predefined reports for jobs that are outstanding, free of charged, or terminated.

Profit Reports

Our profit reports help clients get an in-depth look at which jobs are proving especially cost-effective, or not, for your trades business.

Parts and PO Reports

Parts reports show the number of parts installed within certain time frames, requested, ordered, and available parts, plus any parts due to be delivered.

Print and Download

All Commusoft reports can easily be shared with your entire team and key decision-makers with options to print, download, or export to Excel.
Reporting Software for the Trades
Reporting software is a program that generates charts, tables, and graphs which can be used for analysing business performance; a dashboard is a digital platform where this information is displayed.

Commusoft's reporting dashboard combines these into one easy-to-comprehend platform that generates and displays 40+ customisable reports and data filters. With more information about the wellness of their business, our clients can control their growth while making self-assured decisions.

Ready to see our reporting dashboard software in action? Book a call with our team today!

The best reporting software offers the ability to take stock of customer satisfaction. With Commusoft, you can send an email or text message with a link where customers can give feedback on your services in a comment box, and give a thumbs up or down. Customer thumbs up and down responses are aggregated into a pie chart of customer satisfaction. With this data, you can understand where your business is thriving, or identify areas around client care that need to be tweaked.

Want tips on how to ask for reviews through emails? Download your free guide here!

Field service report software pricing depends on how many licenses you need, and which of our powerful plans you choose.

Our reporting dashboard is available on Commusoft's Customer Journey plan and higher.