JOB TRACKING SOFTWARE
Maximise Your Service Capacity and Output
Offering unrivalled services boils down to organised customer records, seamless scheduling, and real-time communications. From the first enquiry, to final invoice, the best job tracking software enhances each step of your maintenance, installation, and repair journeys. Discover how Commusoft can help your team complete work orders quicker, and with higher satisfaction! Optimise Workflows With Our Job Tracking Software
Bolster Productivity
Organising job details in a traceable backed-up database helps admins complete tasks quicker.
Empower Field Crews
Our mobile app syncs in real-time, meaning engineers will always have the job details they need.
Track Jobs Anywhere
View job details in the office or on the road. You'll never lose or misplace job records again.
Elevate Team Communications
Engineers know where they need to be and office staff can see precisely what's occurred at each job.
Improve Customer Care
Offer personalised customer communications with updated work order data at your fingertips.
Comprehensive Field Reports
Ensure site safety and compliance by having techs complete digital custom forms organised by job type.
Lawrence
Director
DB Heating Limited
The seamless continuity between the calendar and job booking/logging/location recording is a great asset to our business. At a mere glance we can see what technicians are encountering issues, are en route to appointments, or have completed tasks.
Handle Jobs With Data at Your Fingertips
Job Information at the Ready
JOB TRACKING SOFTWARE
Everything your team needs to know about jobs are in a single, backed-up database. This includes customer files, asset records, parts details, and much more. With Commusoft, you'll never lose or misplace important records; everything is neatly arranged within each job record. Whether it's information on past or on-going jobs, we ensure all details are quick to find.
All digital records are organised and protected

Every single job your company has done, in one place

Access job details across mobile & web applications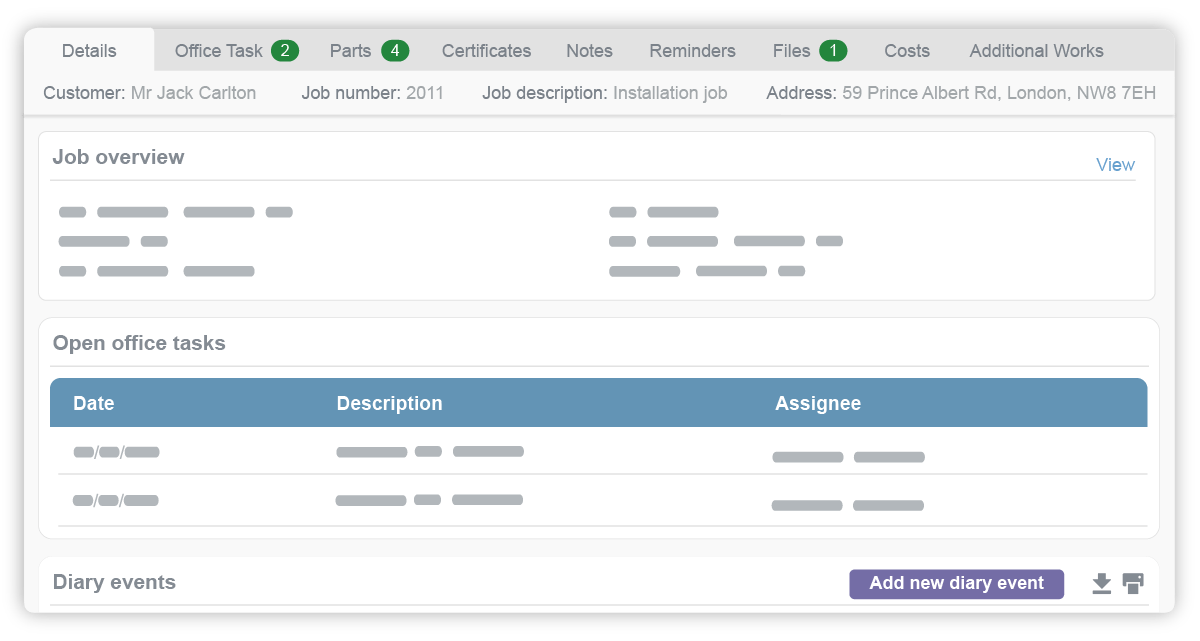 Job Details Always on Hand
PRESET JOB TYPES
Field service jobs are rarely one of a kind—you'll most likely complete similar work time and time again. Automated processes, like creating preset job types with required details, means admins can quickly book services with less pressure. Our job tracking software simplifies job creation, tracking, and completion, ensuring your team has the capacity to take on more services per day.
Quickly create new jobs from both mobile and web

Add details like price, time to complete, and required engineer skills

Customise engineer workflows and job reports by job type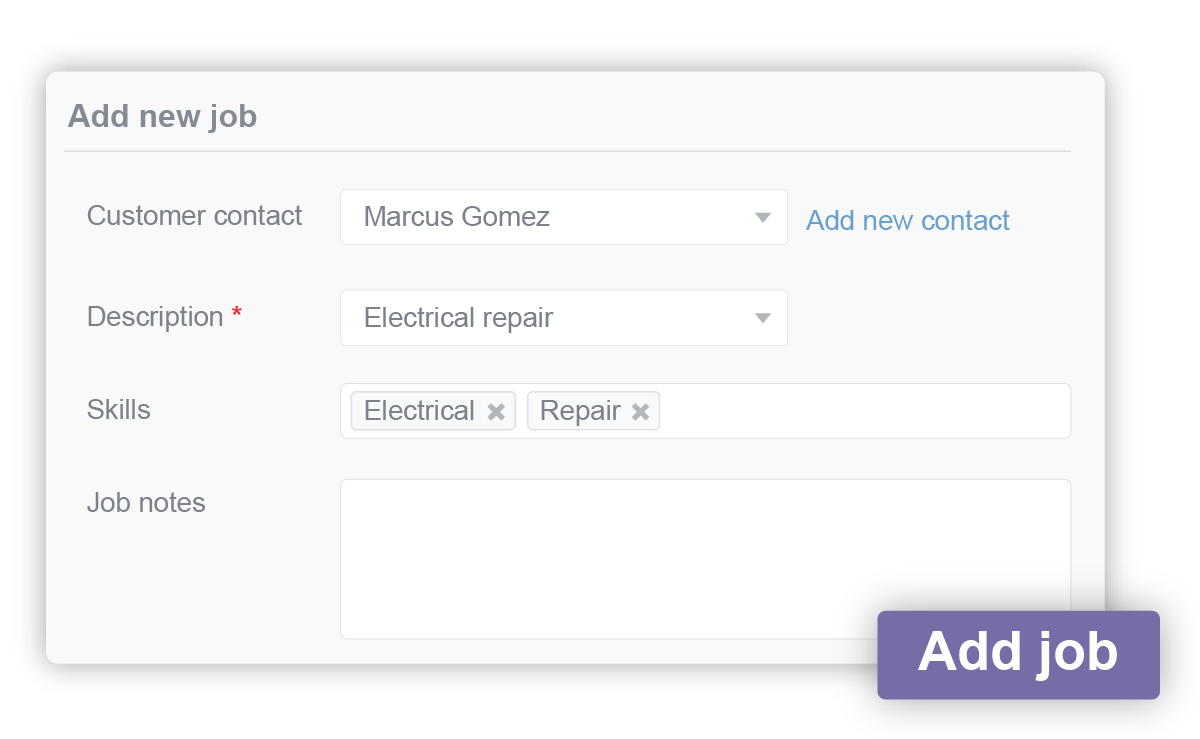 See How Job Tracking Software Can Revamp Daily Operations!
Keep Everyone in the Know
REAL-TIME UPDATES
Each Commusoft work order has all the details your team needs, when they need them. Whether a job has been moved, a safety record completed, or a new invoice created, our web and mobile applications sync with updated information in live-time. This means your field crews and office staff can carry on with their tasks with less check-ins!  Engineers know exactly where they need to be, and office staff can see exactly what occurred at each job.
Job statuses update as engineers tap on their app throughout the day

Commusoft's mobile app saves info offline and syncs with WiFi

Personalised alerts and notifications keep customers updated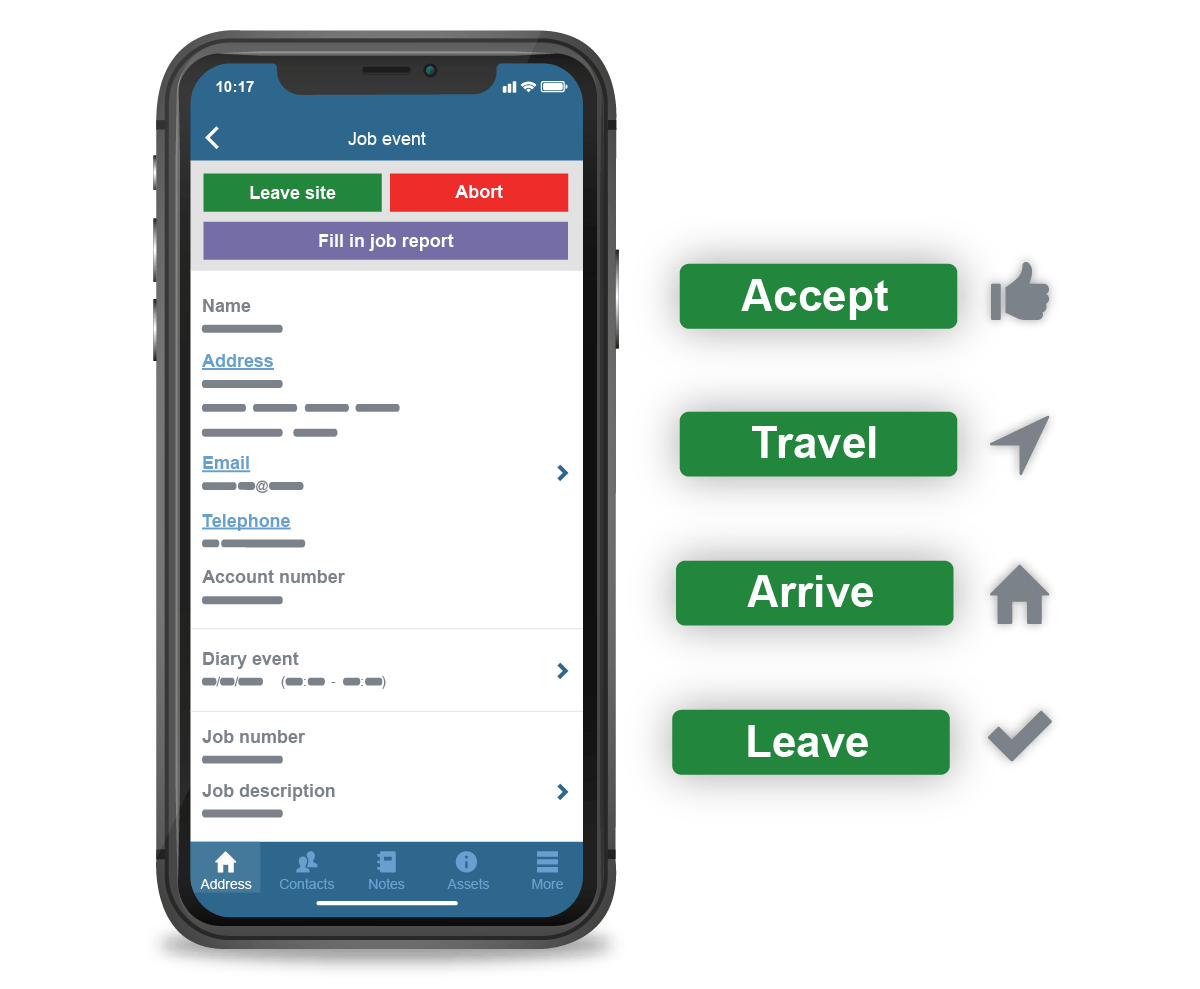 Respond to Any Situation
EDIT JOBS
Many jobs don't go to plan. Commusoft's maintenance work order software makes it easy to roll with the punches. Your team can effortlessly react to unforeseen changes, update and amend all aspects of jobs at any time. We'll make sure your team is equipped to offer the best customer experiences!
See the live status of every job

Record no access jobs and reschedule

Raise recall jobs if you need to revisit a property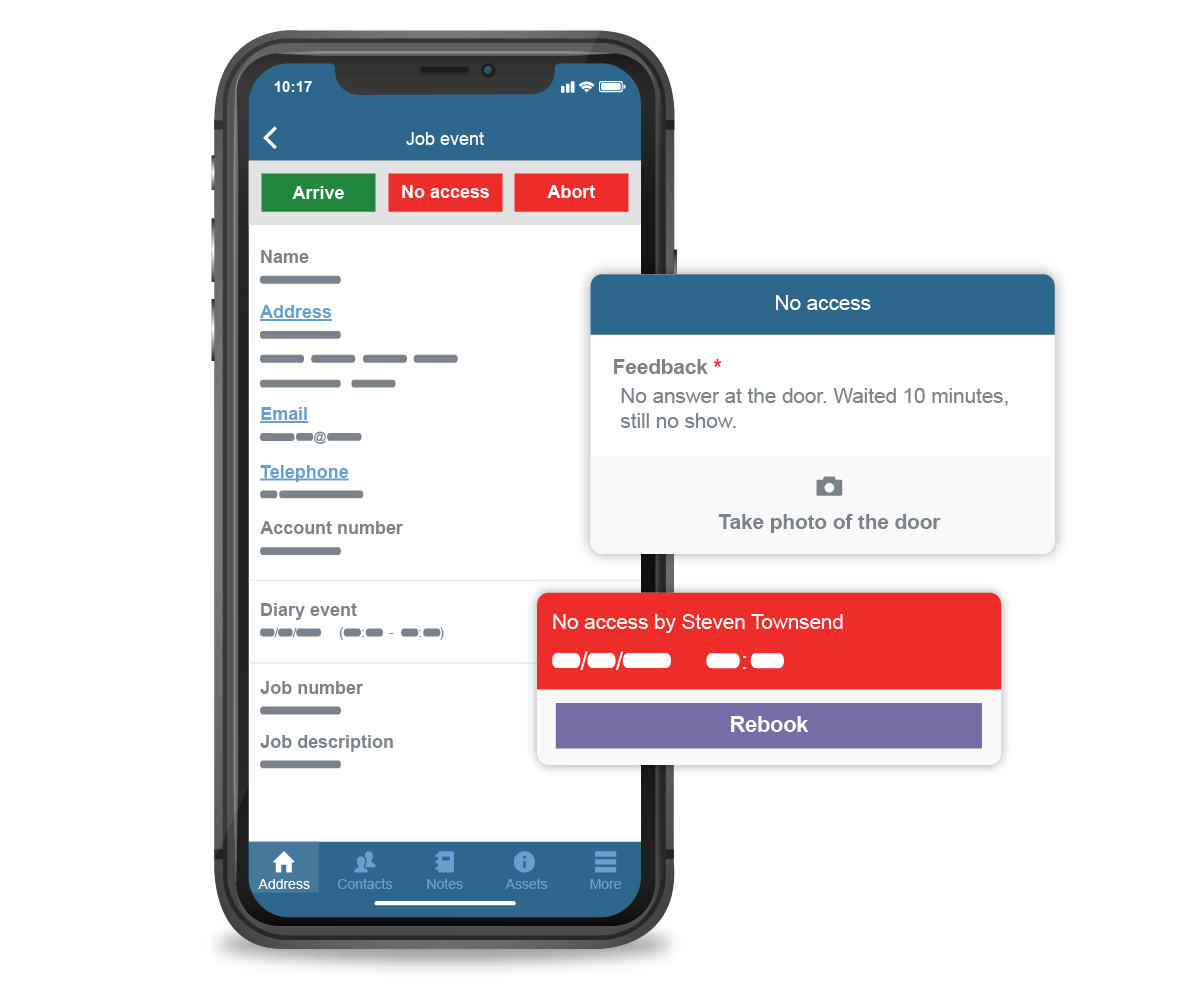 Job Tracking Software Features to Rejoice Over
Work With Estate Agents and More

Easily manage estate owners with the ability to add multiple properties against a single customer. This customer/property relationship makes booking and job tracking seamless.

Handle Complex Jobs

Every job comes with different scenarios that affect how they turn out. Your team can tackle additional works, no access, and recall jobs with ease.

Customised Job Sheets and Reports

Creating and organising professional documents is difficult to do alone. With Commusoft you can create tailored, detailed job reports by asking engineers questions specific to that job. Simply adjust the job template with the questions needed, which can even be customised for different engineers. All job reports are logged against the corresponding job, and are automatically transformed into branded PDFs.

Protected Job Details

All job data on Commusoft is safely backed up to the cloud. This ensures that critical company information will never be misplaced or lost. You can even set viewing permissions for different employees.
Job Tracking Software Features to Rejoice Over