What Does a Great Service Proposal Look Like?
May 24, 2022 | Read: 8 minutes
What do you do when a customer rings to request a big job: like refitting their bathroom?
Most plumbing companies would survey the property, quote a price, and hope it's accepted.
But with that approach, most companies also miss out on a big chunk of business…
---
Why? It's because they're sending an estimate, not a confident service proposal.
Let's break down how you create an effective, engaging job proposal that gets results!
Before we get started, it's important to ask: are you looking to win a commercial contract or increase the deal value of your residential jobs?
If it's the former, explore our post: How to Write Winning Tenders for Property Maintenance Contracts.
---
---
How is a service proposal different from an estimate or quote?
While some plumbing companies and other trades businesses will use these terms interchangeably, the reality is that once you get to a certain level as a plumbing business, you need to be more precise in the way you try and sell to your customers.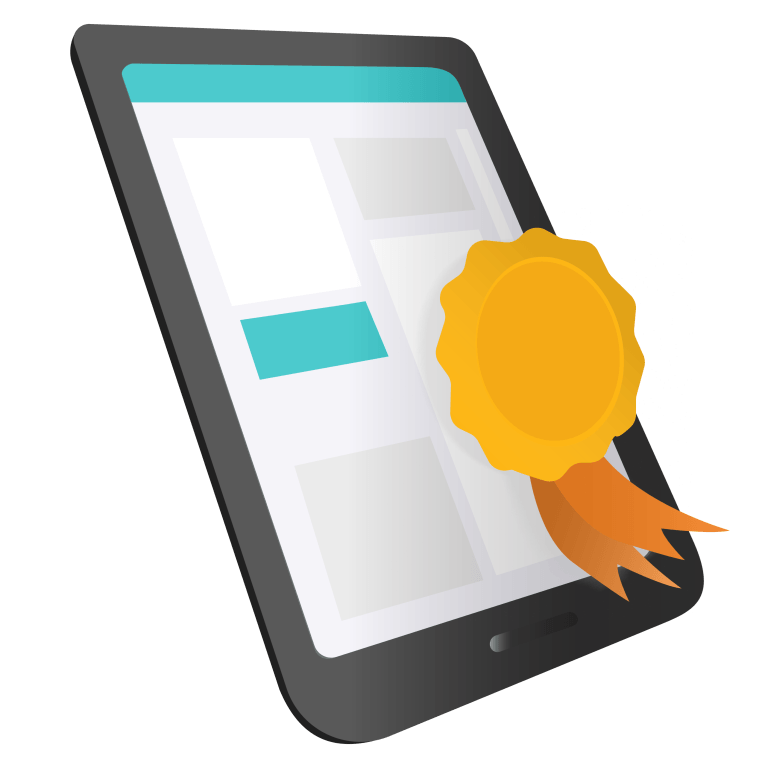 The latter two are pretty easy: an estimate or quote is often less formal than a dedicated proposal.
They're useful as ballpark figures, and although a quote can be more specific than an estimate, it's only with a proposal that you'll share a dedicated breakdown of the price a customer will pay.
Quotes and estimates are easy to put together and quick to send over, but they don't do much except tell the customer a number. They're not super convincing.
Service proposals are a different game altogether.
Every interaction you have with a customer is a representation of who you are as a company, and you want to make a good impression. you also want to get results.
If you're simply sending out a plain estimate or simple quote, you're probably not getting consistent results. After all, if you send 50 quotes a week and spend 10-15h working on them, but only get 1 job out of it, you've wasted 98% of your time.
That's why having a dedicated process to create eye-catching, engaging proposals is so important.
Since a picture is worth a thousand words, take a look at these two examples below:
Service Quote vs. Service Proposal: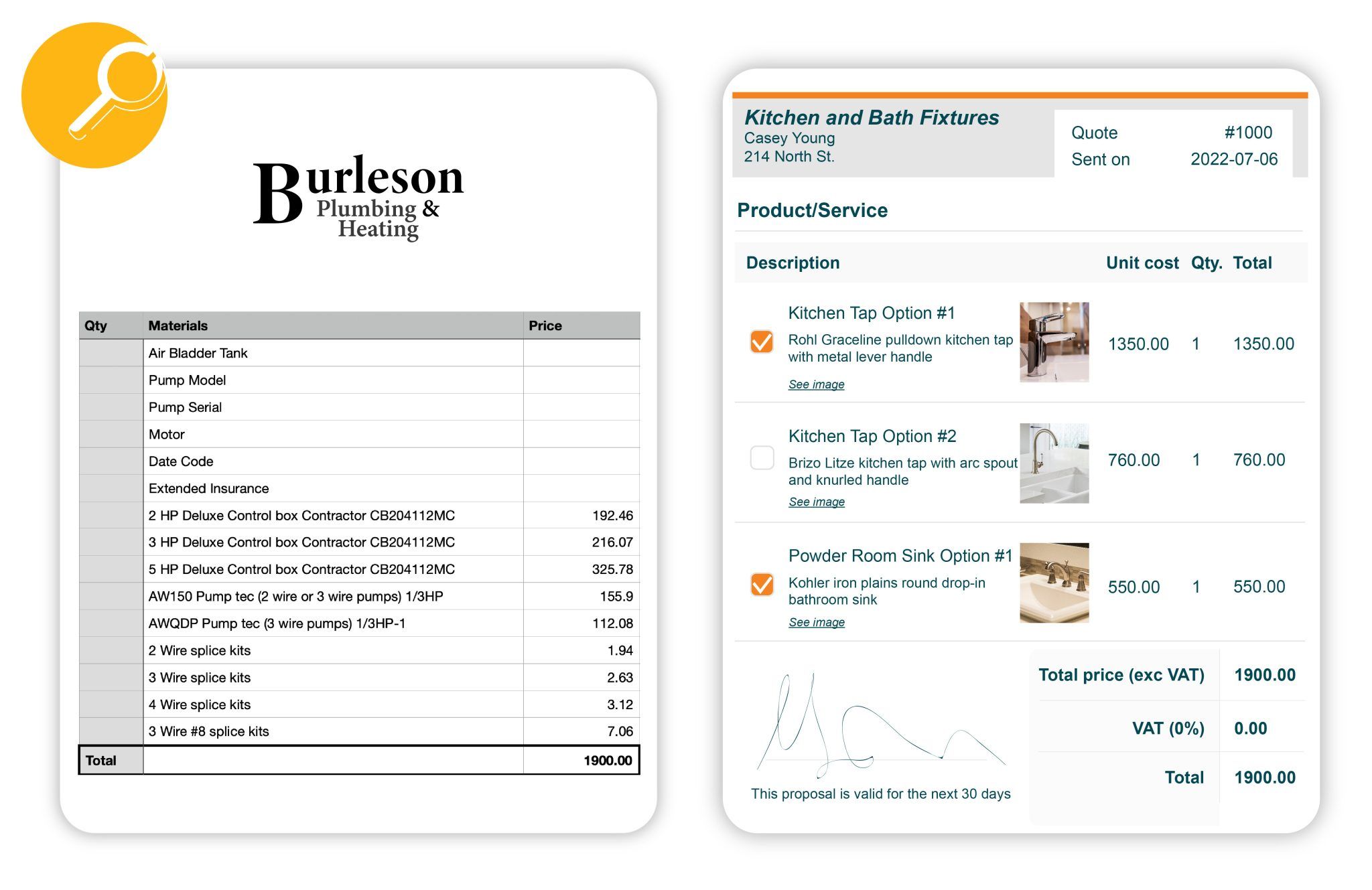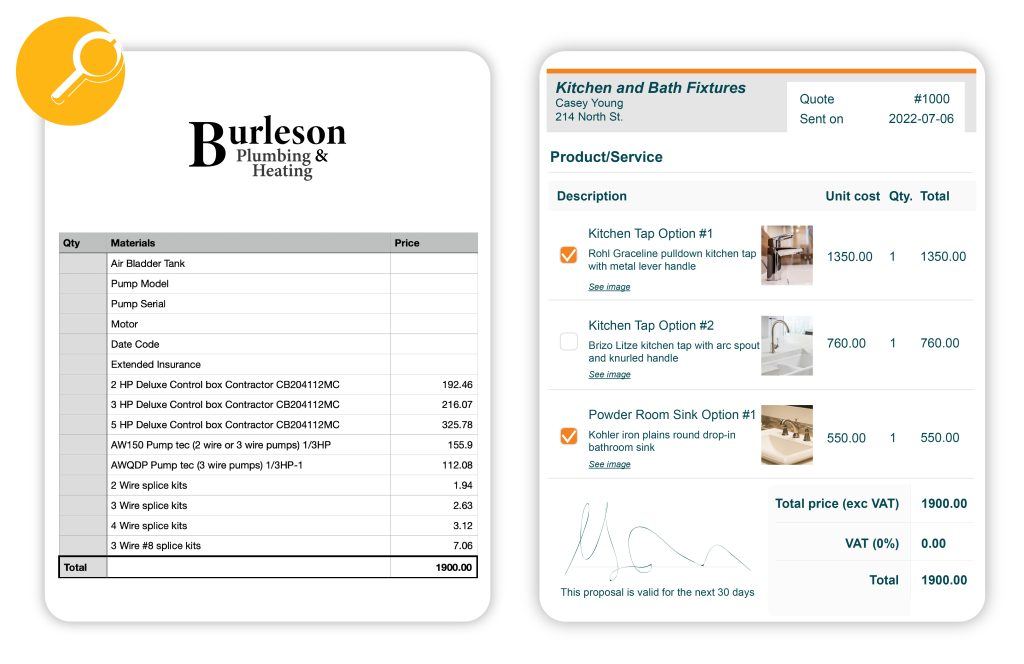 The service quote (left):
Low effort
Prices have no context
Doesn't stand out
The customer doesn't have any options beyond "accept/reject"
The service proposal (right):
Looks and feels premium
Lets the customer decide between premium & budget
Includes images and context for the price
Has a time-sensitive offer to speed up decision
The proposal is more detailed, more visually appealing, and gives a lot of context.
Which company would you trust with your expensive home renovation project?
What should I include in a service proposal?
The most important thing to keep in mind when working on your proposal is that you're not the customer.
Sounds obvious, but you'd be surprised by how many service companies forget that most customers have no idea what a retrofit costs, or whether £299 is a good deal on a new basin.
They also don't know that it took years for your technicians to be able to get a job done in 45 minutes, so they scoff at the idea of paying £100+ for labour.
The easy thing would be to walk away from these (frankly) normal objections and move on. but this means missing out on potentially thousands in revenue!
A good service proposal, however, does a great deal of the work to convince a prospect that you're worth the price tag – whatever you decide that may be!
Basic things to include in your service proposal:
Company name, address, contact
Logo
Proposal number and send date
Customer name and address
Item images and details (name, serial number, quantity, price)
Total before and after VAT
That will get you closer to a good proposal. To learn more about building great proposals, explore our guide to creating sales proposal templates, by clicking here.
You could also consider adding some of the following to your proposals:
Should I use pricing options and set tiers?
Yes. Options are the staple of a good installation proposal. They give the customer some perspective and "good, better, best" structures give them a good idea of what things generally cost.
In the age of subscription services, many of us are now used to choosing our level of service. Think of your Disney+ or Netflix subscription. Are you on the Basic plan? Probably not, especially if you've got kids you want keep busy.
The "Standard" perks, like those you can see below, are often the most appealing option. That's because they're not too expensive, and you can see you get more than a "basic" package. This makes the mid-tier option feel more like a great deal. According to Harvard Business Review, most customers will go either for the middle option or the premium one.
With tiered pricing, you can keep your customers focused on you and compete against other companies without sacrificing your profits.
Have you thought about add-ons?
Add-ons are smaller value items that can catch a customer's eye in the proposal and that you can buy fairly cheap at wholesale, then offer them at a high margin.
Wayne Bettess, host of the Off the Tools podcast has a great example: he noticed a company offering carbon monoxide alarms as add-ons, so he had a look at a wholesaler and realised the company was making a massive profit on each device. He placed an order and started offering them to his customers as well. With a little bit of capital and little effort, he managed to create an easy additional revenue stream.
The idea is to make these items small and fairly cheap compared to the job cost, so that customers can feel like it's not making that big of a difference in the end. Things like digital thermostats, exclusive colours, or personalised items can be a good way to increase the value of your deals.
Can you offer finance?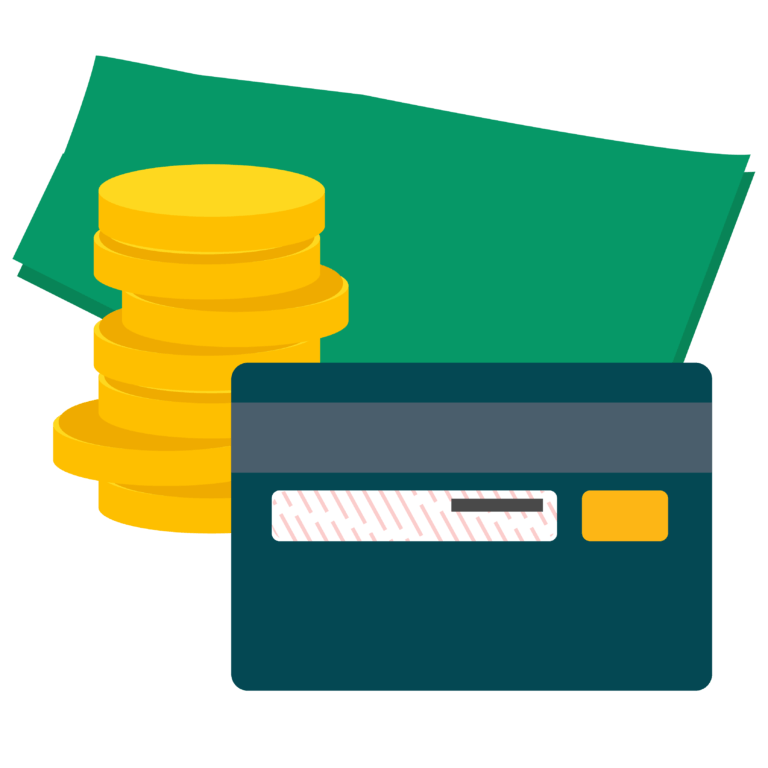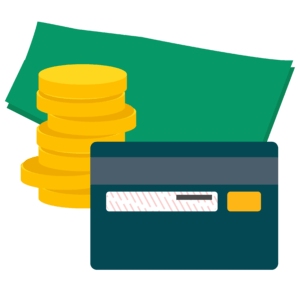 Financing solutions are becoming more common these days, especially if you're a heating company, as not everyone can afford a big install (especially when their boiler breaks down unexpectedly).
If you're not familiar, these are third-party vendors who will pay for the job and negotiate their terms of repayment with the customer, so you're not liable to incur any debt.
Finding the right partners can be challenging, but once you've locked them in, it's a great way to help customers get the work they want, even if they might not be able to afford the full cost all at once.
This way, you can reach and support both budget-conscious customers, as well as the ones who might be keen on efficient but more expensive instals.
Add urgency with time-sensitive offers!
The more expensive the job, the longer the buying journey.
That makes sense, right?
The customer wants to know what's out there, which companies can do the work, and whether their budget covers it. However, your goal is to get proposals accepted and people booked in, so a time-sensitive offer can be a great help.
Your proposal can include specific terms and conditions such as:
This proposal is only available for the next 10 days.
Accept this proposal within 10 working days for a 10% discount.
If you accept this proposal in the next 10 days, you'll be entitled to a free carbon monoxide alarm
Feel free to get creative – these time-sensitive offers will help customers differentiate between you and the competition and speed up the decision-making process.
Add the option to include a maintenance service subscription
Depending on the installation you're working on, a maintenance service subscription can be a good option for you to establish a long-term relationship with the client.
Most appliances will require regular maintenance in order to work well and remain efficient.
Customers will be open to the idea, as they're getting ready to make an investment, and they want it to be as profitable as possible in the long term.
Adding a maintenance subscription to the proposal is easy, either as a monthly/yearly fee or a one-off payment. Again, tiered, good-better-best subscription options should also be considered, but the installation proposal is not the best place for these, especially if you're trying to keep it simple.
Consider also removing the add-ons if you want to promote a subscription. Options are great, but clutter is not.
The best practice, in this case, is to list the option and use it as a conversation starter when discussing the job with the customer.
---
We're here to help you create beautiful service proposals:
Writing a great service proposal can be a lengthy process… but it doesn't need to be.
If you're ready to streamline the way you sell, check out our Ultimate Sales guide. It has everything you need to level up your home service sales and win more business!