When Is a CP12 Gas Safety Certificate Required?
May 31, 2018 - 4 minutes
A CP12 gas safety certificate is an important part of the obligations placed upon people who choose to rent out properties to paying tenants. However, there can be some confusion about the document and when one is required.
What is a CP12 Gas Safety Certificate?
Landlords have a moral and legal obligation to ensure that any gas equipment in their properties is safe, competently installed, regularly and properly maintained, and fit for purpose. The regulations cover appliances – such as boilers and cookers – as well as fixtures responsible for the conveyance of gas, such as pipework and fittings.
CP12 gas safety certificates were established to ensure that the properties landlords let out are safe for their tenants – at least where gas supply and application are concerned.
Why Two Names?
Some of the confusion around the CP12 gas safety certificate comes from the fact that I's also known as a landlord gas safety certificate. So, if the two certificates are identical, why two different names?
The CP12 classification is an abbreviation of CORGI Proforma 12. From 1991 until 2009 (2010 in Northern Ireland and Guernsey), the Council for Registered Gas Installers (CORGI) was the legally mandated registration body for UK gas installers. While CORGI still exists as a gas safety certification body, registration is no longer a legal requirement.
After CORGI lost its status as the official gas safety registration body in the UK, the role passed to the Gas Safe Register, which operates on behalf of the Health and Safety Executive. As the CP12 classification was not relevant to this new body, the name was changed to the landlord gas safety certificate.
What is Covered by the CP12 Gas Safety Certificate?
Landlords are legally required to have all gas appliances, flues, pipework, fittings, and chimneys inspected by a registered Gas Safe engineer once every 12 months. Tenants are legally entitled to receive a copy of the CP12 gas safety certificate within 28 days of the inspection, and the landlord is required to keep their copy on file for at least two years.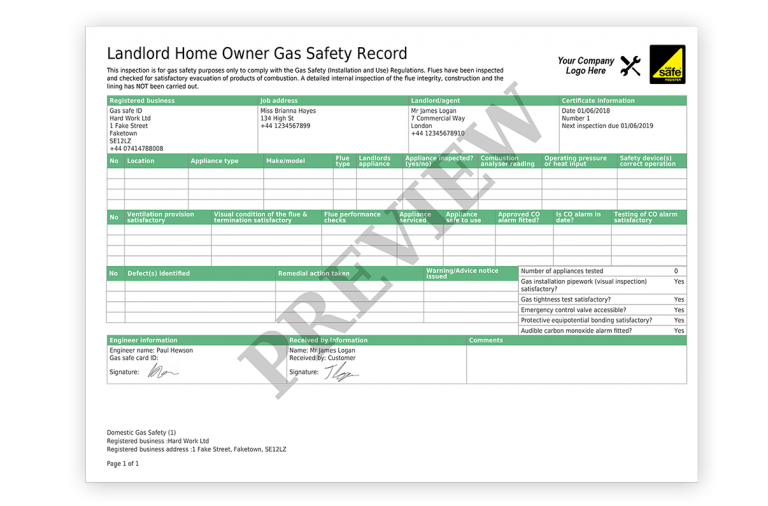 The cost of the inspection is very much set by the engineer carrying it out, but is normally in the range of £35-£150.There are some unscrupulous unregistered engineers out there who carry out inspections for a very cheap price, but unless they're registered with Gas Safe, the certificates they produce have no legal standing, and the landlord would be liable should any incidents occur as a result of faulty gas equipment. The Gas Safe Register website has a function which allows you to check the status of an engineer or find a local one.
When a Gas Safe registered engineer visits a property, they will carry out the following checks:
Check your appliances for gas tightness
Check the standing and working gas pressure (if test points are available)
Check the burner pressure/gas pressure against the manufacturer's data plate
Check for the satisfactory provision of all necessary ventilation
Test the flue flow to ensure the removal of products of combustion
Check that safety devices work properly
Check for any misuse of gas devices or items
If the property fails on any of the above, the landlord will have to arrange for the necessary repairs to be made before the CP12 gas safety certificate can be issued. The repairs will normally be carried out by the same engineer who performed the inspection, although this is not a requirement. What is mandatory, however, is that a Gas Safe registered engineer performs the second inspection as well as the first.
A Digital CP12 Gas Safety Certificate Solution
CP12 gas safety certificates are traditionally completed manually using a pad of triplicate paper, but this is a time-consuming, inefficient, and unsustainable practice.
With a digital gas certificate software solution, inspectors can fill out their forms on a mobile device and then email copies to everyone who is required to have one. Features such as touchscreen signature capture make it easy to create certificates and collect sign off from both the engineer and customer.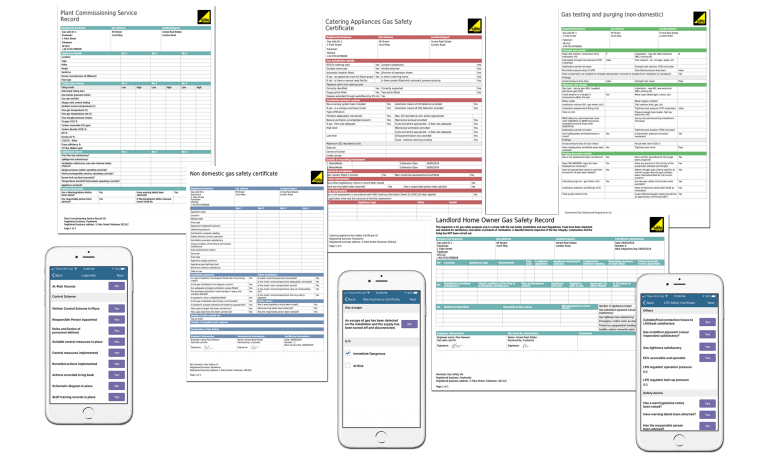 By going paper-free with a digital solution, field service businesses can say goodbye to dog-eared, scruffy certificates, filled out with illegible handwriting, possibly with spelling and grammar errors, or confusing jargon and/or shorthand. As businesses the world over look for ways to reduce their carbon footprint, doing away with paper certificates is one great way to work towards a more sustainable field service industry.