How to Give an Estimate Using Online Software
March 26, 2020 - 11 minutes
A customer needs service and now it's time to let them know the expected payment amount. Since you haven't secured the job yet, creating an estimate that outshines your competition is essential for winning their business.
In short, using online software allows you to produce a professional estimate. Sending estimates and allowing your customers to pay deposits online allows you to give accurate quotes in a much shorter time frame. This means you receive your deposits at a faster rate!
Here are the steps of how to give an estimate using online software:
1. Get started with your engineer visiting the property
We recommend that your engineer talks to your customer about the job in person to get a clearer picture of their problem and what needs to be done. Having these discussions over the phone without their appliances in sight is not as effective.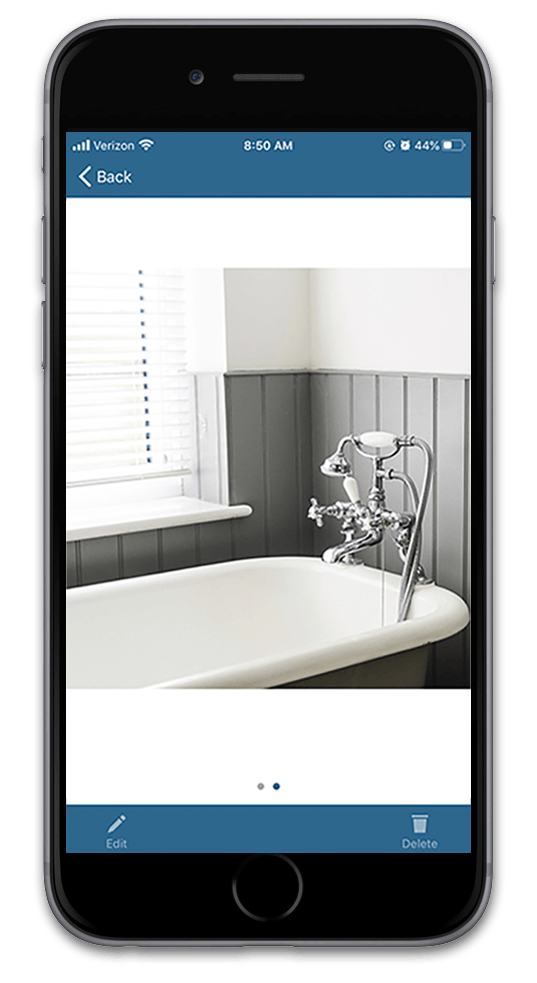 With their mobile work management software app, your engineer accesses photos from previous visits. They pull up any manuals from their mobile app and assess how to proceed with the customer's request.
With these resources, your engineer uses the time to show off expertise and educate the customer on their appliances.
During their conversation, your engineer shares some information about your company and what makes you unique from competitors. Before they leave and thank the customer for their time, your engineer outlines the process of how they plan to do the job, bringing up any licenses or other relevant designations.
2. Design your estimate template with software
Your estimate should be something that people want to look at. So, having a strong design is crucial.
Branding plays a significant role in selling services these days. A strong brand identity is a powerful asset that helps you out stand out from your competition.
One branding technique is using a professionally designed logo. You certainly want to provide a way for your customers to remember you, and your unique logo assists with that. Thus, adding this to your template header makes your estimate look official.

With job management software, you should be able to decide which color accents your estimate. Adding a color enhances the design, making it more visually interesting.  If you wish, you can add up to three photos at the footer of your document. This is helpful if you want to show the faces of the business or any relevant licenses.

Once you have a template, go ahead and use it for as many jobs as you want! Go ahead and make templates for all the services your company offers.

3. Set up your estimate templates with key information
First, configure your estimate template by writing in your company's contact information – including your company name, phone number, address, and email address. This way, it's easy to get in touch and book a job.
Other best practices include adding a message to your estimate template. Adding message text to the top of your estimate template helps you explain your work to your customer.
Once you write introduction and body paragraphs text once, you're free to reuse it over and over again. This helps to decrease how much manual labour the estimate process involves.
In your writing, it's advantageous to address your customers by name. According to Forbes, "the majority of consumers (80%) are more likely to purchase from a company that offers personalised experiences."
Use tags to customise information, such as the estimate number, contact name, customer email, estimate job type, estimate portal URL, customer email, etc. Then, your software automatically fills in these tags with the respective information once you send out an estimate for a specific job.
In your message, thank the customer for their interest and invite them to contact you should they have any questions about your services.
Here is a basic message you to use for your estimates intros if you wish:
Dear [estimate-contact-name],

Thank you for booking an appointment with us. Below is an estimate so you can understand the expected cost of the service. Please let me know if there are any questions.

Thanks,

[your business name]
Following these guidelines, here is an example of what the top of your estimate could look like: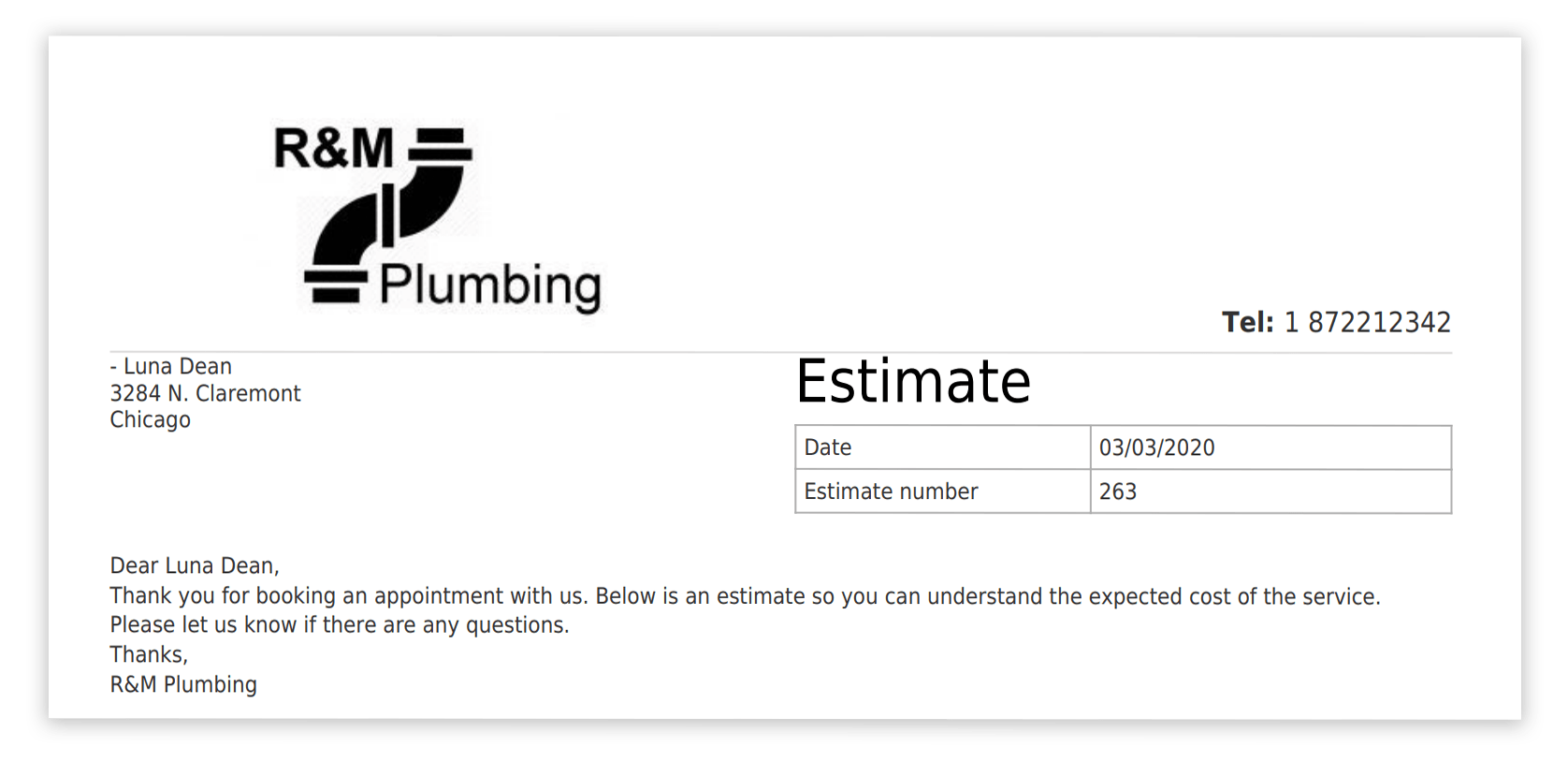 4. Write a job description
Include details such as who is going to complete work, what the work involves, and approximately how long it will take. Aim to provide a concise description of the project – this goes right under your introduction.
With work management software, you should have the ability to bold, underline, and italicise text. Also, you can adjust the font size and font family to your liking.
After writing an initial description, spend some time thinking about what information is necessary to communicate and if any of the text can be taken out. Messages that are brief yet informative work the best.
Here's an example of a plumbing job description:
"On 5/14/2020 in the early afternoon (1:30-2:30 pm), Kevin will complete plumbing work at your home address. The job involves unclogging a bathtub drain on the second floor. Kevin will use hydro jetting to clear the clog. The process will take about 3 hours and includes the installation of drain cleaning equipment."
5. Set up any terms and conditions in your template
The software should allow you to create estimate terms and conditions which are attached along with the estimate you send to a customer. Create as many estimate terms and conditions as you wish.
When creating an estimate, your software should give you the option to choose which terms and conditions template you wish you use.
6. Determine the price of the job
Make sure you're getting the payment you deserve by using a precise method to determine your price. The way you want to price your jobs is entirely up to you. If you're looking for tips, here are some ideas that you may want to consider:
What parts/labour does the job involve?
Do you want to put a markup on parts? If so, how much?
Are there any new parts you need to order for the job?
About how long will services take?
Look at how long these services have taken in the past. Then, charge by job type and the hourly rate for the engineer completing the service. Engineer rates are generally based on experience.
Still having trouble settling on a price?
If you're having difficulty selecting a price, you can check competitors' webpages to see how they charge for similar services.
If deciding on a single price is tough, use the software to create multiple quotes segmented by budget. For example, you could provide three different options with different levels of service/price points, giving the customer the freedom to select their preference.

7. Write in the necessary cost information
Now, you go to your customer account and create an estimate! You want the document to be neat and organised, and thankfully the software does all of this for you once you put the data in.
It's best to provide a table showing the breakdown of costs to keep the information organised and easy to understand. This way, the customer understands where the total price came from. It's helpful to break down the costs into labour and parts.
You don't want to give too much information, such as parts markup. But, your customer wants a general idea of where the number came from so it doesn't look like it was pulled out of thin air.
Lastly, decide if you want to take a deposit. This helps cover any initial costs while guaranteeing their commitment and reducing the chance of cancellation. No one wants to lose money and pay a deposit for a service they end up canceling. Your software conveniently allows you to factor a deposit in, giving you the ability to choose what percent you will take.
The estimate automatically goes to an estimate portal, where the customer views an estimate, pays any deposit, and accepts the services. Additionally, the estimate automatically turns into a PDF for both you and your customer to reference.
8. Give a professional estimate on-site
Your team has the option of creating an estimate back at the office on a computer or on-site, both using job management software.
When creating a mobile estimate on iOS or Android operation systems, the process begins with the engineer bringing up the quote on their mobile device during estimate appointment.
Next, the customer reviews the deposit price, signs the digital document, and clicks the accept button, which affirms their commitment.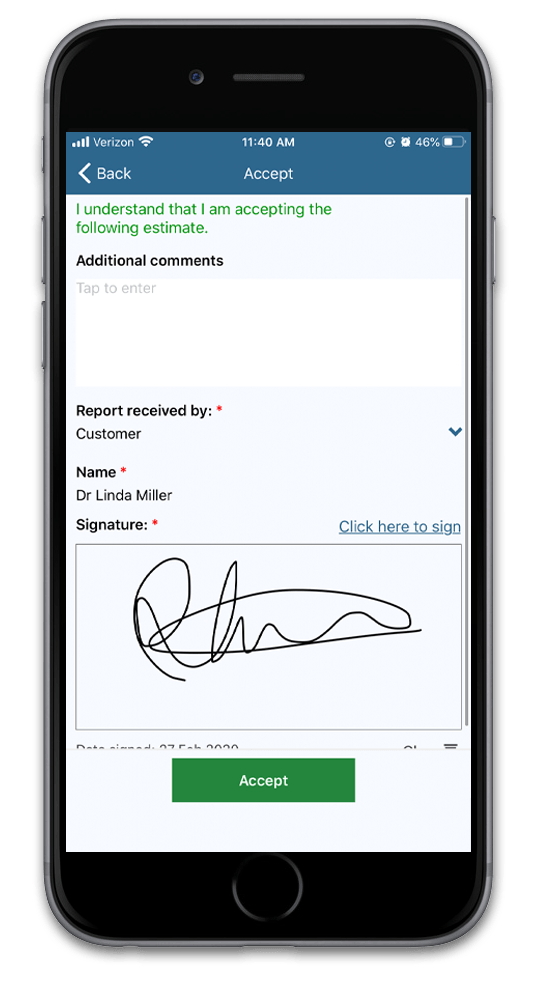 Finally, they use their credit card to pay with the software's mobile payment integration.
Your engineer sends them a PDF of the estimate for their records. Next, your software clearly marks the estimate with a watermarked "accepted" across the PDF document. You then send this copy to the customer to reinforce the customer of their acceptance.
Your engineer should thank the customer for their time and let them know they look forward to helping them with their service. They should give the client a business card if they have one.
9. Or, email the estimate portal link to the client
Your staff can also deliver estimates via email by attaching a link to an estimate portal where customers view and accept estimates online. Estimate portals save you from having to print and mail estimates.
Even more importantly, the wait time is significantly decreased because customers accept and pay their deposit as soon as they receive the email. This means you don't need a staff member available to process payment over the phone.
You'll want to use thoughtful subject lines and email text. To write standard messages that send along with your estimate portal, write your text in your estimate settings.
Here is an example of an email you could send to your customers, using personalised tagging:
Subject:

[estimate_contact_name], your estimate for a [estimate_description] at [estimate_address_line_1] is available

Email:

Dear [estimate_contact_name],

Please see attached estimate [estimate_no] for a [estimate_description] at [estimate_address_line_1] [estimate_address_line_2].

Please contact us if you have any questions or concerns. [estimate_portal_url]
Here's how your software interprets this email: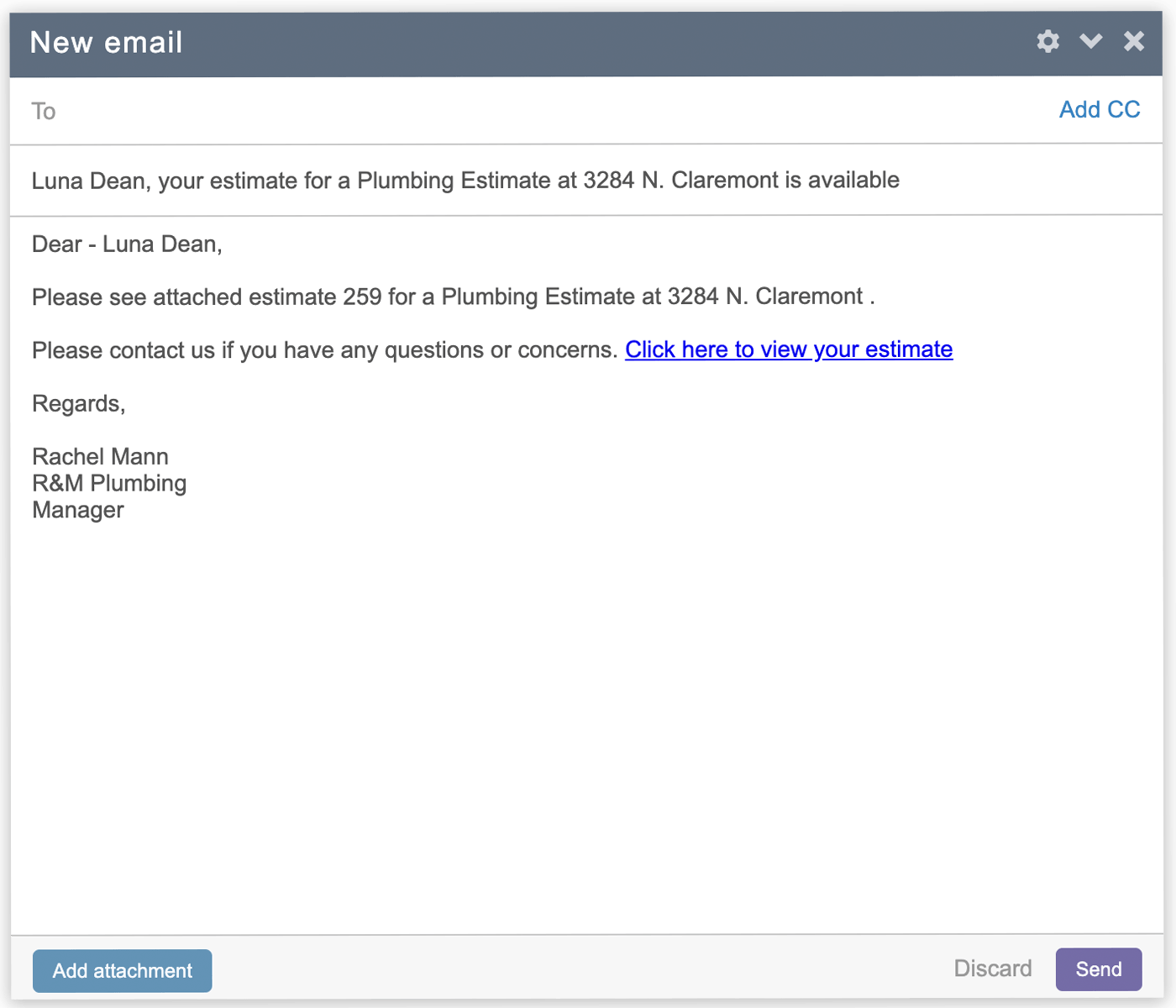 As soon as your customer receives this email, they're all set to accept the estimate from the estimate portal, shown in the below screenshot: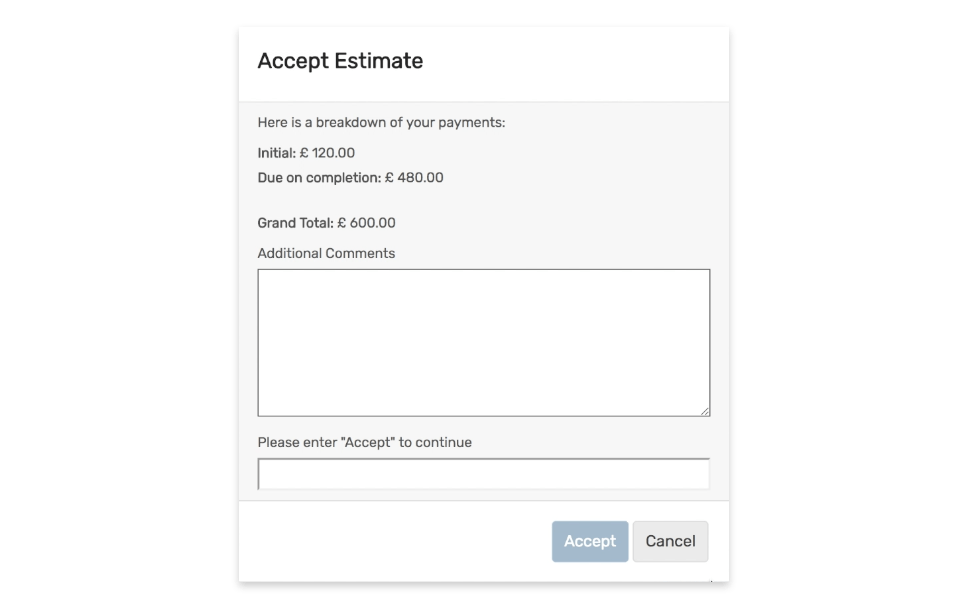 Now, you that you've done all the work with securing their business, it's time to make sure your team does the best job possible during the appointment. Learn more about how your engineer can exceed expectations and improve the customer journey.
Takeaway
The process of giving an estimate is extremely important to securing business. Increase your chances of success while saving yourself time and money by using online software for your estimates.
Learning how to give an effective estimate is an ongoing journey, but we guarantee that you won't regret going paperless. Going paperless reduces costs, minimises errors, and enhances your professional image. All of this improves the relationship with your customers, earning you more business.
You will have a more efficient process and a more professional product by making the choice to use estimate software. You'll be amazed to see job bookings and your cash flow increase.
Commusoft's field service management software provides an estimates portal feature that does all the helpful things mentioned in this article. On top of estimate software, Commusoft has a number of other helpful tools that boost business. When using our software, your business becomes more efficient, putting you even further ahead on the path for success.