ASSET MANAGEMENT
Manage Customer Assets From Anywhere
Effective asset management depends on having the right information on hand. Our asset management software allows your team to view all assets on a property with a single click. By speeding up your response time, you'll increase efficiency in the field.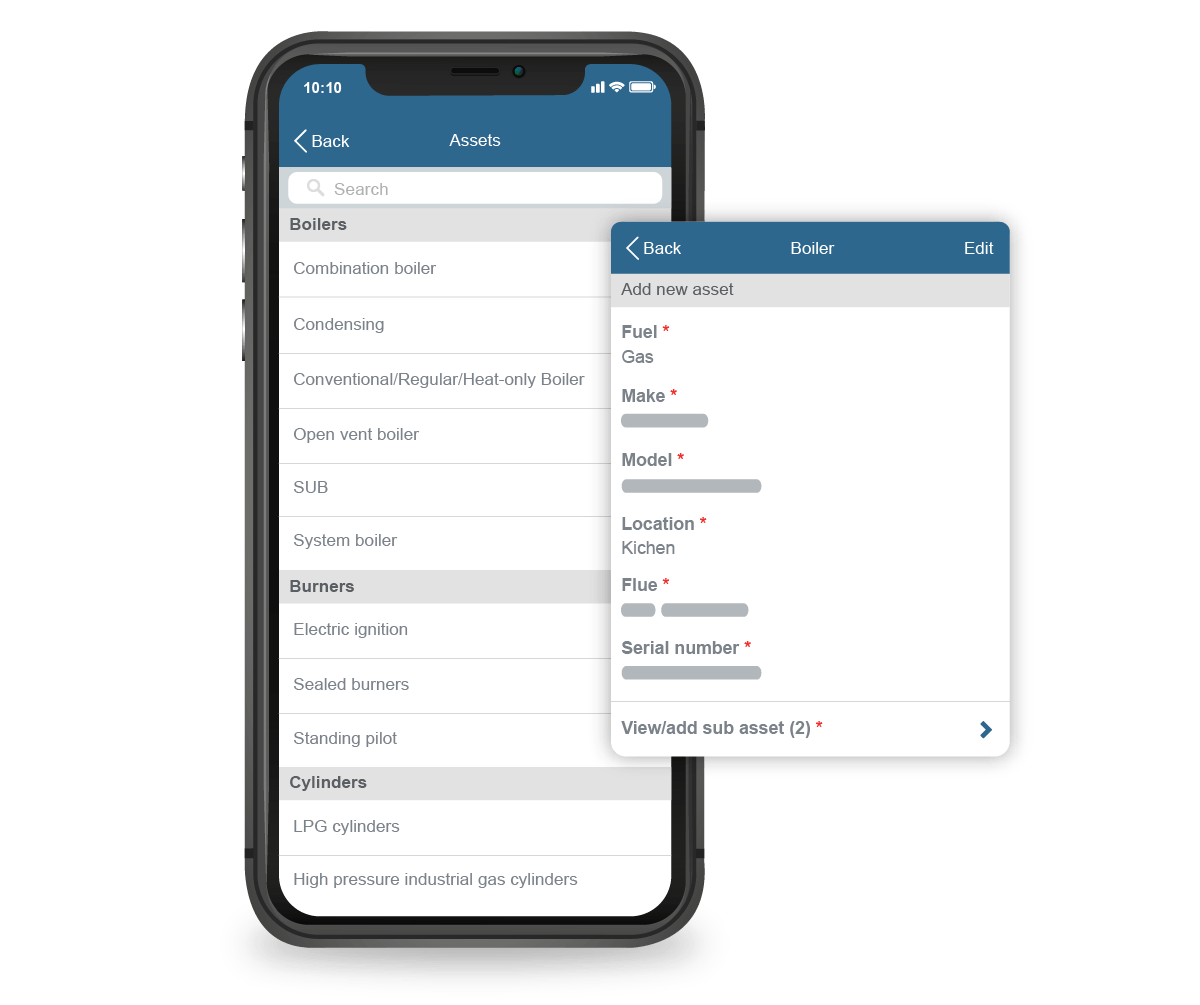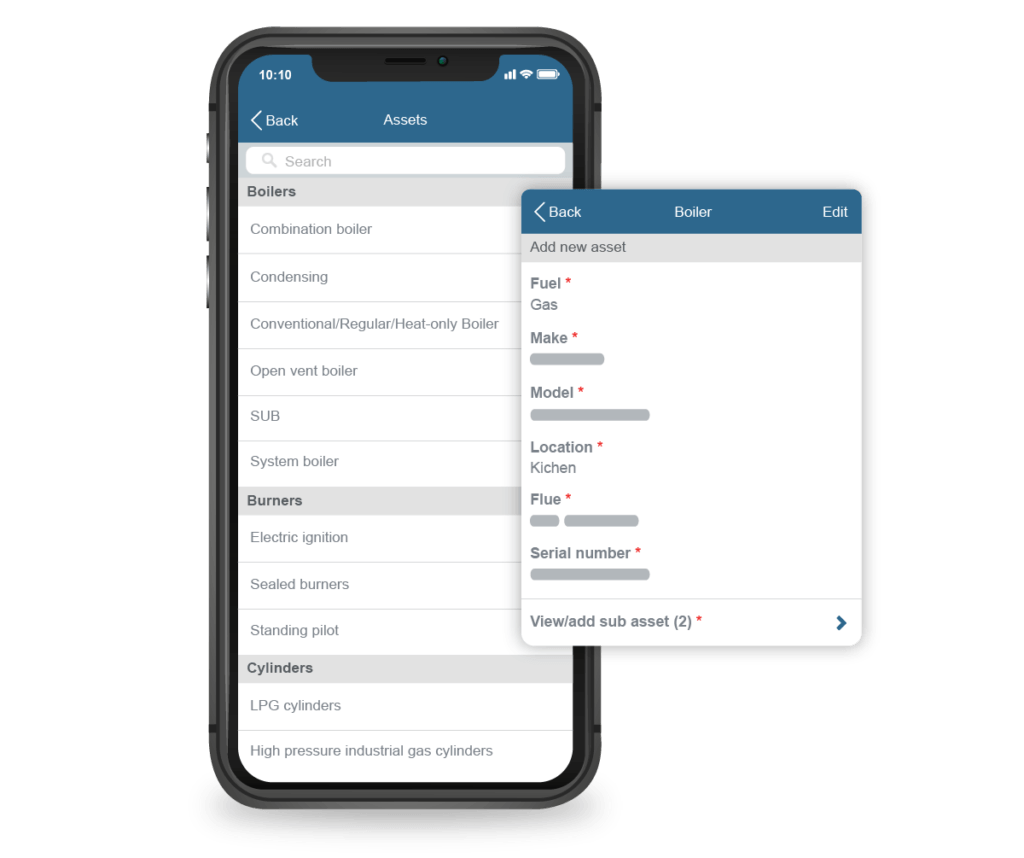 First-Rate Asset Management Features
Centralised Asset Details
Details like brand, model number, date installed, service history, are all easily found in one place.
Asset Work History
Your team can make sensible decisions based on past jobs, recommending repairs or full replacements.
Asset Mobile App
Engineers can access and update asset records directly from the job site.
Customise Assets
Create custom asset structures and classes if your business utilises non-standard asset structures.
Strategic Service Scheduling
Support planned preventative maintenance (PPM) schedules and workflows with asset records.
Certificates
Empower your engineers to capture vital asset data from the field with custom asset forms.
EJ
Technical Manager
Ultra Building Services
We really like the option for our engineers to note the locations of the boiler, gas meter, and stopcock, this information is vital to us...knowing the location of the boiler and gas meter really saves time for the next engineer who may not have attended the property the previous year.
Facilitate Easy Asset Management
Assist Engineers in the Field
ASSET DETAILS AVAILABLE ANYTIME, ANYWHERE
Engineers always have access to up-to-date asset information on their mobile devices. This is especially helpful when they're on their own in the field. With job histories and detailed location data, engineers can make confident decisions.
Real-time sync between mobile & web

Engineers immediately know exact asset location

Justify replacement or service recommendations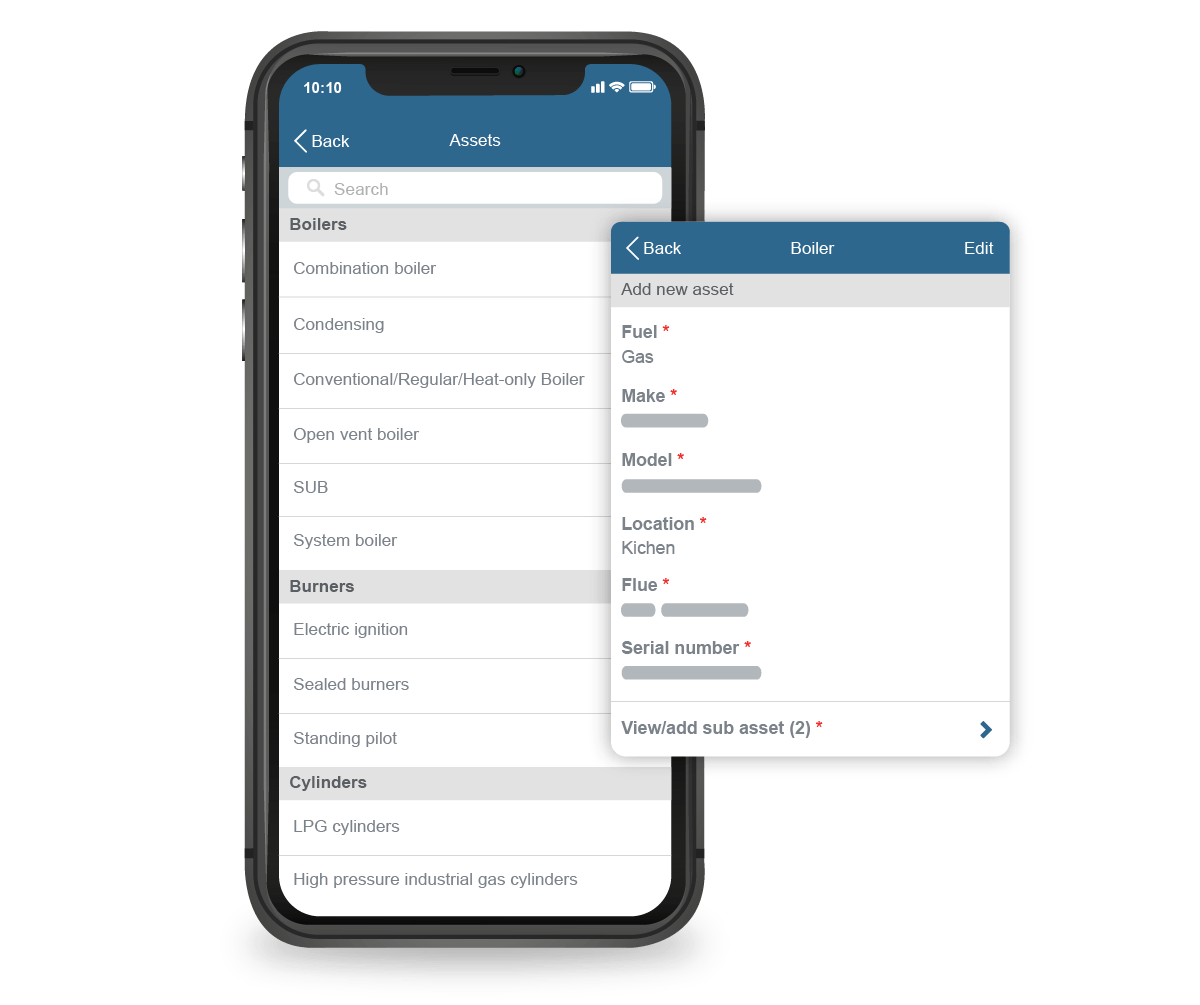 Thrill Customers With Fast Turnaround Times
COMPLETE ASSET HISTORIES
A great customer experience is critical. When customers are already upset by their broken asset, impress them with well-informed engineers. Full service histories help your team complete jobs quicker. Decrease asset downtime and boost satisfaction.
Equip engineers with full asset service histories

Complete jobs quicker and get more work done

Easily note asset details for all properties served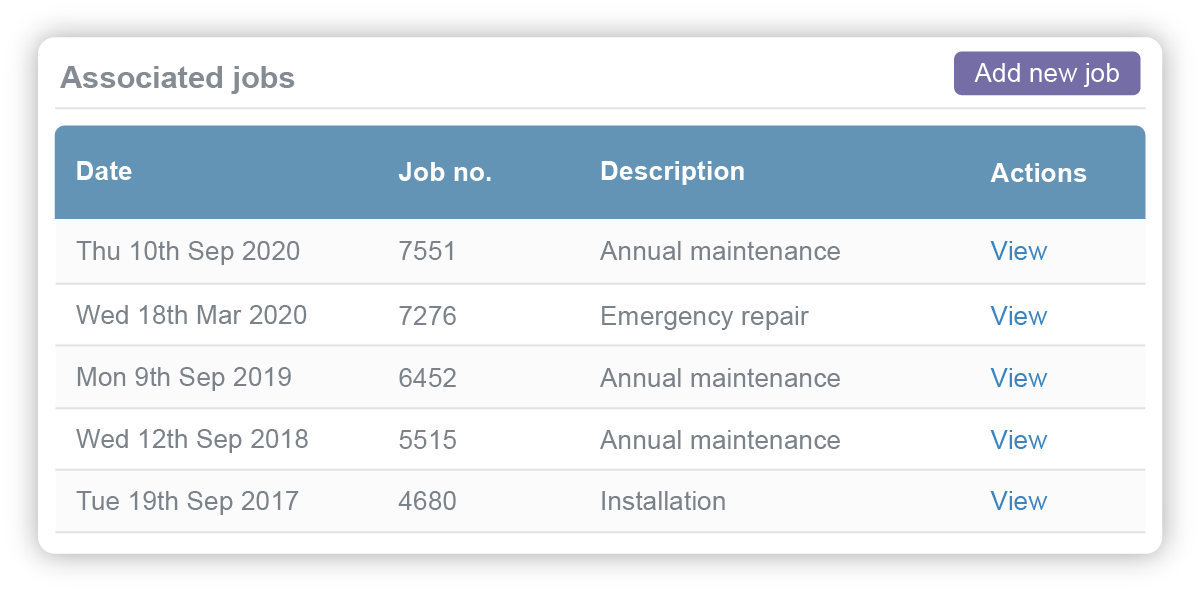 Revamp Your Entire Asset Management System!
Make Assets Work for You
PLANNED PREVENTATIVE MAINTENANCE
Our asset system compliments a planned preventative maintenance strategy. We help your team increase asset up time and set up regular service appointments. Ensure assets don't break down, and cut emergency call-outs while boosting maintenance jobs.
Greatly slice the number of breakdowns to react to

Reduce downtime quicker and complete more jobs

Appointments are productive, elongating asset life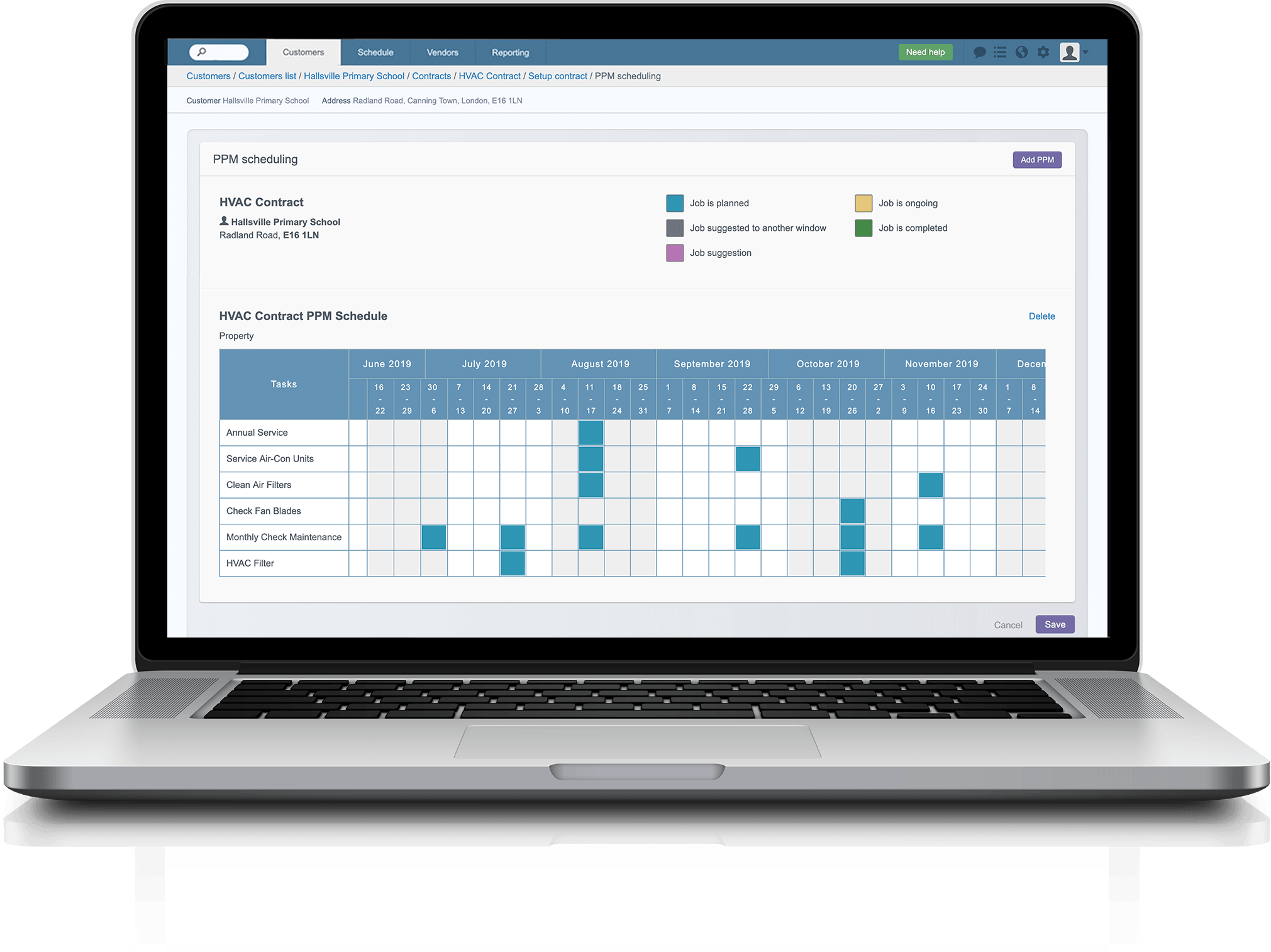 Boost Company Productivity and Profitability
ASSET MANAGEMENT WORKFLOWS
Asset management software centralises all aspects of service and maintenance works. Asset records prepare your team for any job. Streamlined reaction time to broken assets and planned preventative maintenance workflows means you'll increase bookings.
Fill your calendars with regular maintenance jobs

React aptly to sudden breakdowns with asset records

Get the most out of your services and parts costs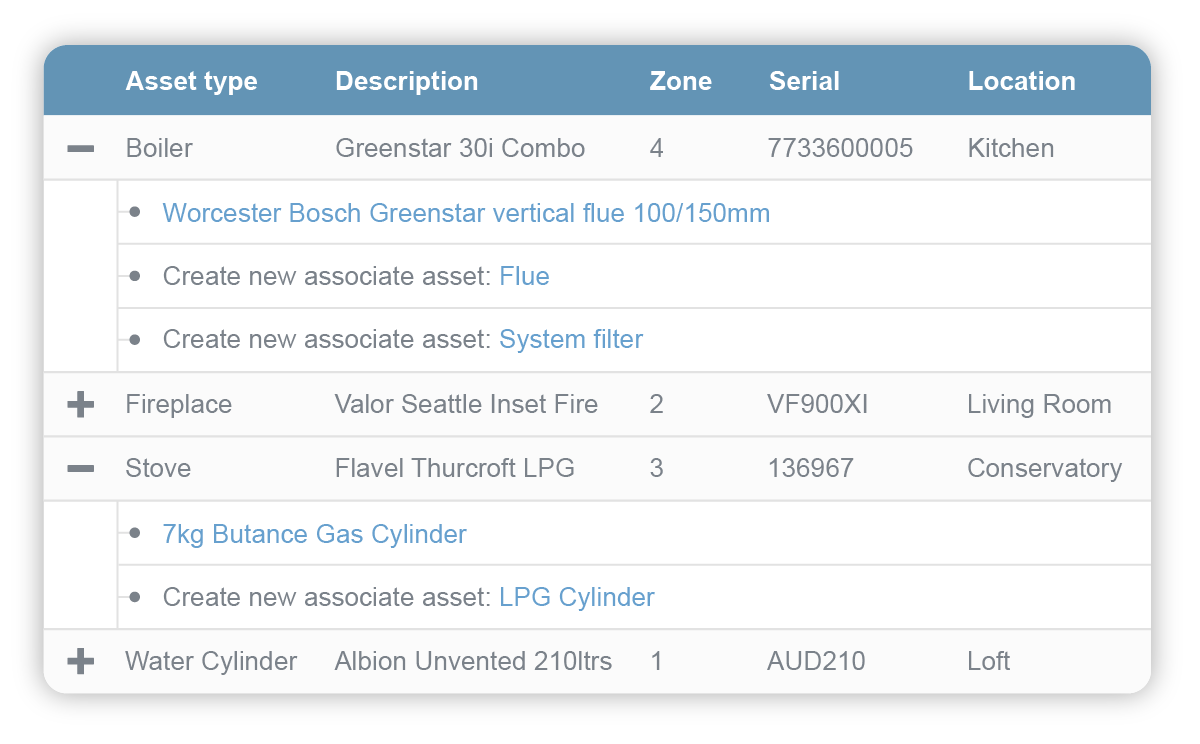 More Asset Management Features to Blow You Away
Work Address Access Communication

Send automated emails or text messages to a tenant, via a landlord or tenant to book service. Jobs are booked faster, and assets are fixed quicker.

Create Certificates Against Assets

Your engineers know the most about assets. They can capture all relevant asset information on certificates from their mobile devices.

Custom Asset Classes

If your business utilises non-standard asset structures, you can create custom asset classes on Commusoft's Customer Journey plan.

Link Assets, Jobs, and Customers

No piece of information gets lost. Use reliable service histories to provide an unmatched customer experience. You'll increase bookings and happiness.
More Asset Management Features to Blow You Away
Asset management software is a digital platform that makes it easy for engineers to capture vital appliance data from the field.

The best asset management software digitally tracks asset records across different worksites.

Commusoft's asset software goes further, allowing you to track assets on all of the properties you work at. Your engineers can track details like brand and model number, location on the property, and past service history. This system ensures your team will be prepared for any job. This makes it easier for your team to carry out their work, and impress customers!

Asset tracking software empowers engineers to arrive to worksites knowledgeable and prepared with the correct parts, impressing customers. This information helps your engineers make the best recommendations to customers. Team members can justify parts changes, or a full replacement if an asset breaks repeatedly.

Your team can complete jobs quicker, improve customer relations, and streamline your service and maintenance appointments with Commusoft's asset management solution.

Asset management is available on Commusoft's Customer Journey plan and higher.

Commusoft's pricing depends on how many licenses you need, and which of our powerful plans you choose. To see all of our pricing details and which features are included on which plans, check out our pricing page!