Create professional forms and outdo competitors
DIGITAL CERTIFICATES
Say goodbye to tattered or lost paper certificates and say hello to professional digital certificates! Commusoft's digital certificate software is an easy-to-use mobile solution for completing industry-standard certificates on site.
Digitise your certificates and forms
Industry-standard certificates available
-Gas certificates
-Electrical certificates
-Oil certificates
-Fire & security certificates
-Renewable energy certificates
Backed up documents
You'll never lose important documents again. Our customer database stores all documents and certificates against the appropriate customer and job.
Mobile certificates
Engineers don't want to carry around multiple pads of paper certificates. Our mobile app empowers engineers to finish jobs faster.
Collect signatures on-site
Digital signature capture ensures you have a record of the customer's sign off for the certificate completed.
Send certificates instantly
Don't keep customers waiting for paper copies. PDF versions of your digital certificates can be sent as soon as they're complete.
Custom forms
In addition to our industry-standard certificates, we also offer fully customisable forms, which you can build from scratch.
Rebecca
Director
Gas Monster Ltd
Commusoft has revolutionised the way we work...No more handwritten and lost certificates everything is all stored in one place!
Create professional certificates and forms
Digitise your workflow
DIGITAL CERTIFICATES AND FORMS
Paper documents are difficult to manage. Safely store your certificates in Commusoft, and you'll never lose one again. These are accessible from the site and office, ensuring digital records of your work.
Streamline your engineers' and office staff's days

Please customers with instant certificates

Finish jobs quicker and secure more business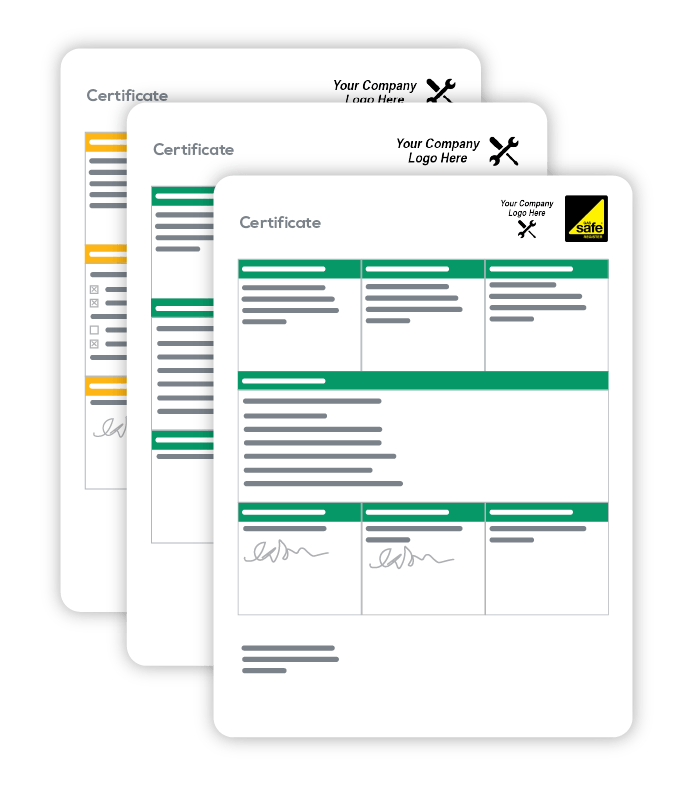 Make certificates your own
PERSONALISED SAFETY CERTIFICATES
All of Commusoft's certificates and forms can be branded with your company logo and unique accreditations. Eye-catching certificates help your business remain memorable to customers. Win more business and stay ahead of competition with Commusoft.
Establish a professional business reputation

Get customers familiar with your personal branding

Set yourself apart from your competitors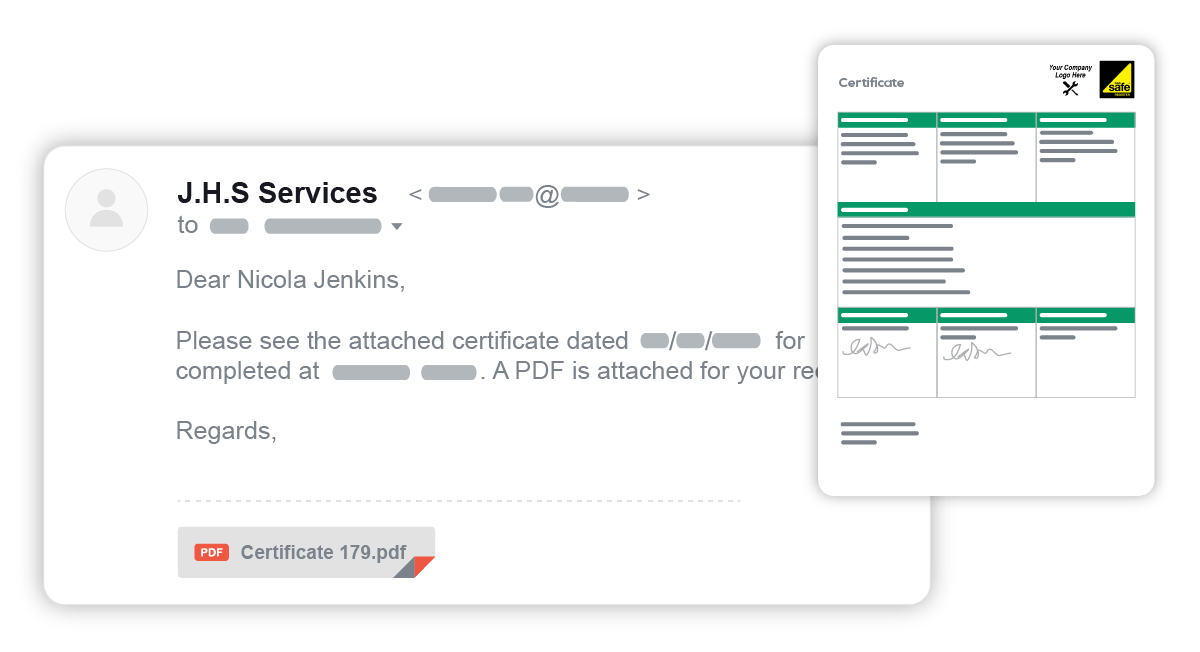 Modernise your digital certificates and forms!
Protect customers with digital safety forms
Provide excellent customer service
CUSTOMER PORTAL
Available on our Customer Journey plan, our secure customer portal makes certificate management even easier. Multi-property owners set up a secure log in, where they can check the status of, download, and print forms and certificates whenever they need.
Customers find documents without reaching out to your staff

The customer portal is available to customers 24/7

Impress customers with certificates at their fingertips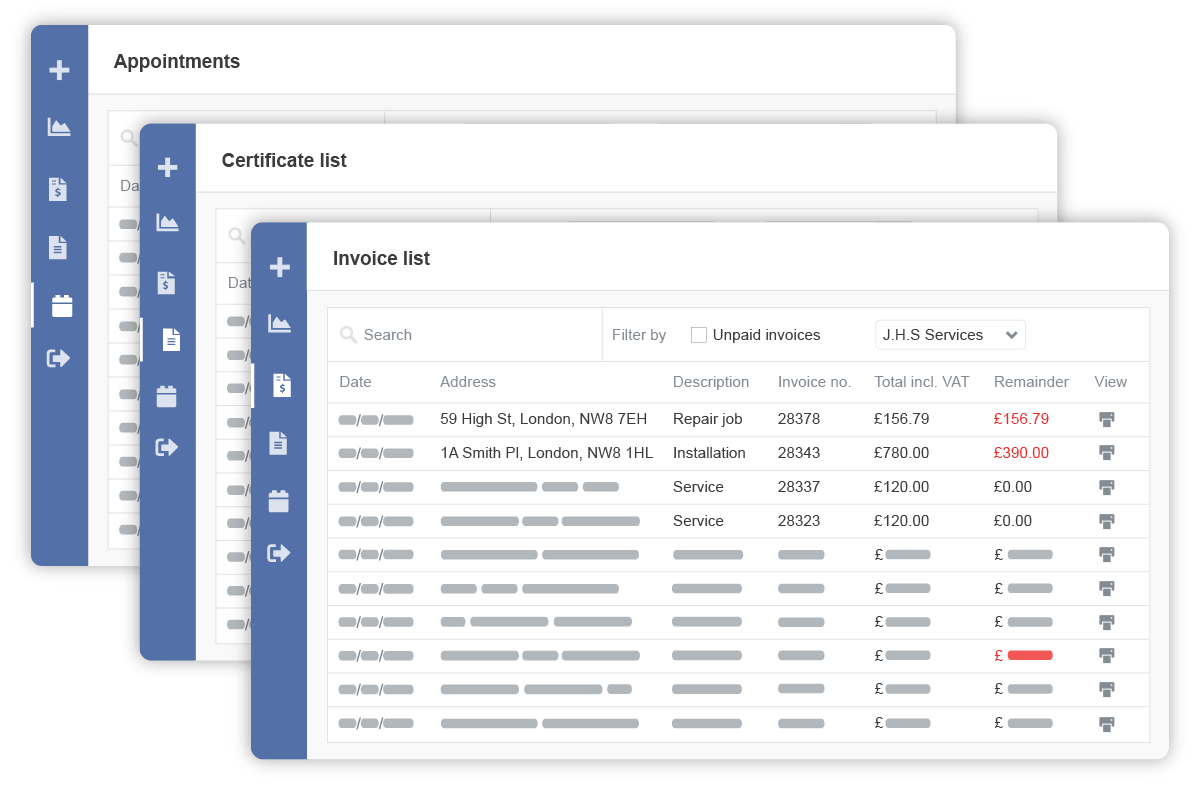 Certificates and forms FAQs
Commusoft completely replaces the need for paper certificates. We offer our clients over 30 standard digital certificates across a variety of industries, and are always adding more. This means your engineers can complete these forms directly from the job site, receive digital signatures, and save them to the customer record straightaway.

Don't worry, we'll give you all the tools you need to quickly complete digital safety certificates! Our client success team is more than happy to show your team how to create and complete custom forms in your personalised training calls. Learn more about training and onboarding with Commusoft.

If there are any bumps in the road, our client service team is a quick email or phone call away.

Commusoft's pricing will depend on how many licenses you need and which of our plans you choose. To see all of our pricing details and which features are included on which plans, check out our pricing page.