Commusoft's PAT Testing Certificates – Clear and Professional
May 31, 2018 - 4 minutes
Filling out PAT testing certificates can be a time-consuming and costly task. However, electrical certificate software streamlines the process with a host of powerful tools and features.
PAT testing certificates are provided to clients after portable electrical devices have been successfully tested for damage and/or faults. While PAT testing certificates are not a legal requirement, they serve as proof that a company has taken the steps necessary to ensure the safety of their workforce, and many employers will not allow staff to use their own electrical appliances – such as phone chargers – at work unless they have been tested. PAT testing must be carried out by an approved engineer who is registered with the NICEIC/ECA.
Most PAT testing certificates are produced using pads of blank forms which can be produced in duplicate. However, these paper forms are less than ideal for a variety of reasons.
Manual PAT Testing Certificates
Paper forms are notorious for getting ruined. Grease, water, and rough handling can all leave documents looking untidy and highly unprofessional. While it would be great to be able to hand over a crisp clean certificate each time, the realities of the field service business means, with paper forms, this is not always possible. Paperwork can also be misplaced between filling it out and returning it to the office, and, once they have been returned, someone then needs to file them away – taking up time and space.
Another issue with manually completed PAT testing certificates is that not all engineers will have the best spelling, grammar, and/or handwriting ability. While this won't have a negative impact on most elements of an engineer's work, it can result in a poor professional image for the company.
One of the issues which affects manually produced PAT testing certificates specifically is that engineers will often need to produce several at the same time. Sometimes the task will only be to test one or two items, but the nature of appliance testing means a field service company will usually be contracted to come into a business and assess all their equipment as a single job. This means a separate PAT testing certificate will need to be produced for each article.
Producing one document for a new domestic installation is time-consuming enough, but having to fill out possibly dozens for a single job can be an administrative nightmare. It's not simply a matter of photocopying the document either, as each appliance will have different specifications and features.
Electrical Certificates Software
While there are clearly many problems when it comes to producing PAT testing certificates manually, all of them can be addressed with an effective electrical certificates software solution.
Once a business switches from manually produced PAT testing certificates to an electrical certificates software solution, the chances of running out of forms drops to zero. Concerns relating to paperwork becoming dirty, damp, greasy, or damaged also evaporate. With digital certificates, any paperwork your field service engineers need is available from any mobile device – often without even requiring an internet connection.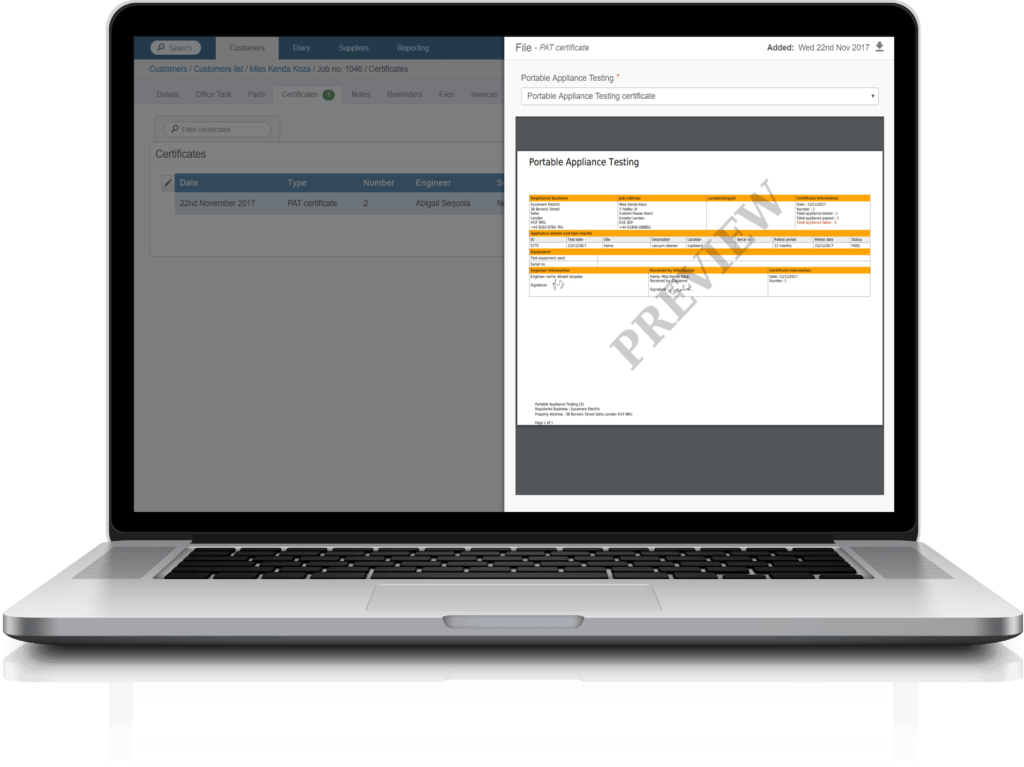 Client and engineer signatures can also be captured directly onto the device's touchscreen and applied to the certificates, meaning you have proof of completion. When your PAT testing certificates are completely digital, they can be sent to the client and the office simultaneously, removing any chances of paperwork being misplaced and eliminating the need for filing and other admin – apart from making sure the file gets cut and pasted into the correct computer folder.
Handwriting is no longer a concern with electrical certificates software, and with the ability to program pre-set drop-down responses, spelling and grammar isn't either. Being able to select from pre-set responses will also speed up the filling out of your PAT testing certificates. Many electrical certificates software solutions also have a built-in customer database which can be used to auto-fill basic customer details.
With many jobs requiring the production of dozens of PAT testing certificates at once, the ability to fill them in quickly and consistently will be a massive relief for your engineers – and eliminate writer's cramp besides.
Final Thoughts
It's clear that producing PAT testing certificates in the traditional manner can be an inconvenient and unprofessional practice. From poorly written, torn and dirty forms, to antiquated filing systems, it's time to consign manual paperwork to the history books.
In leveraging the power of modern digital technology, electrical certificates software enables your engineers to produce crisp, clear and professional PAT testing certificates every single time.