Produce Minor Electrical Works Certificates for Your Business
May 31, 2018 - 5 minutes
Producing minor electrical works certificates can be an arduous task for field service professionals. However, with minor electrical works certificate, the task becomes significantly more convenient.
A minor electrical works certificates is issued when any addition or alteration is made to an existing circuit. It serves to verify the new work does not impair the safety of the previous installation. While, in these circumstances, a minor works certificate may be used as an alternative to an electrical installation certificate, it is required that a separate minor electrical works certificates is issued for each circuit worked on.
A minor electrical works certificates is never produced to certify the installation of a new circuit. However, it should be noted that before any addition or alteration is undertaken, it is required that the adequacy of the existing installation be assessed. This regulation is designed to protect consumers and engineers from being negatively impacted by any pre-existing faults present in the original installation.
Most minor electrical certificates are produced with pads of blank forms printed on duplication paper. However, with manual forms posing several issues for engineers, a more modern and elegant solution would be most welcome.
Reams of Issues
Manually producing minor electrical works certificates can be incredibly inconvenient. Filling out forms by hand is a lengthy process, especially if the engineer has made alterations or additions to multiple circuits in a single job, as a separate certificate must be produced for each one. With commercial premises often containing dozens of separate electrical circuits, it's not unusual for a field service engineer to have to produce upwards of twelve minor electrical works certificates at a time.
It's no secret that field service can be dirty work. Engineers must squeeze themselves through crawl spaces as they work with oily, greasy components, which will naturally result in a less-than-pristine worker. This dirt will then, of course, be spread to tools and other items in the back of the engineer's van – including the paperwork. This means that pads of minor electrical works certificates can quickly become battered and dirty, resulting in a very unprofessional-looking document to hand to the customer.
Manual forms also result in no small amount of administrative work. Forms must be retained in duplicate and then delivered to the office at the end of the day. Once there, they must be processed and filed, which takes up the time of admin staff, and means that office space must be dedicated to bulky filing cabinets. Then there's the problem of forms getting lost or ruined.
It's clear there are many problems inherent in the use of manually produced minor electrical works certificates. However, there is a way around them all.
Digital Minor Electrical Works Certificates
Once a field service business adopts a solution with minor electrical works certificate, all the problems associated with producing the documents evaporate.
Firstly, going paper-free is a great way to increase the sustainability of your field service business. The human production and consumption of paper is a huge contributor to the impact we have on our environment. With a 100% digital solution, you will significantly reduce the carbon footprint of your business and make your contribution towards a more environmentally-responsible industry.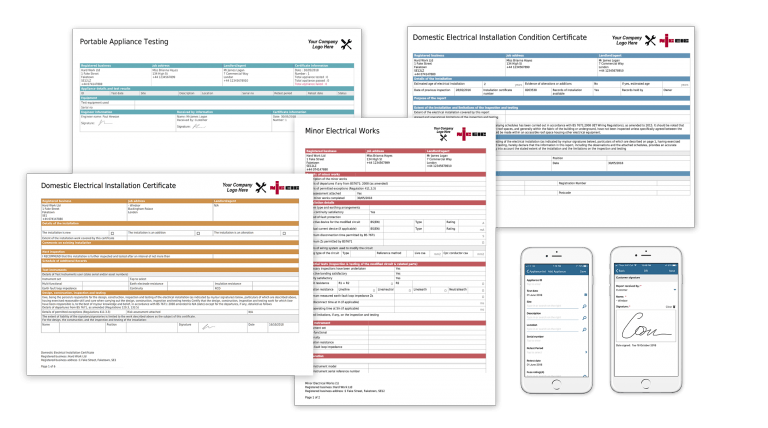 With a software including electrical works certificates you never have to worry about your engineers handing over dirty or dog-eared certificates. From the beginning of the day to the final job, each minor electrical works certificates produced will be a crisp, modern, and professional-looking document. In addition, with the ability to capture signatures using a touchscreen, there is absolutely no need to print out a physical copy. What's more, being able to transmit the completed document to the client and the office simultaneously means there's no chance of certificates being lost, and no filing cabinets required.
Many electrical software packages come complete with a customer database, which can be synchronised to auto-fill basic information such as names and addresses. Combine this feature with the ability to create pre-set drop-down options, and your engineers will be able to produce any number of minor electrical certificates in no time at all. And with pre-set standardised responses, spelling, grammar, handwriting, and jargon won't be an issue either.
Final Thoughts
It's clear that all the issues associated with producing minor electrical works certificates manually can be addressed with an electrical certificates software solution. In the modern field service industry, it's important to project the right image, and the right software can help you achieve this.
Are You Ready To Take Your Business Up A Notch?
If you're looking for a digital solution for your business, come and see for yourself how Commusoft electrical works certificates can empower you to meet the day-to-day demands of the modern field service environment.
Join hundreds of like-minded professionals and add Commusoft electrical works certificates to your toolbox, today.
We're so confident you'll agree with us, we'll let you try out Commusoft's electrical works certificates for two whole weeks – absolutely free, and with no obligation. Please get in touch!