Why You Need Service Contractor Software
August 13, 2018 - 5 minutes
Are you a growing field service business that's…stopped growing? It could be because the processes and tools you're using will no longer support your business.
That's where service contractor software comes in. Let's talk about what is it, who it's for, and, most important, how it can help your business get back to growing.
What Is Service Contractor Software?
Service contractor software is called by many names:
Field service management software (AKA FSM software).

Job management software.

Workflow management software.

Software/apps for plumbers/HVAC companies/electricians/etc.
They're all different ways of saying the same thing: Software that helps field service businesses manage their workflow, including:
Maintaining a customer database.

Managing engineers' diaries.

Creating the most efficient routes between jobs.

Tracking engineers.

Ordering and invoicing parts.

Accepting payments on site.
In short, service contractor software like Commusoft handles every aspect of the customer journey, from the first call to the final invoice. All the tasks that you may now be handling manually, either with a paper-based system or with a variety of single-purpose apps, are on one system.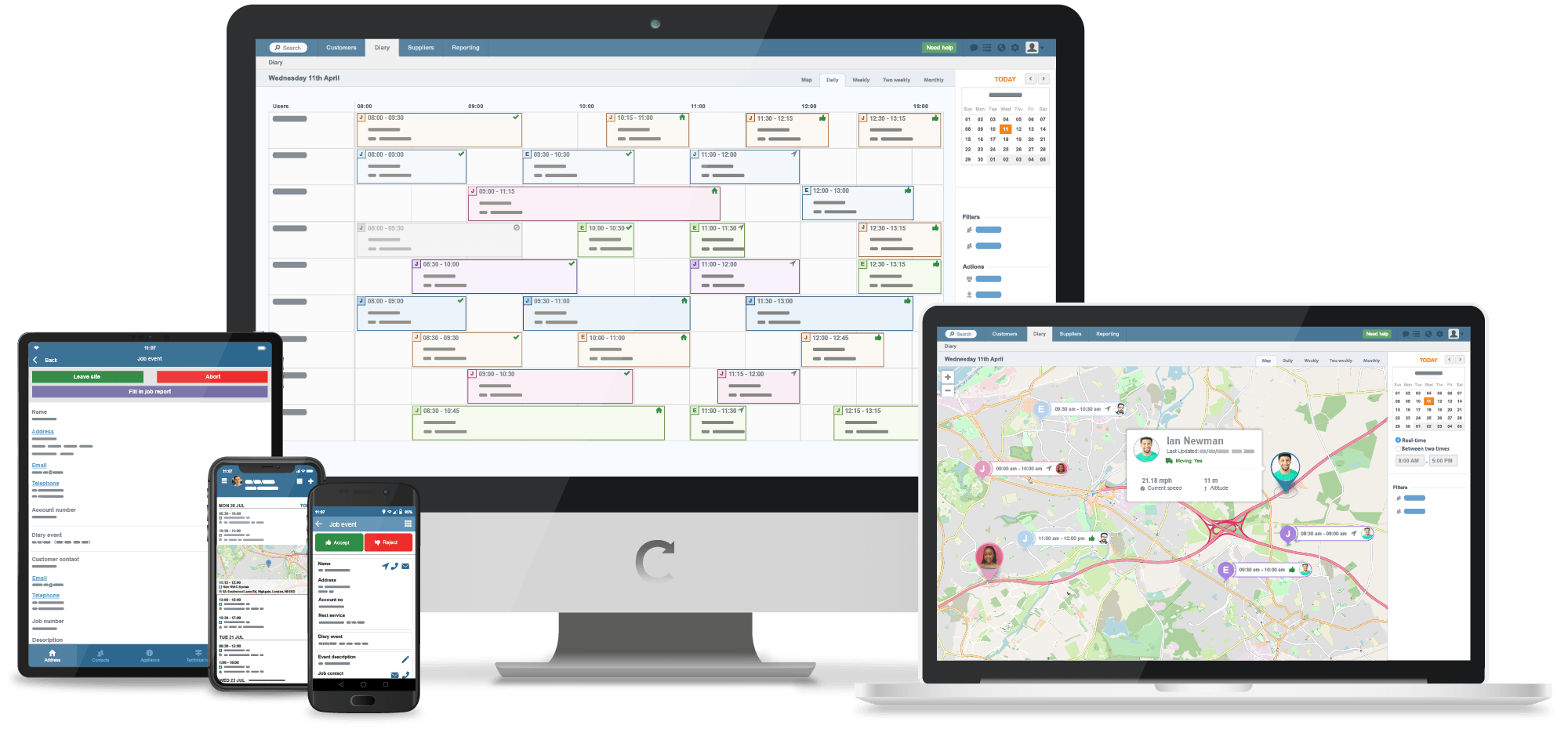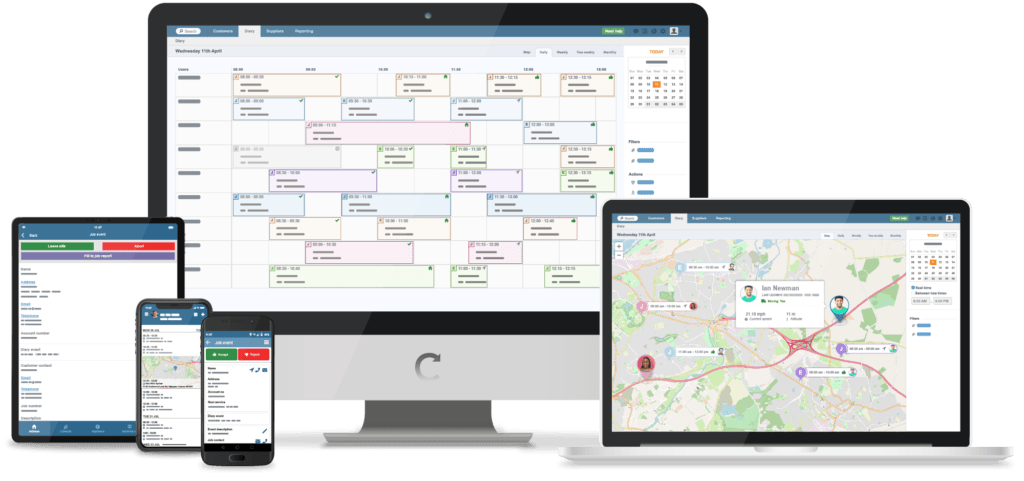 Who Is This For?
It's clear from the name that service contractor software is for, well, service contractors. But that's a broad category, and one that's not always well defined. According to Study.com, service contractors "can represent various skilled and professional areas, providing their clients with autonomous services under little supervision". That can even include writers and editors!
For the purposes of field service management software, though, service contractors include these businesses:
Plumbing

HVAC

Electrical

Fire & Security

M&E

Gas

Property Management

Pest Control

Tree Surgeon

Landscaping
Service contractor software is meant for businesses that have at least two engineers that travel to job sites to perform installation and maintenance tasks. The bigger your business grows, the more likely you are to need this kind of solution. (If you're a sole trader, service contractor software may be overkill for you.)
Why Do I Need Software?
If you're undecided about whether it's worth the time and expense to start using a field service management solution, check out these benefits:
Service contractor software saves you time.
Paper-based systems waste time; software systems save it. Like this:
Printing and storing documents takes more time than creating and storing digital documents.

Searching for documents among your office's files and piles wastes valuable time.

Paper forms tend to get lost, damaged, or destroyed—and then you need to spend time looking for, recovering, and recreating them.

When your engineers depend on hand-written notes, you then have to decipher their handwriting.

When your engineers call the office to get information they need for a project, you have to wade through piles of paper to find the right info instead of simply pulling up what you need in your service contractor software.
Imagine having all the forms, certificates, and documents you need with the tap of a finger, instead of having to wade through piles of paper to find what you need.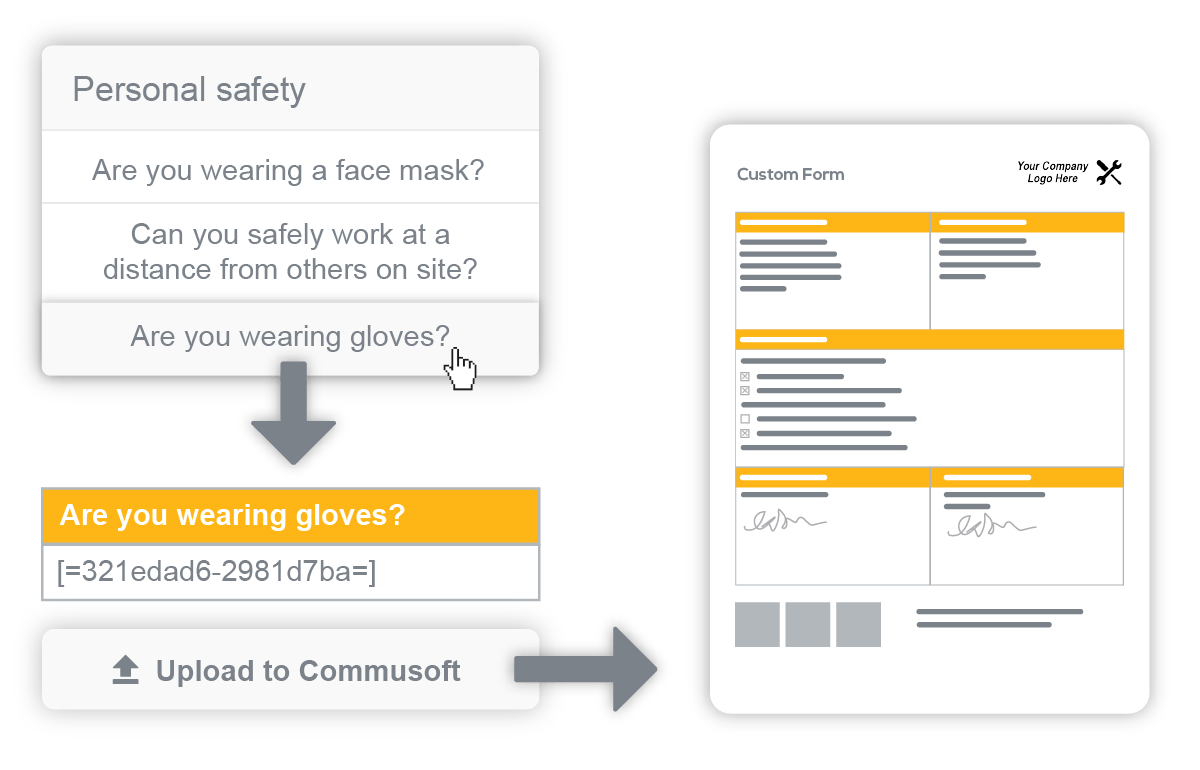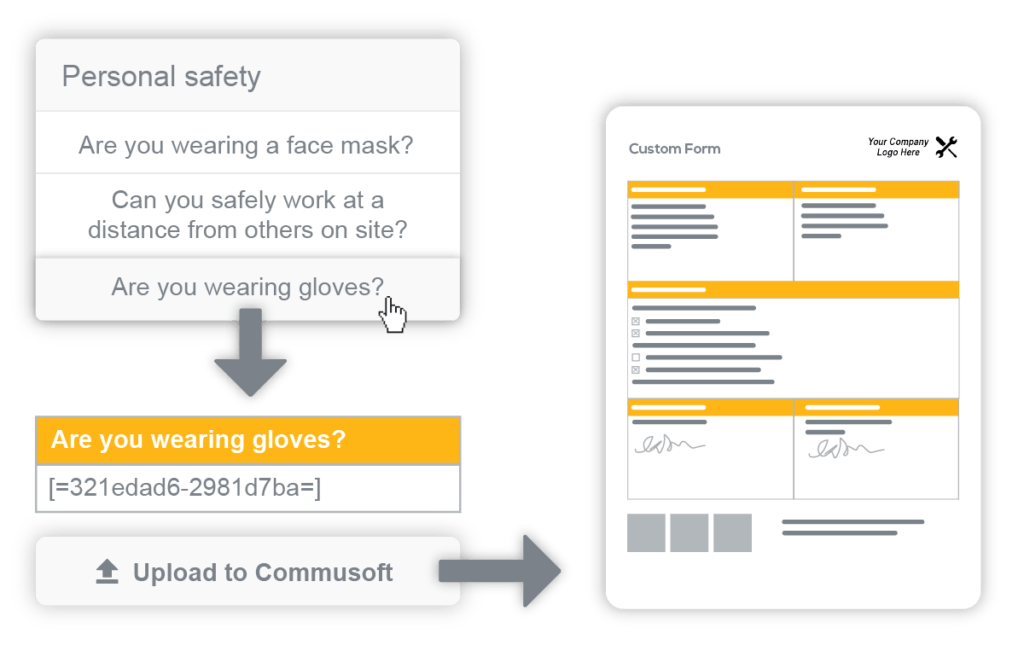 Job management software is better for the environment.
Whether you want to be a "greener" company or you're trying to appeal to eco-minded customers, replacing your paper-based systems with service contractor software can help. All those paper invoices, reports, purchase orders, and notes on scraps of paper take a toll on the environment.
For example, we already know that sing lots of electricity, ink, and paper to print out documents is wasteful. But did you know that printer ink, paper production, and toner cartridges can be bad for the environment too?
Go paperless with service contractor software and you're now part of the solution, not the problem.
Help your entire team stress less.
Trying to manually book jobs on a busy day, losing important documents, fielding calls from customers who are wondering where your engineer is…it all leads to stress. Stress causes employees to call in sick—and even quit, according to an article in The Independent.
Having your business processes streamlined and organised is a great way to take the pressure off so you can spend your energy doing jobs. To see how it works, read this case study about how Heating South West Ltd. removed stress from the business owners and engineers using service contractor software.
Service contractor software helps you get paid faster.
When you use a field service management system, invoicing is automated and easy. Customers can pay their invoice online, or your engineers can even take payments on site using integrations with payment gateways like Stripe or SumUp. (And believe it or not, your customers want to pay you quickly; no one likes wondering when an invoice will finally arrive so they can pay it.)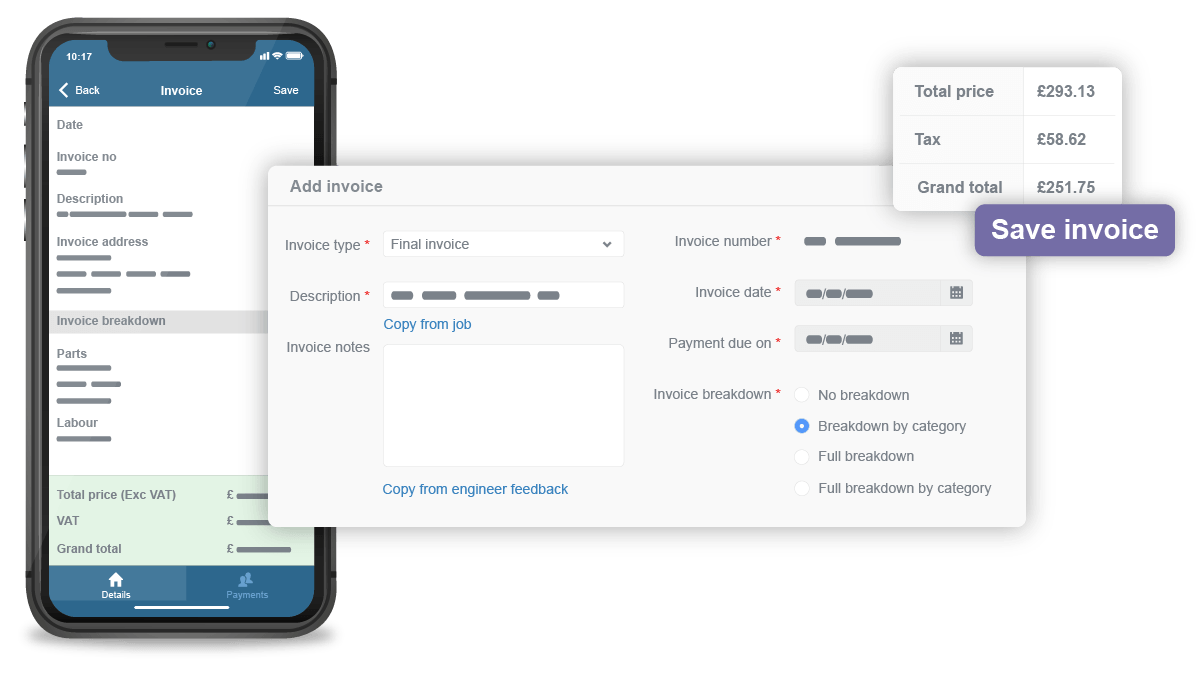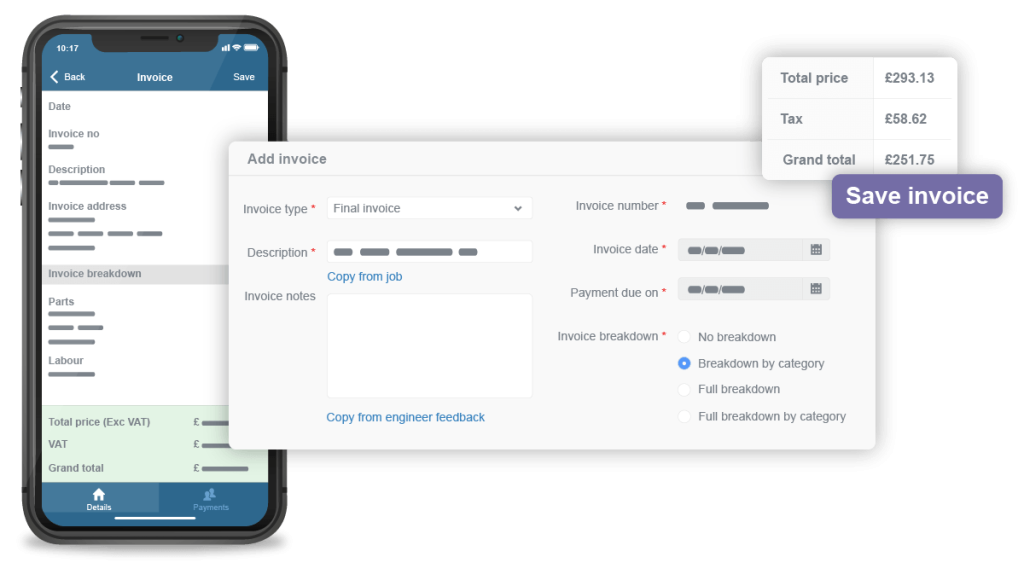 Need more convincing? In an article on the Commusoft business Blog, Nicola Willis, Business Development Manager at Brother UK, said 'Digitising documents and opting for a more paperless approach may result in faster payment from customers.'
Service contractor software helps you get more jobs (and earn more profits).
You know who likes environmentally friendly business, calm and focused engineers, faster invoicing, after-sales care, and faster service? Customers. You know, those people who bring the profits into your business.
Good service contractor software also lets you do all these things that boost customer happiness:
Know who the customer is (and why they're calling) when you pick up the phone.

Set proper expectations for service windows.

Give customers the ability to track engineers' journeys, so they know when the engineer will arrive.

Show customers your love by requesting feedback after a job.

Send service reminders so customers don't need to worry about when their next service is due.

Offer faster service through route optimisation.

Increase your first-time fix rate.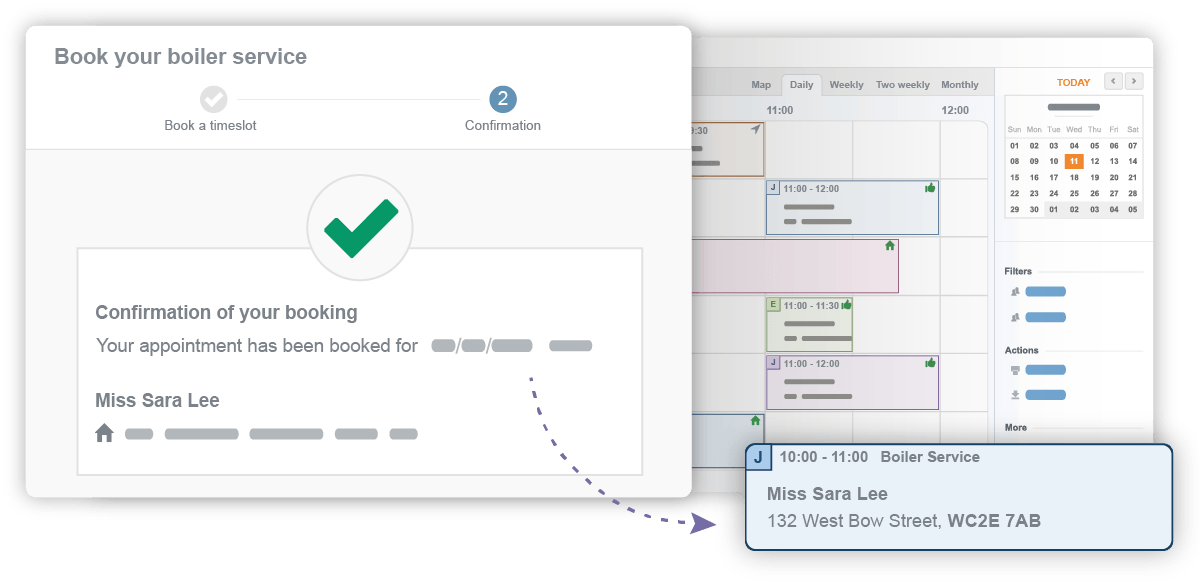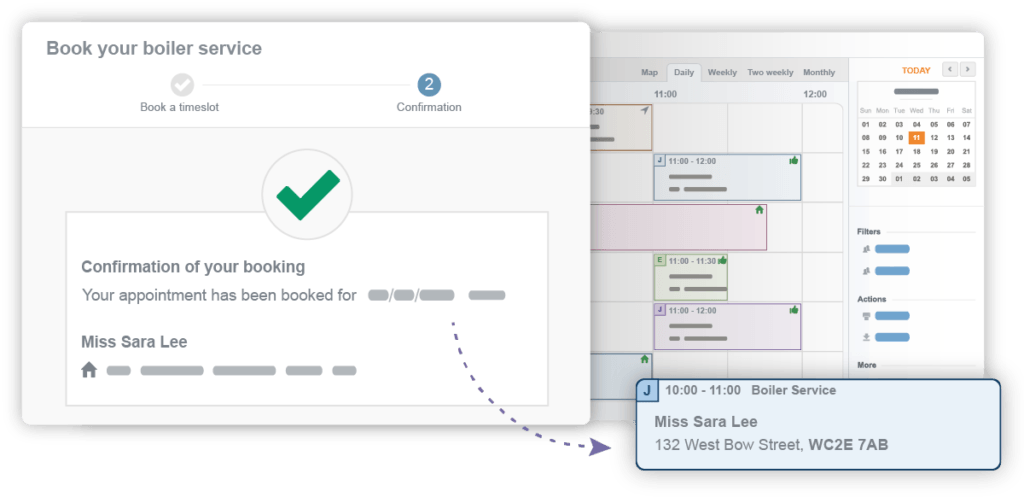 Happy customers are returning customers, meaning that increasing customer satisfaction with service contractor software will also increase your recurring revenue.