Stock Control Barcode Software for Field Service Businesses
March 25, 2023 - Software & Tech - 6 minutes
Organising inventory with the help of stock control barcode software will be a gamechanger for your service business.
Whether you manage a plumbing, electrical, or fire safety business, this tool will help you dramatically speed up your inventory management.
---
Intelligent software is the gateway to better stock management. That's in no small part to a simple but powerful scanning tool. So, when it comes to choosing a dedicated stock management application, barcode scanner is a must-have feature.
From managing the arrival of new parts to how they're distributed amongst staff, if your chosen software includes a barcode stock control app, your stockroom manager can streamline inventory management for everyone.
Let's explore:
---
---
5 challenges you're facing without stock control barcode software:
To decide what sort of stock control software your business needs, it's important to understand the problems that you may currently have. We've put together a list of common issues that include:
Not knowing what (or how many) items you have in stock
Checking in new stock is a time-consuming process
A build-up of excess stock
Parts get lost, broken or even stolen
You have to cancel jobs due to stock availability
If these sound familiar, let's explore the benefits of stock management software and how they can help:
What are 7 benefits of stock control barcode software?
1. Benefit from real-time stock-levels
Properly implemented stock control barcode software should give your team access to real-time stock levels. Thanks to data storage in the cloud, it means everyone can know exactly what items are in stock and how many of each item is available.
When engineers need a part but are on site, they could first check if it's in stock. From there, they can request it from the stockroom or put in an order if it's out of stock.
Without real-time stock levels, it's a much slower, more time-consuming process to manage stock as it flows in and out of your business.
2. Speed up taking inventory with a stock control app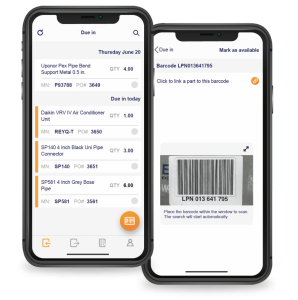 One of the major benefits of stock control barcode software is utilising the barcode already attached to a part.
When parts arrive from the supplier to your stockroom, the stockroom manager will need to log the delivered parts. If you wish to benefit from real-time stock levels, those parts must be added to the system when they arrive.
A barcode scanner is the quickest way to check parts into the stockroom. Simply scan the barcode on the part to add it to the system. Through this method, you would be able to build an entire barcode library that matches up with your parts list.
Ideally, stockroom managers will have access to a stock control barcode app on their smartphone.
This means they can see all the parts due in and out from their mobile device. There's no need to run back to the office or carry a laptop with them. Stockroom managers can check hundreds of parts in just a matter of minutes by using the barcode stock control app. It doesn't get much more efficient than that.
Additionally, barcode scanning can help you identify parts information. For example, if you've found an old part, you could simply scan the barcode and check the system's records.
3. Check stock levels from a mobile phone
It's important for your engineers to know exactly what parts they have with them.
Inventory software for engineers differs from an app for warehouse managers because of the capability to see what parts are currently in their service van.
Without having to waste time physically searching in the back of their van, they can check their app. It's a far easier and more efficient solution.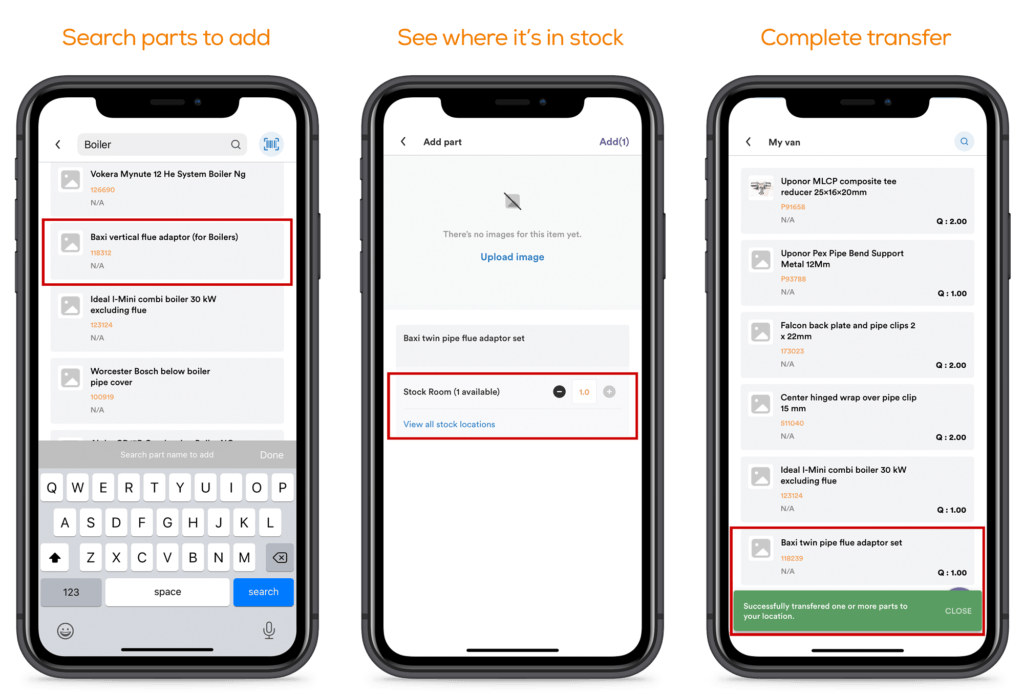 Additionally, this app allows for engineers to transfer parts to each other while in the field. It saves time from having to drive back to the stock room and is a time-saving opportunity that makes jobs much more efficient for everyone.
4. Track parts wherever your engineers are working
Managing the stockroom is only half of the problem.
With the ability to track multiple locations, stock control barcode software allows you to track stock across all your stockrooms as well as from engineer's vans.
Knowing which parts are available, which parts have been installed already, and which have been requested for order allows you to comprehensively manage stock across every single location.
5. Never forget parts with a reliable returns workflow
Without a reliable returns workflow, engineers will leave unused parts in the back of their van.
These parts often get forgotten, broken and can't be used by other engineers.
With the right stock control software, however, returns can be monitored and engineer's can return unused parts to the stockroom so they're more accessible to others.
6. Optimise cash flow with better oversight of stock
Because stock control barcode software can stop your engineers unnecessarily ordering new parts, it can help improve your business's cash flow.
This allows you to reduce stockpiling and tying up money in stock, by making sure you always use existing stock first.
Additionally, proper management of stock returns reduces the associated expenses of lost and damaged stock.
7. Improve your customer service experience
Real-time stock levels and a streamlined check in process can help improve customer service by letting you know if parts are available for a scheduled job.
With the right data, accessible from the cloud, you can know in advance if parts will be ready in time for a job. This will enable your team to notify customers if a job's going to be delayed.
After all, no customer wants to get a last minute notification. Instead, deliver great customer care with timely updates that help them sooner, not later.
---
What's the best stock control barcode software for your business?
If you want to drive efficiency in your business with a new stock management system, consider Commusoft stock control. It's included as part of our job management software solution!
Our software handles the entire stock workflow: from requesting and ordering parts, checking parts in and out of the stockroom, all the way through to returns and stock audits!
We also includes a stock control barcode app which allows stockroom managers to use mobile devices to more easily manage daily tasks and quickly check in parts with an app barcode scanner.
You can learn more about Commusoft's stock control software solution:
---
Discover Stock Control!
---