7 Best Apps for Plumbers to Help Run Your Business Better
August 9, 2018 - 6 minutes
Whether you have three engineers or thirty, you need technology that will help you build your business on the go. We did the research to find the 7 best apps for plumbers that range from free mobile apps—to just £25 per user per month for full field service management solutions.
How to Choose a Plumbing App
When you're in the market for a a plumbing app, it's easy to become overwhelmed with the sheer quantity of choices in each category. You can drown in data even looking for a simple flashlight app! Here's how to choose the best plumbing apps for your business.
The best app:
Is frequently updated.
If you're searching the an app store or industry website and find an app that looks like a contender, check to see when it was last updated. If it was years ago, you know the creators will likely not offer support if you have problems with the app.
Is easy to use.
You and your engineers are busy doing jobs for customers…and you don't want to spend weeks on a steep learning curve to figure out an app that's supposed to make your life easier.

Has a robust knowledge base.
When you have a question about your plumbing app in the middle of the night, where do you turn? If the app developers have created a thorough knowledge base, you can just check it and be done.
Works on mobile.
When you're on the go, you need apps that work not just on desktop computers, but also on whatever mobile devices you use. This is a given for apps from an app store, but it also applies to job management, accounting, fleet management, and other more complex software. For example, Commusoft's field service management software can run an optimised experience on iPhones, iPads, Android mobiles and Android tablets.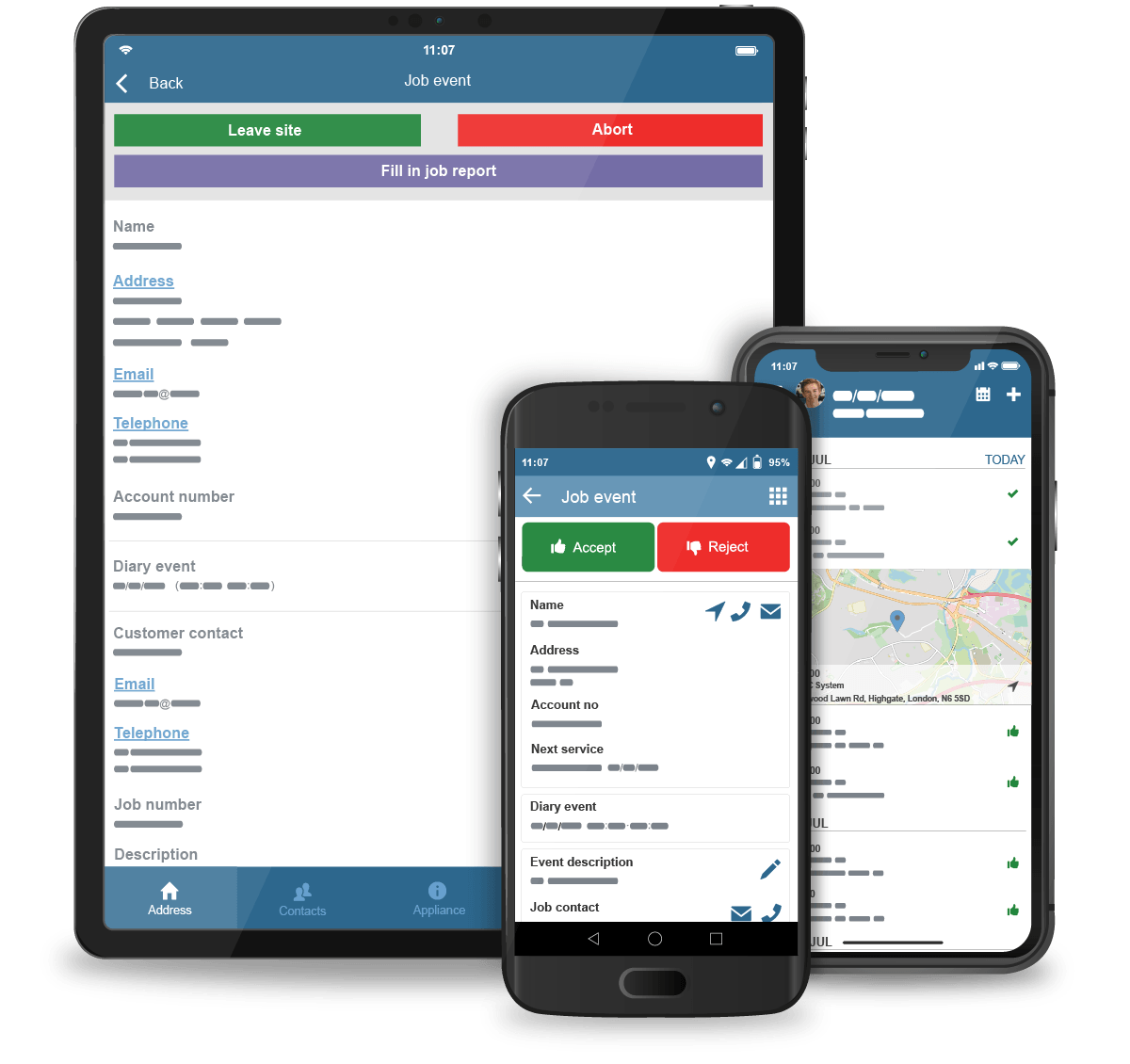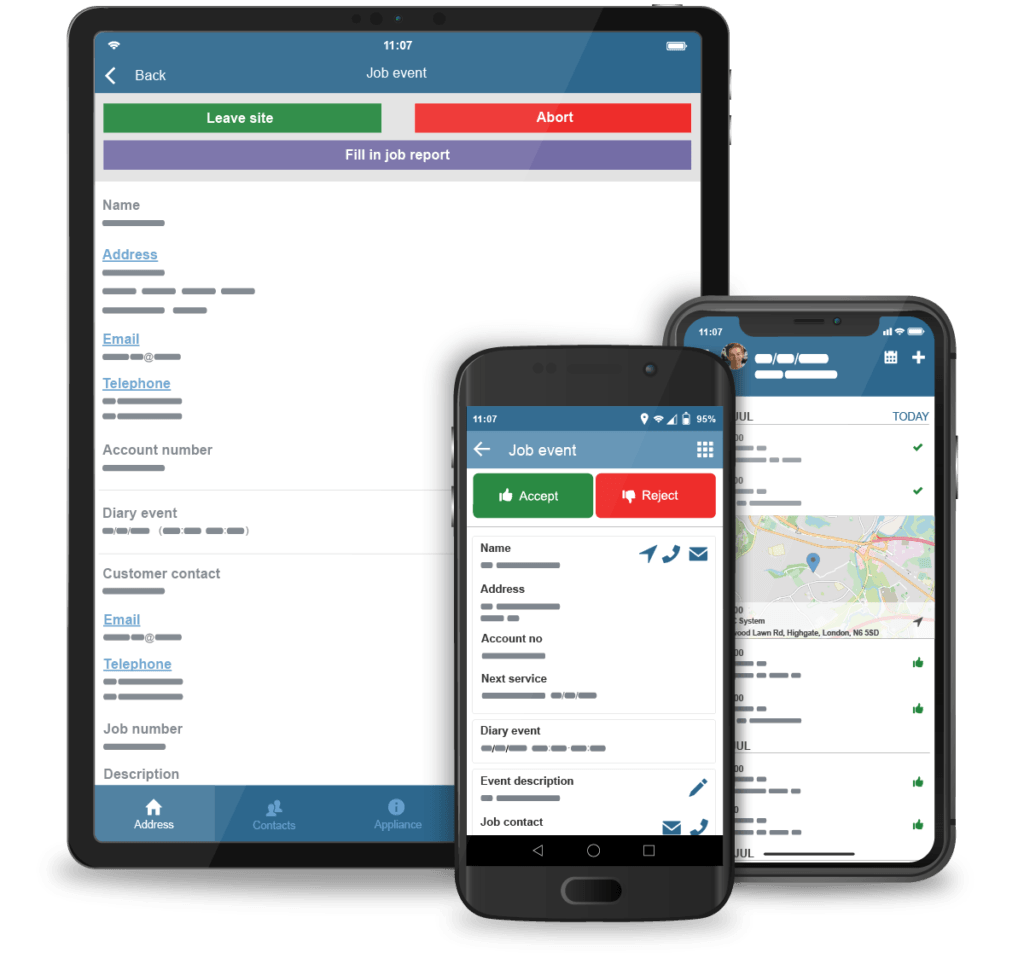 Integrates with other apps you use.
Apps that integrate with software you already use will:
Help your engineers adopt the new app more quickly.

Save you the time and money of buying new software that

does

integrate with it.

Generally make your job easier.
Many app websites have an "integrations" page you can check to see if your favourite apps are supported. Commusoft, for example, integrates with the most popular accounting software, communication platforms, business solutions, and payment gateways.
Has mostly positive reviews.
Look for apps with a mostly positive reviews. You can tell a lot not only from the reviews an app gets, but also the way the company responds to negative reviews—so do check out the negative reviews and see how the app creators handled them.
The 7 Best Apps for Plumbers
These plumbing apps cover many needs of the typical business; are affordable or free; boast plenty of positive reviews; and work on mobile.
1. For Fleet Management: Fleetio Manage (Starts at around £2.30 per asset per month)
Whether you have 10 service vans or 10,000, Fleetio Manage lets you manage your fleet—and optimise your productivity—from anywhere with intuitive web and smartphone apps.
2. For Measuring Without a Tape Measure: ImageMeter (Android) (Free for Basic, about £3.90 for Pro)
If you're wondering whether an appliance will fit into a certain space or how you'll get that boiler through the doorway, pick up the ImageMeter app. Just snap a photo and annotate it with dimensions on your mobile, and the app will calculate the dimensions, angles and areas. ImageMeter supports Bluetooth laser distance measurement devices plus devices from Leica, Bosch, CEM, Hilti, and TruPulse.
Even better: Have you ever realised once you left a job site that you forgot to take a very important measurement? With this app, you can still take measurements long after you snapped the photo.
Apple's iOS 12, coming out in the fall of 2018, will include a similar app called Measure.
3. For Researching Parts: Pipe and Fitting (Android) (Free)
When you need the details on various piping and accessories for a job, bring up this plumbing app to find out in a few taps. Pipe and Fitting will show you the material, dimensions, and strength for flanges, elbows, gaskets and other plumbing parts, in both metric and U.S. measurements.
4. For Team Communications: Slack (From free to around £10 per person per month)
As your plumbing business grows, it becomes more and more important to have everything in a centralised location. Slack is a chatroom-style platform that not only lets your team communicate in different "channels", but also lets them upload files, use apps to create polls and perform other tasks, send direct messages, search message archives, and more.
Slack integrates with many popular apps for plumbers like Google Calendar, DropBox, Stripe, and ZenDesk, so your plumbing business will be truly organised and optimised.
5. For Field Service Management: Commusoft (Starts at £25 per user per month)
Commusoft is an app for plumbers that offers an affordable and practical—yet beautifully designed and intuitive—way to streamline and track everything your business needs. Maintain a customer database, automatically send service reminders, track your engineers, create professional certificates, and much more in this easy-to-use app.
6. For Working in the Dark: Flashlight (iOS) and White Light Flashlight (Android) (Free)
Trying to work in cramped, dark spaces is no fun, and neither is setting up torches or holding flashlights as you work. These well-reviewed, super-bright flashlight apps let plumbers light up tricky areas behind pipes as they work.
Check out Flashlight • Check out White Light Flashlight
7. For Plumbing and Heating: BTU Calculator (iOS and Android) (Free)
What size radiator do you need for that room? Just enter the room dimensions into this app, then fill in the "Assumptions" category—which includes criteria like wall type, flooring type, and which direction the room faces—and you'll know how many BTUs and watts it will take to heat the room.

Check out BTU Calculator (iOS) • Check out BTU Calculator (Android)
These apps for plumbers will help you save time, work more efficiently, manage your engineers, and delight your customers. Give them all a look, and click, tap, and swipe your way to success.