The Best Apps for Plumbers to Run Your Business
July 12, 2023 | Read: 10 minutes
What's the best plumber app out there?
We're sharing nine of the best plumber apps available today.
They range from free mobile apps that can aid engineers with small (but important) tasks, all the way to full-blown software tools to help you run your entire business.
---
Whilst you browse online for the apps and tools to use, there're some important criteria to keep in mind.
These points, covered below, will help you discern if a plumber app is worth your time.
Let's dive in and explore how to choose the best plumber app and software tools out there:
---
---
How to Choose the Best Apps for Your Plumbers
When you're in the market for a plumbing app, it's easy to become overwhelmed by all the choices.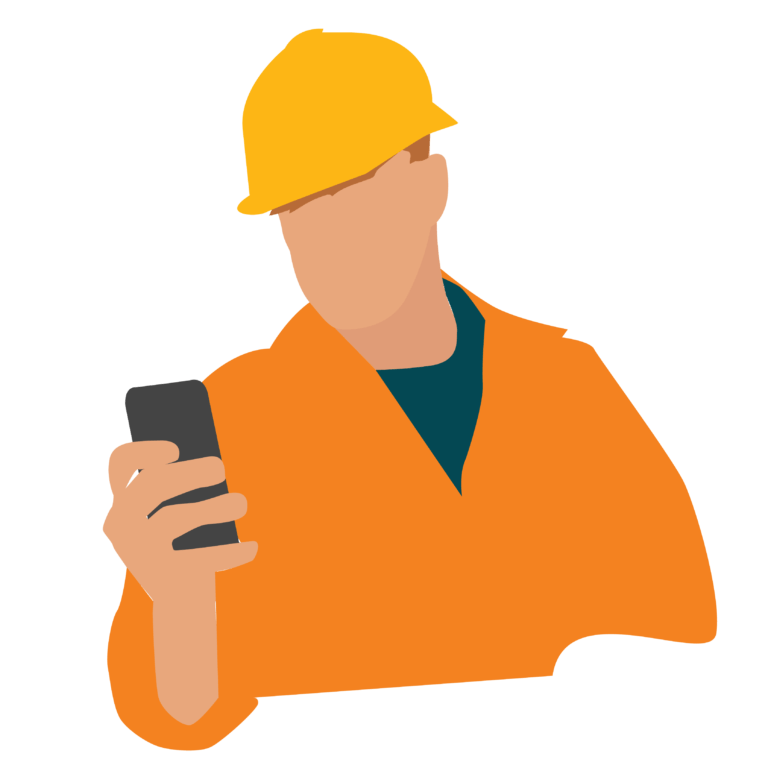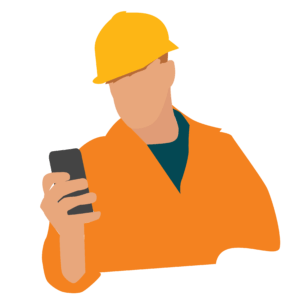 From simple tools like a digital spirit level, to full-blown job management software, it can be difficult to know which apps and software tools are the best.
However, you can find some true gems with the tips we've outlined below.
Everything we've listed can help you judge what's best for your business.
To select the best app for your plumbing business, check if it's:
Frequently updated
Easy to use
Equipped with a knowledge base
Mobile phone friendly
Compatible with other apps you're using
Popular, with plenty of positive reviews
Let's explore why each of these points is so important to consider:
Frequently updated:
When searching on the app store or browsing comparison sites, you may find an app that looks appealing. However, the first thing to check is this: when was the app last updated?
If it was years ago, you know the developers have likely abandoned the tool. If you download it, there's a strong chance that the app won't be supported and could be buggy.
This tends to be less of an issue for simple apps (like a simple torch app) but is more worrying, say, for job management software. You don't want your job management system crashing on you, right?
At any rate, if an app isn't updated regularly, you're more likely to encounter problems, so be wary.
Easy to use:
Your team of engineers is busy enough doing technical work: from repairs, to installations, and more. So, if the digital tools they have to support them are user-friendly, it's going to help them work more efficiently.
After all, no one wants a tool that has a steep learning curve or that doesn't function intuitively. Reading reviews and getting a hands-on look at an app via a demo can give you a feel for how user-friendly an app may be.
Equipped with a knowledge base:
For more complex software, a knowledge base (or even a detailed FAQ) can be a handy tool that supports teams as they use the tools. These resources can act as user guides and are handy references for employees to use.
For job management software (like Commusoft) a detailed and thorough knowledge base is a great way for users with a way to educate themselves. They'll be able to answer their own questions, all without necessarily having to contact support, every single time.
Mobile-phone friendly:
When you're on the go, you need apps that work wherever, whenever: not only when there's a mobile signal.
This is a given for offline mobile apps, but it applies to job management, accounting, and other complex software applications that engineers will find useful in the field.
For example, Commusoft's field service management software can run an optimised experience on iPhones, iPads, Android mobiles and Android tablets, even without an internet connection.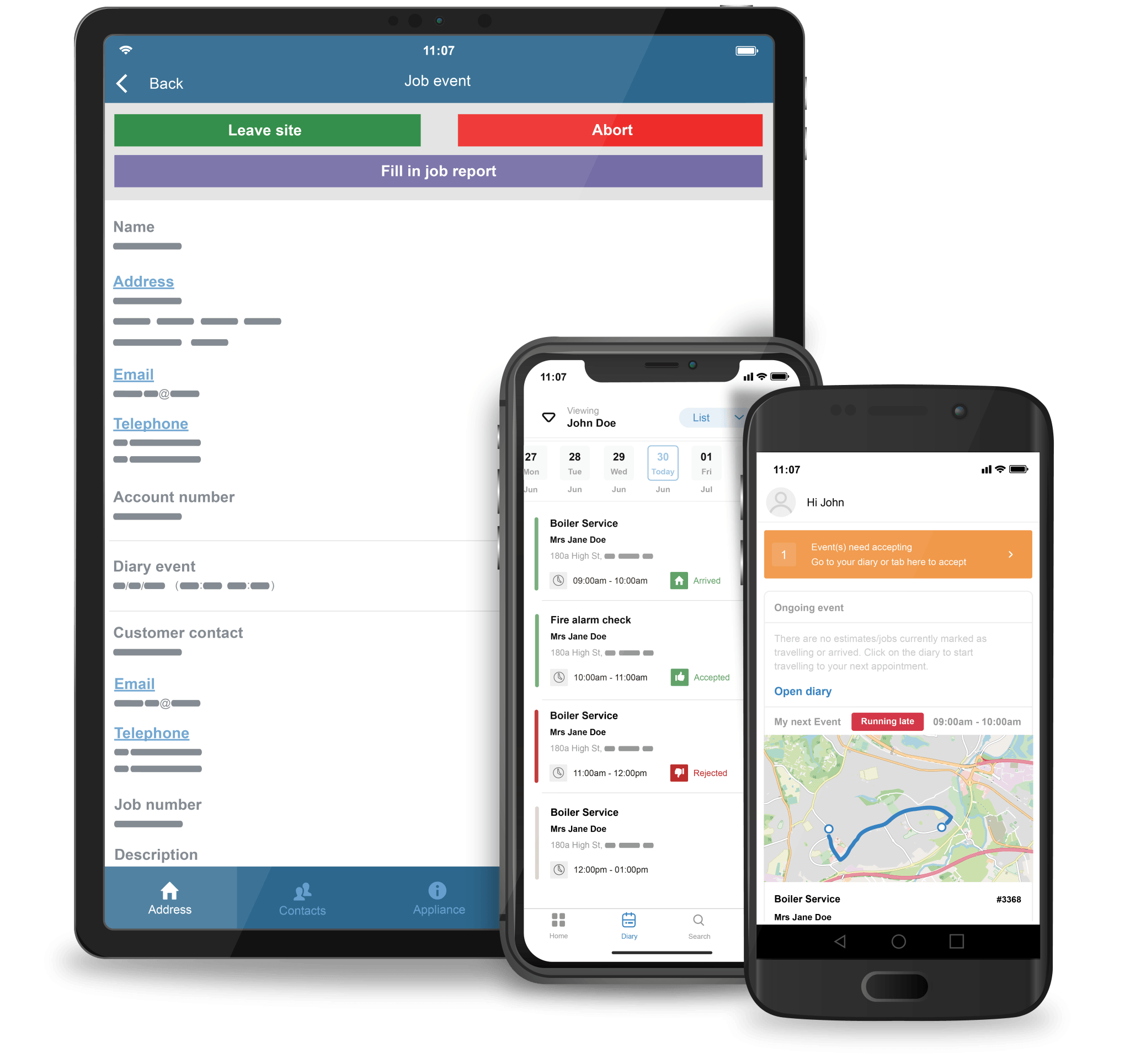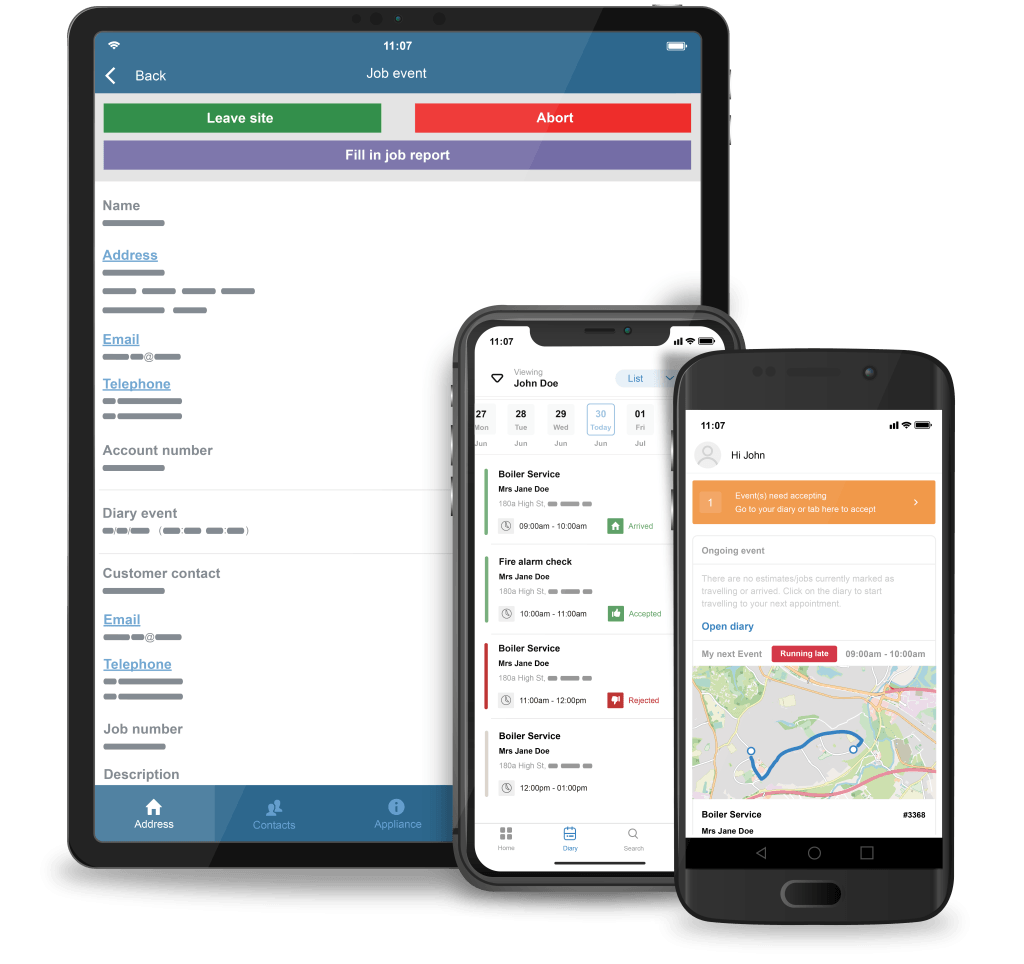 Compatible and integrates with other apps you use:
Specialist apps (including a plumber app) will exist for all sorts of reasons.
It's likely you use different apps to manage everything from emails, to invoices, diaries, and more.
What's especially helpful is when these apps match up with one another. This is known as integration.
An app or software tool may have an "Integrations" page that says which apps they partner with so you can easily see if your favourite app is supported.
There are numerous benefits to using apps that integrate with the software you're using. They'll:
Help your engineers adopt the new app more quickly.
Save you the time and money of buying new software.
Improve the everyday efficiency of your business.
Commusoft, for example, integrates with the most popular accounting software, communication platforms, business solutions, and payment gateways.
Popular, with plenty of positive reviews:
Look for a plumber app with plenty of positive reviews. However, that doesn't mean only positive reviews. After all, you can tell a lot from what users don't like about a product, too.
It can be helpful to see how a company responds to negative reviews and criticisms. It gives them a chance to build rapport with detractors and show, perhaps, that they're willing to learn from feedback.
Explore reviews across different websites and keep an eye out for the good, the bad, and the ugly!
---
The 9 Best Apps for Plumbers
Now let's move on to the apps themselves.
We've given a brief summary and overview, in some cases, of the cost of an app. This should help paint a picture for you, but we'd encourage you to dive in and explore options for yourself, too.
These plumbing apps and tools can help a typical plumbing business in lots of ways. Many are affordable and some are free, but all boast plenty of positive reviews and ways to enrich your business.
1. For Managing your Business:
Commusoft Discover our Jobs CRM
Commusoft doesn't just have a plumber app that you'll find useful, our software covers a broad selection of comprehensive tools that have been specifically designed to help plumbing businesses thrive.
From managing Jobs to keeping on top of communication, Commusoft really does feature the best plumber app and selection of tools you could hope to use to manage your business.
---
---
2. For Fleet Management:
Fleetio Manage (Starts at around £2.50 per asset, per month: web prices in US $).
Whether you have 10 service vans or 10,000, Fleetio is available to help you keep track of your vehicles. Manage your fleet—and optimise your productivity—from anywhere with intuitive web and smartphone apps.
3. For Measuring Without a Tape Measure:
ImageMeter (Android – Free for Basic)
Have you ever realised once you left a job site that you forgot to take a very important measurement? With this app, you can still take measurements long after you snapped the photo.
If you're wondering whether an appliance will fit into a specific space or how you'll get that boiler through the doorway, ImageMeter can help. Just snap a photo and annotate it with dimensions on your mobile, and the app will calculate the dimensions, angles, and areas.
ImageMeter supports Bluetooth laser distance measurement devices plus devices from Leica, Bosch, CEM, Hilti, and TruPulse.
4. For Researching Parts:
Pipe and Fitting (Android – Free)
When you need the details on various piping and accessories for a job, bring up this plumber app to find out in a few taps. Pipe and Fitting will show you the material, dimensions, and strength of flanges, elbows, gaskets and other plumbing parts in metric and US measurements.
5. For Team Communications:
Slack (Free, also a variety of plans with p/m fees)
As your plumbing business grows, it becomes increasingly important to have everything in a centralised location. Slack is a chatroom-style platform that lets your team communicate in different "channels" and lets them upload files, use apps to create polls and perform other tasks, send direct messages, search message archives, and more.
Slack integrates with many popular apps for plumbers like Google Calendar, DropBox, Stripe, and ZenDesk, so your plumbing business will be truly organised and optimised.
6. Sales Software for Field Services
Commusoft Sales CRM – Discover Sales

Commusoft isn't just a software provider for managing jobs; we've also developed a CRM that's designed to help plumbing, heating, and other industries improve the way they sell.
We offer an affordable, practical, and beautifully designed way to streamline and track everything you need to manage and optimise sales.
Maintain a customer database, build beautiful proposals, track your deals, and achieve more with our software.
We're adding new features all the time, so be sure to explore everything on offer.
---
---
7. For Working in the Dark:
Flashlight (iOS – Free) and Flashlight (Android – Free)
Trying to work in cramped, dark spaces is no fun, nor is setting up lighting or holding torches/flashlights as you work. Whilst most phones will come with a torch function, a torch app can still be worth exploring.
Many apps add more functionality than the standard "on, off" your phone provides by default. A torch app can allow you to play around with different levels of brightness, or even let you turn your phone's screen into a front-facing, less-aggressive source of light.
Sure, it's simple, but that doesn't mean they're not effective.
There are a lot of well-reviewed flashlight apps that can work well. So, if you're looking for a light in dark places, when all other lights go out, this could be worthwhile.
Check out Flashlight (iOS) • Check out Flashlight (Android)
8. For Plumbing and Heating:
British Thermal Unit (BTU) Calculator (iOS – £0.99 and Android – Free)
Plumbers are no strangers to measuring up a room. Specialist devices are still common, but What size radiator do you need for that room? Just enter the room dimensions into this app, then fill in the "Assumptions" category—which includes criteria like wall type, flooring type, and which direction the room faces—and you'll know how many BTUs and watts it will take to heat the room.
Check out BTU Calculator (iOS) • Check out BTU Calculator (Android)
These apps for plumbers will help you save time, work more efficiently, manage your engineers, and delight your customers. Give them all a look, and click, tap, and swipe your way to success.
9. Accounting Software App:
Crunch Online Accounting Software (Variety of packages)
For growing plumbing companies who want to take control of their finances in a big way, Crunch is there to help. For over ten years, Crunch has combined easy-to-use, online accounting software with actual human beings, so that you're always able to access your accounts and seek the support you need.
You can try Crunch for free for 14 days, or explore some of the most cost-effective online accounting software available to plumbing companies in the UK.
---
Commusoft. More than just Job Management Software:
With a wide variety of features designed specifically for plumbing businesses, Commusoft is the perfect choice to fulfil your business needs in a single, convenient app.
As well as Job Management, Commusoft also offers a fantastic Sales CRM, specifically built with field service businesses in mind!
To stay in the know, why not subscribe to our Newsletter? We'll bring you more insights, like those above, as well as news, resources, videos, and more!
Click below to get started:

Explore our Newsletter
Subscribe today and receive regular updates, right to your inbox!