How to Get Into Social Media Marketing
July 5, 2023 - Marketing - 9 minutes
Let's explore how to get into social media marketing.
After all, being successful on social media can attract more customers to your business and help you to win more work.
With social media channels blowing up in popularity, it's not only influencers who're getting in on the action, but businesses, too!
---
Social media can feel overwhelming. You may be unsure where to even start with getting your company on social media.
What platforms should you use?
How much content should you post?
Should you respond to customers?
Even though you've heard that social media can be really beneficial, buzzwords like 'hashtags', 'engagement', 'content', going 'viral', and perhaps the scariest of all… "TikTok" can be intimidating.
But if you're worried about posting, or that you won't get any likes or views, don't worry, we're here to help. We started our Instagram and TikTok pages recently and are seeing great results!
Everyone has to start somewhere, and we're here to guide you through how to get started with social media marketing for your trade business!
---
What are the Benefits of Social Media Marketing for Businesses?
There any many benefits for your business if you are active on your company's social media.
A social media page is often a customer's first impression of a business.
With a polished social media presence of your own, it'll assist with the following:
Customers accessing vital information such as your company's contact information and where you're based
The 'Intro' section from Commusoft's Facebook page
Engaging with and building a relationship with your customers.
Brand awareness: social media posts from your company on people's feeds can put your company at the forefront of people's minds when they next need a service, this works exceptionally well if you have high-quality social media content that's memorable.
Commusoft's Instagram feed
You have the ability to attract new customers by making your social media platforms 'searchable' (using SEO – search engine optimisation), this means including key terms your customers would search for in your profile biographies and post captions/hashtags.
This search engine optimisation can help you rank more highly in people's searches on social media platforms and Google if done correctly.
Caption from Commusoft's Instagram posts
---
Which Platforms Should My Company Have a Profile on?
Different social media platforms have different audiences and can help you in different ways. For example:
Facebook's users are predominantly aged between 25 and 34, with 30% of their users falling into this bracket, 21% are aged between 18 and 24, 19% are aged between 35 and 44, and 11% are between 45 and 64 (oblero.com). Facebook can be a great source of customers, helping you market your services directly to prospects and leads.
LinkedIn has a more professional tone of voice than other social media platforms. It's a great place to share company news, connect with other professionals in your industry, and grow your professional network. If you're aiming to win commercial contracts, this might also be your platform of choice, as decision-makers prefer it to Facebook or Instagram.
A post from Commusoft's LinkedIn page
Twitter/X is chatty and casual, with emphasis on discussion with their 'threads' of replies. A lot of companies use Twitter/X to engage customers directly and, sometimes, even troubleshoot issues.
Instagram and TikTok both have a younger audience, TikTok's being the youngest with their largest proportion of users falling between the ages of 13 and 29 (according to The Social Shepherd). These platforms also have a major emphasis on visual and video content.
In fact, "78% of content marketers reported that their organizations plan to invest or continue investing in video in 2023."

ProperExpression
That's significant. After all, videos can help you promote your brand's identity and, especially in TikTok's case, it can be a good PR opportunity to have some fun!
To help you decide which platforms would be best to focus on for promoting your business, it's important to consider two factors:
• Who will be creating the content?
Before learning how to get into social media marketing, you need to assign some responsibilities. Deciding on who creates the content will affect the tone of voice and will likely differ depending on the choice of platform. If you don't yet have a marketing person, you usually have to choose between:
Young apprentices
Experienced technicians
Office staff
As they're often the target audience for the platform, younger colleagues may be better suited for creating TikTok and Instagram content, whereas those who are more experienced and mature may enjoy creating posts about the industry for LinkedIn.
As always, make sure they're comfortable with this, as it is technically extra work that doesn't really fall into their job description. So, try to motivate them and reward them accordingly.
Video from Commusoft's TikTok
• What kind of content would you like to create?
Educational: like an industry video – "how to check if X appliance is faulty", or "10 reasons to get your boiler serviced during the summer"
Behind the scenes: "meet our team", or "a day in the life of a tradesperson"
Humorous: "when a job goes wrong" or perhaps your version of a funny trending video
Business promotion: sharing a positive review or a discount
---
The Social Media Posting Guide:
If you want to get serious about improving your company's social media, it is important to consider when and how frequently you are going to post.
The trick to a successful social media presence is consistency. Unfortunately, many people fall short of this important goal.
Make sure to keep to a posting schedule, whether this is every day, every other day, every weekday etc. Consistency is what makes social media algorithms promote your posts.
It's a good idea to make sure you are posting at the optimum time for each platform.
The users of different social media apps tend to be online at different times. For example, the best overall time to post on LinkedIn is between 8am and 2pm on Tuesdays. (Hootsuite)
• Best Times to Post for Each Platform:
Facebook:
Mondays from 8 am to 1 pm
Tuesdays from 8 am to 2 pm
Wednesdays from 8 am to 1 pm
Thursdays from 8 am to 12 pm
Fridays from 11 am to 6 pm
Saturdays from 10 am to 3 pm
Sundays from 11 am to 4 pm
Twitter/X:
Mondays from 8 am to 4 pm
Tuesdays from 9 am to 2 pm
Wednesdays from 9 am to 1 pm
Thursdays from 9 am to 2 pm
Fridays from 9 am to 12 pm
Saturdays from 10 am to 10 pm
Sundays from 9 am to 12 pm
Instagram:
Mondays from 10 am to 12 pm
Tuesdays from 9 am to 6 pm
Wednesdays from 9 am to 1 pm
Thursdays from 10 am to 1 pm
Fridays from 9 am to 12 pm
Saturdays from 8 am to 10 pm
Sundays from 10 am to 2 pm
LinkedIn:
Mondays from 8 am to 4 pm
Tuesdays from 10 am to 12pm
Wednesdays from 10am to 12 pm
Thursdays from 7 am to 3 pm
Fridays from 8 am to 2 pm
No point posting on Saturdays and Sundays
TikTok:
Mondays from 10 am to 10 pm
Tuesdays from 2 pm to 6 pm
Wednesdays from 2 pm to 5 pm
Thursdays from 3 pm to 5 pm
Fridays from 9 am to 4 pm
Saturdays from 8 am to 12 pm
Sundays from 7 am to 4 pm
• How to Schedule Social Media Posts:
In order for your posts to go up at the correct times, without having to constantly be online, it is possible to schedule them in advance. There are different platforms you can use to do this. These include Hootsuite, Later, Sprout Social, and more. However, if you are just starting out with social media scheduling, you may prefer a free alternative – there are free versions available for these platforms.
Moreover, Meta Business Suite is a completely free platform provided by Meta to help manage their social media platforms: Facebook and Instagram. Through this site, you can schedule posts, write captions, analyse data and more, free of charge.
How to create and schedule a social media post:
At Commusoft, we use HubSpot to schedule our social media content.
Here is a short guide on the structure of a social media post:
Upload your image/video: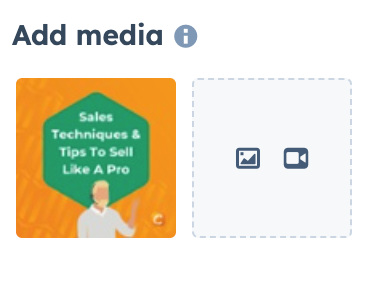 Hook the audience with your first line of text:


Add some more text to the caption: think about the purpose of the post. Is it to inform or entertain? Is the post useful or shareable?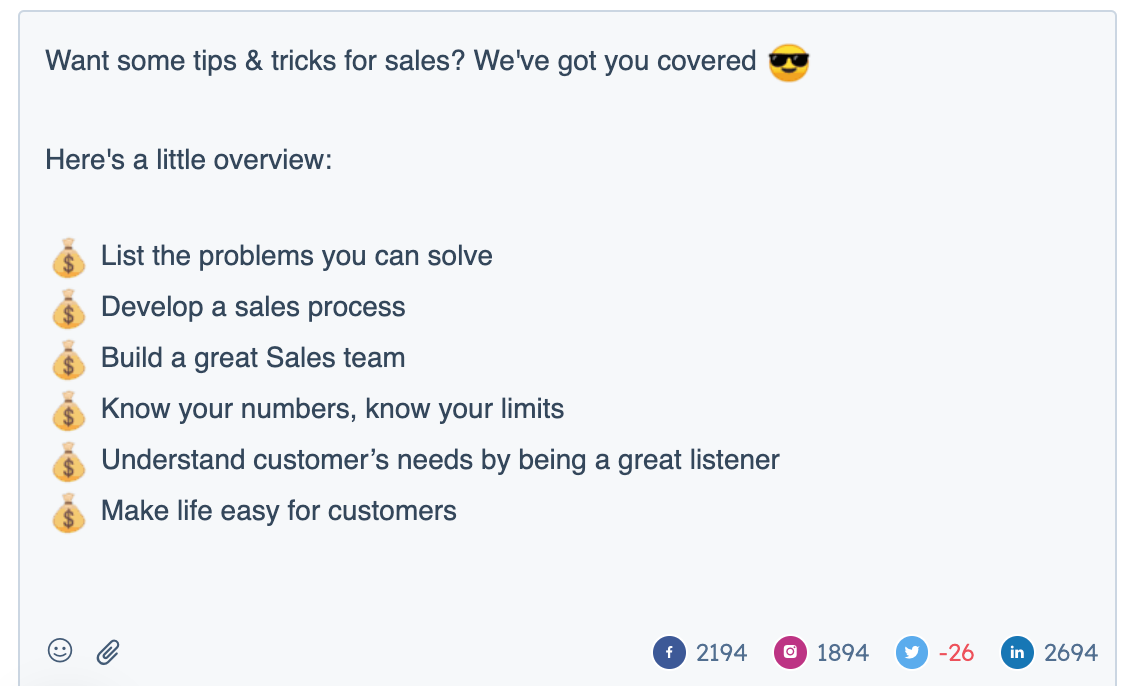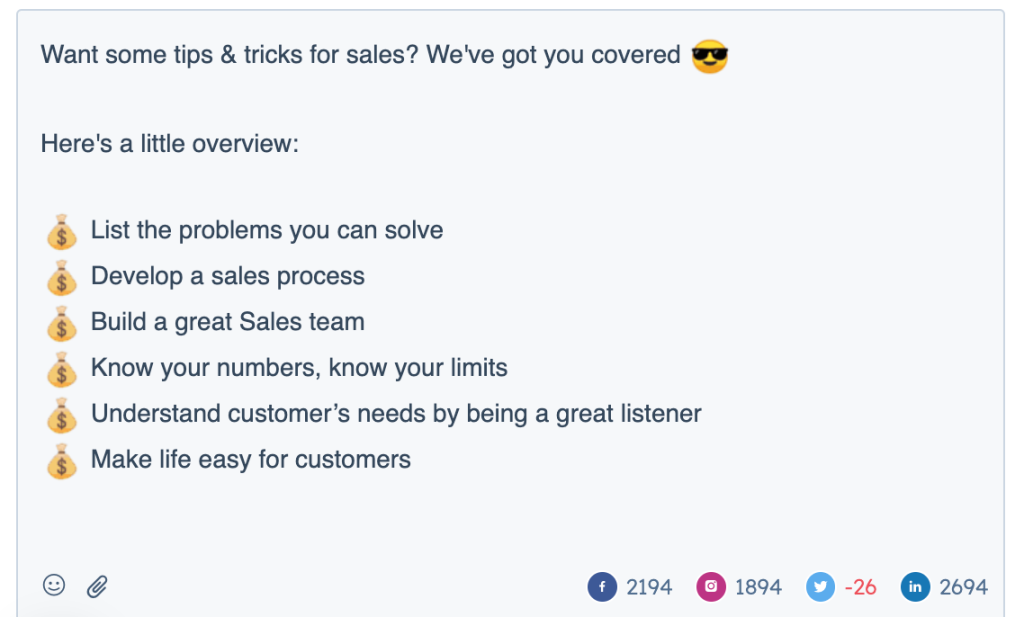 Add a call to action for the audience to follow up on.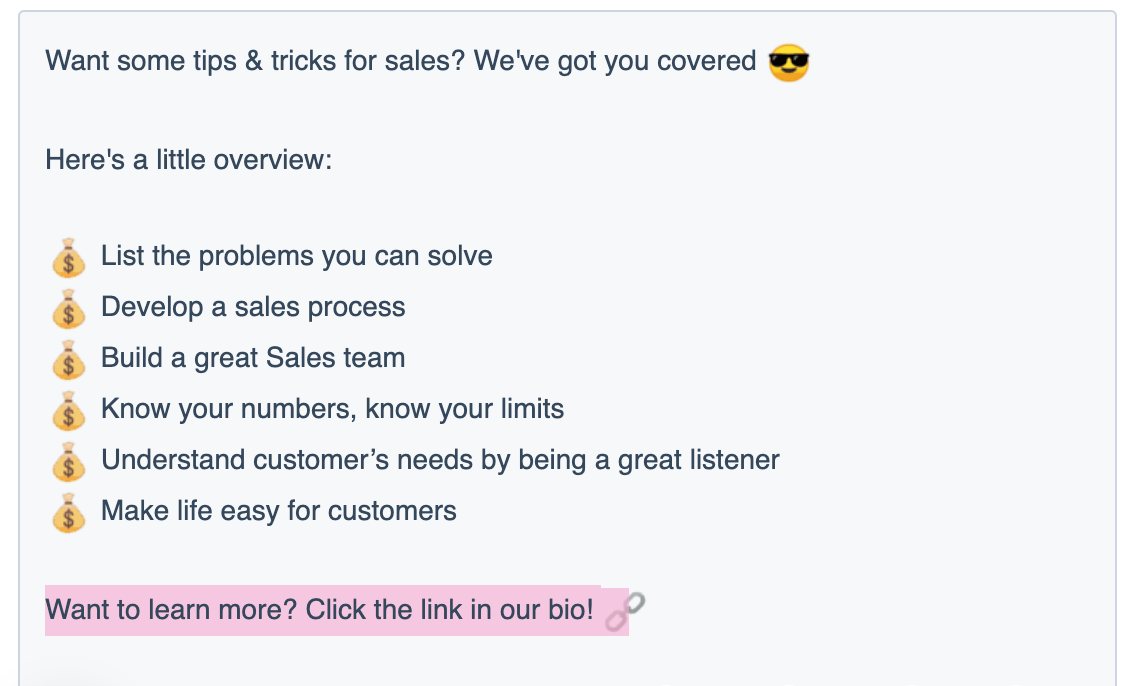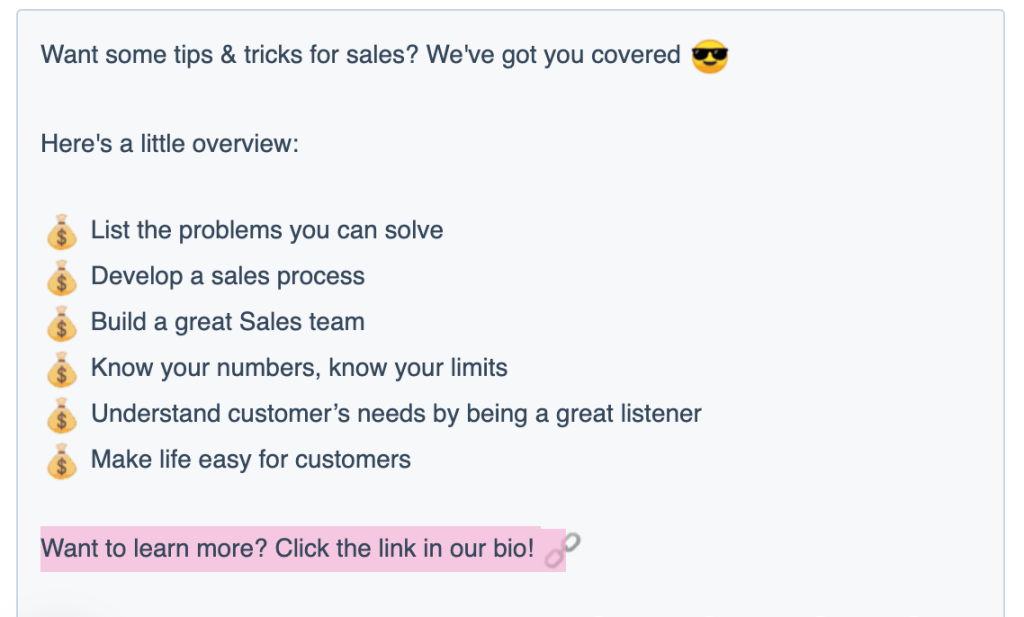 Add relevant hashtags for the post. you can find these by analysing competitors' posts, or searching for tags and seeing how popular they are: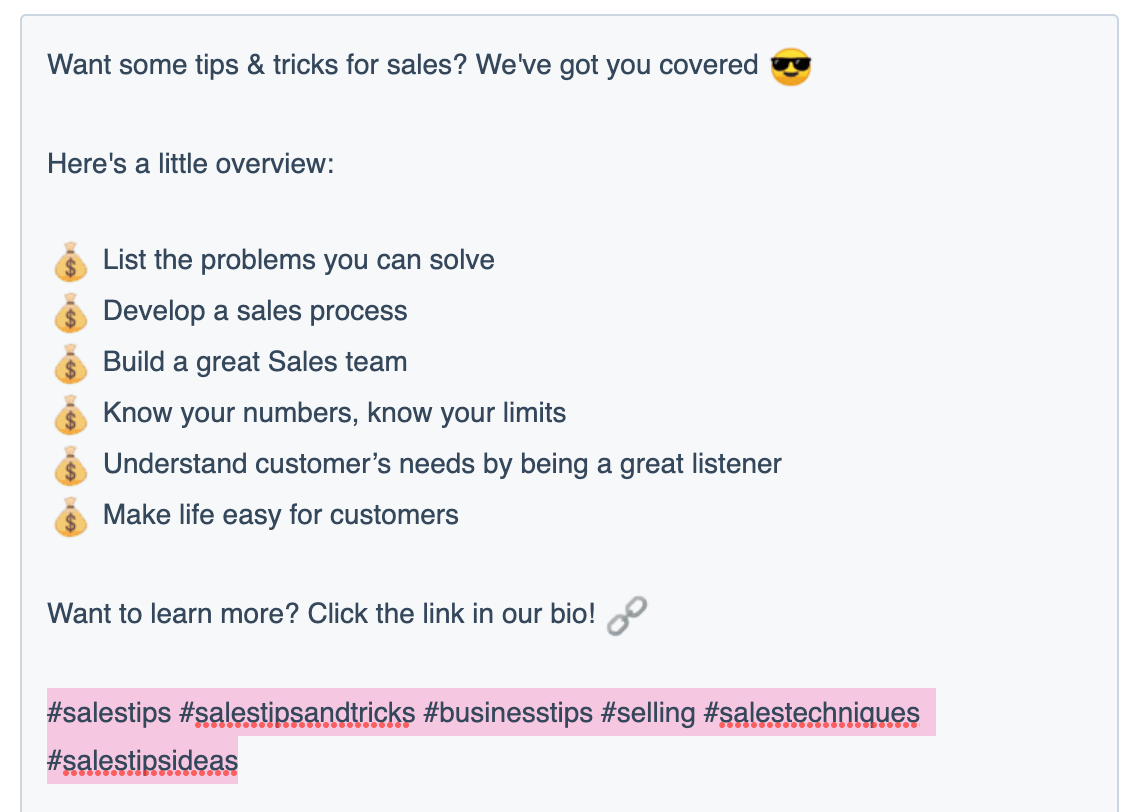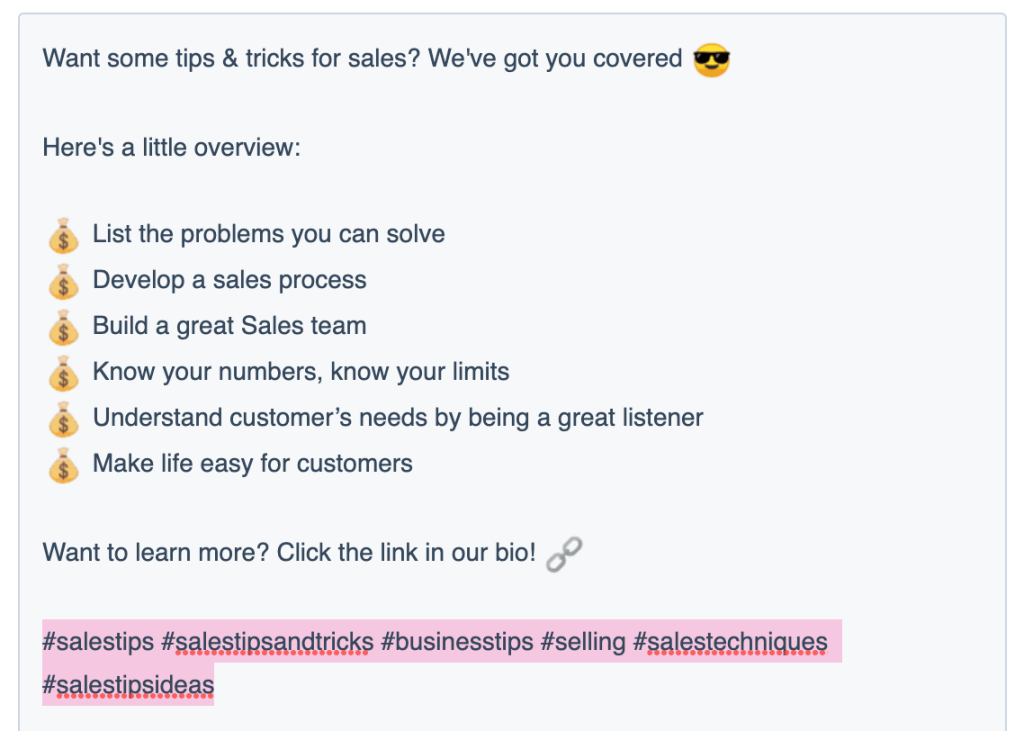 ---
How Do I Keep Up With Social Media?
It's essential to make sure you are regularly engaging with creators within your niche, as well as customers. This is important as it shows the algorithm you are an active user, which will help to boost views and grow your audience.
Delegating the task of commenting, replying, liking, sharing etc. regularly to someone on your team is very valuable for improving your company's social media.
Keeping track of your competitors is not just stalking for fun, it's actually very useful and good practice to do so every once in a while. Checking out your competition's social media can show you ideas of what will perform well.
If they have a post that has blown up with lots of likes or views, maybe you could create your own version to compete.
Make sure to also look at what hashtags or keywords are being added to their captions, as finding the right ones can assist with getting people to view your posts, and therefore check out your page, or potentially your website.
You can also create a 'Competitor Analysis' document that lists your competitors' strengths and weaknesses, what they offer, how they differ from your company, and how they are similar.
This allows you to have a stronger sense of your own brand and helps you control how you want to be perceived on social media.
---
Improve your branding with The Customer Communication Toolkit