How to Map Customer Journeys and Create Amazing Experiences
August 9, 2021 - Customer Journeys - 11 minutes
Learning how to map the customer journey is essential for any field service business. After all, don't you want to create incredible journeys for your customers to enjoy?
Of course you do! But you may well wonder how exactly to go about achieving that…
---
In short, success lies in understanding your customers.
This means noting a wide variety of engagement opportunities, big and small—from paying a bill, booking a job, writing a review, or keeping track of their assets—all so that your engineers, admin, and your customers are able to easily find the solutions they need.
By mapping out customer journeys, you can anticipate a variety of ways to better assist how everyone interacts and so help them as they move through one journey to the next.
Below, first, we'll briefly consider:
Next, we've mapped out 7 essential points to consider. When each of these journeys is exceedingly good, you'll find that returning customers, improved brand recognition, and a boost to your cash flow are just a few of the resulting benefits.
Let's take a look:
What is a customer journey?
Let's start with the basics before diving in.
Customer journeys can take many forms and, in a nutshell, they represent all the interactions a customer can have with your company.
From booking a job, to making a payment, to leaving a review, and more, there are plenty of paths a customer can take when they interact with your business. Of course, depending on how these journeys are established means there can be a lot of friction, or they can be optimised to be frictionless.
By properly mapping the journeys you stand a better chance of creating smooth experiences for customers to enjoy.
Just consider the following graphic for visual comparison: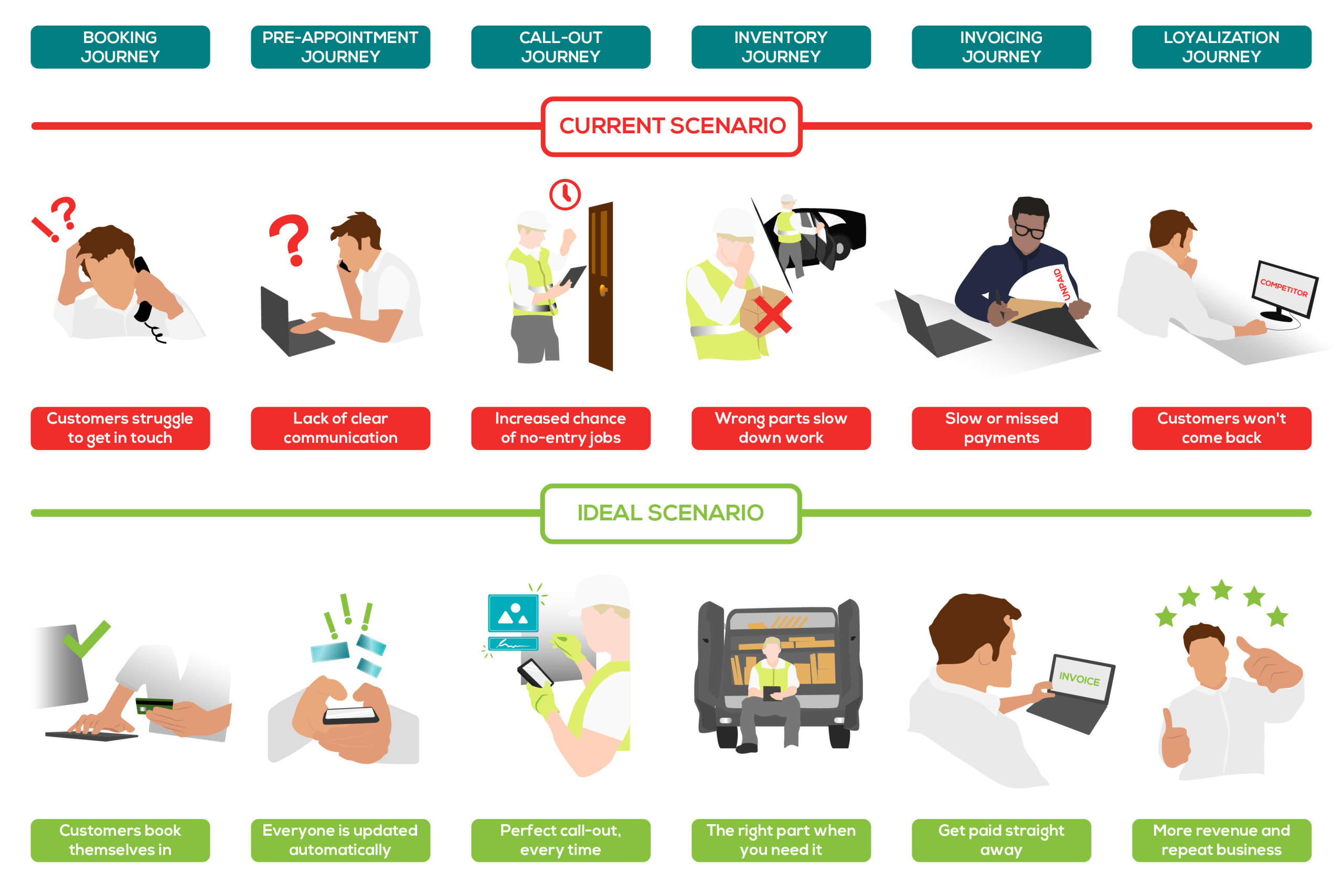 ---
For more, click below to hear from Cristina as she explains more about the perfect customer journey; alternatively, you can skip ahead to our first point:
Customer Journeys 101: Would This Customer Hire You?
---
1. How to map customer journeys to win customers and book jobs
Step one of how to map the customer journey begins with getting customers to book a job.
Obvious as this may sound, it's perhaps the most important point to keep in mind. Many businesses spend a lot on simply getting customers to their website but don't focus on what actually happens on the website.
With the right booking processes mapped out, you'll be in a strong position to actually get them to hire you (and all without them ever even considering the competition!).
To succeed here means making use of online booking.
You'll likely be familiar with sites like Booking.com or OpenTable for booking a holiday or restaurant, but imagine if you had to choose between Booking.com and a website that made you exclusively call an agent in order to book a holiday. There's a reason the former is the default choice these days (mostly because of the convenience of self-service), and arranging for an electrician, plumber, or gas engineer can and should be just as easy.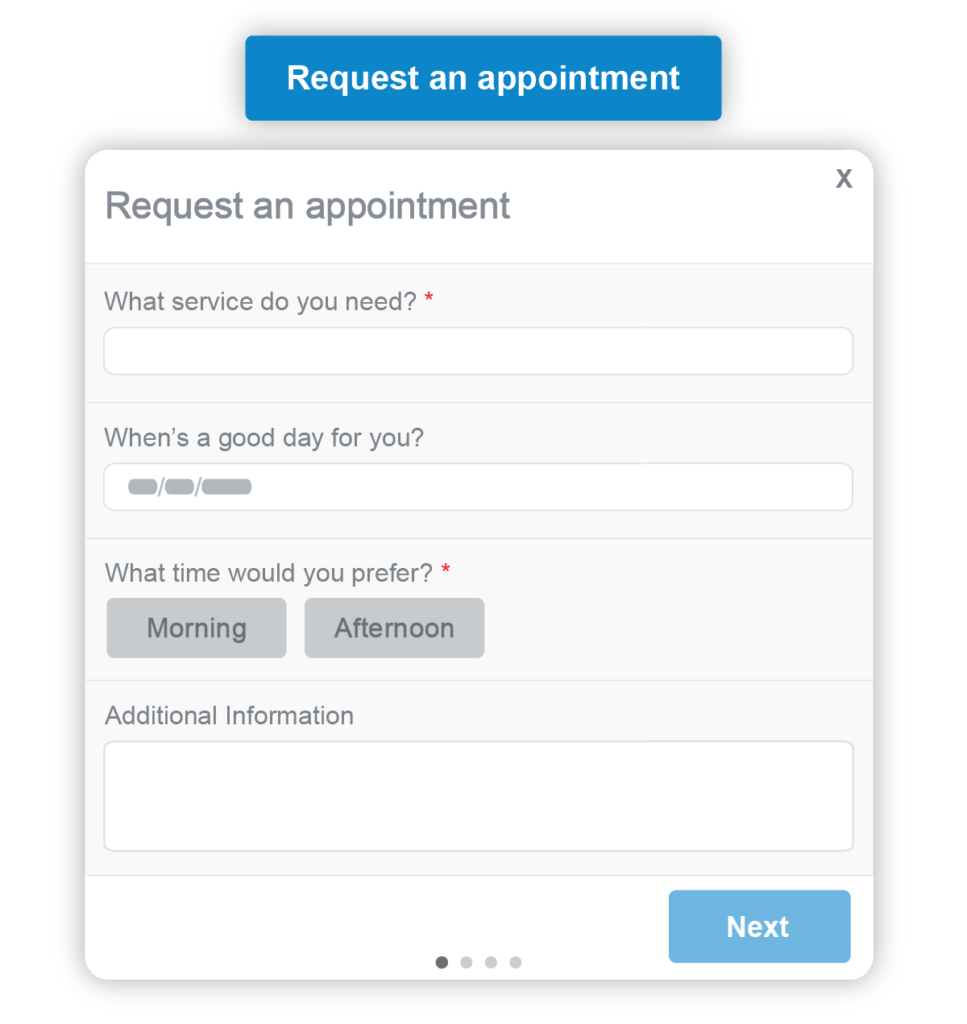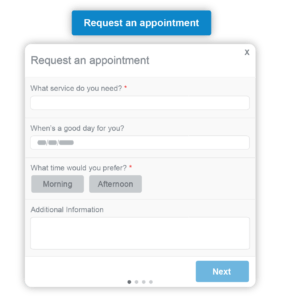 An online booking form (like the example from Commusoft, above) on your website is all you need. Your website is the best place for prospects to find out about your business and an online booking form is a frictionless step for a customer to take if they like what they see and decide to book an appointment with you.
In this way, a booking portal is an excellent jumping-off point for your customers and a great way to kick-off other journeys, as you'll see below.
---
More about online booking:
Further reading: Booking jobs – How to book more work and fast!
---
2. Straightforward scheduling for your team
I can already hear you thinking: "But booking a job with a plumbing company is nothing like booking a restaurant table!" There are so many types of jobs, some take longer, some don't, and quite a few of them require specifically trained engineers, not just anyone.
Of course, when you have a system that lets you schedule jobs with ease, you'll be able to more easily manage the complex jobs around the more straightforward ones, too. Intelligent scheduling assist your team to plan all sort of jobs accordingly and is an important solution to make use of it you're keen to get the most out of every working day, for all your engineers and staff.
You can't just rock up to a customer's house or place of business at any old time, can you? You need to be organised, notify the customer when you arrive, and provide other details (at least, you should do this).
When intelligent software is thrown into the booking portal mix, it takes care of these scheduling hurdles. Not only does it remember details of returning customers (and so remove the hassle of data-entry), but it can also help you do more with fewer people, as it automatically accounts for the most efficient routes, the correct engineer, and the overall diary based on live data in your system.
When it comes to booking jobs, the customer & your software do all the admin work for you so that all your engineers have to do is rock up and do what they're great at.
---
More about scheduling jobs:
Further reading: Do you suffer from these 5 job scheduling problems? Here's how to fix them!
---
3. Optimise cash flow with automated invoicing
Now that the job is done, the customer needs to pay for it. A payment journey is an important one: no one likes to be messed around with money, and the last thing you want interrupting any journey is an unexpected or unwelcome bill.
In this way, an automated invoice processing system (admittedly a bit of a mouthful, but bear with me) can make the otherwise time-consuming nature of invoicing anything but that. For the customer journey, it's where job management software can oversee invoicing tasks for your team and also make the act of paying easier to manage for your customers, too.
There are invoicing tools aplenty, such as an invoice portal—where customers access a digital space to securely pay you—and for your commercial customers, there's consolidated invoicing—which groups together multiple invoices into a single, easy-to-digest document to simplify bulk payments.
Without them, less convenient methods (such as phone calls, bank transfers, or cash payments) can really slow down the process, hurting your cash flow as they're more prone to frustrating delays.
However, automation tools, powered by your software can take the strain away from your team and your customers, letting you check another point of your list for how to map a fantastic customer journey.
---
More about invoicing:
Further reading: The Game-changing Power of Automated Invoicing
---
4. How to map the customer journey and create convenience with a customer portal
Step 4 of how to map a customer journey is about reflecting on what's come before.
We began by saying that you need to rethink how it is that customers engage with your services, and when you consider that you can optimise how you book, schedule, and charge customers for the work you're doing, a great point to consider next is how customers can access that information, too.
While confirmation emails, texts, and even letters are all useful, making use of a Customer Portal opens up a whole new level of convenience.
Not only does it give customers the power to access their job data and information about invoices, but a great customer portal can even let them request more work, download their information, and enact solutions themselves, without having to reach out to your team and interrupt anyone day with minor queries that, while important, can also take up a lot of time.
---
More about the customer portal:
Further reading: 3 Ways a Customer Portal Can Help You Get More Commercial Customers
---
5. Stay compliant with customer asset management
Knowledge is power, and as we mentioned earlier with scheduling, the same points carry over when you consider the best way to engage with customers on the job, too.
Asset management can be tricky, but with the right solution, engineers can be sure of what to prioritise when they're on-site, rather than figure things out from scratch every time they turn up. For your admin team, it also means that whenever they interact with a customer, they can provide accurate and insightful information.
Altogether, this makes for positive experiences, helps your staff work more efficiently, and leads to professional customer journeys that'll keep them coming back!
---
More about customer asset management:
Further reading: How Asset Maintenance Software can Transform your Team's Productivity
---
6. Manage your stock/parts and keep in touch with suppliers
Great customer service (and, so, a winning customer journey) is way more likely to happen when your team has access to all the parts they need, as and when they need them. In the cases where this isn't possible, being able to quickly order a part and see an ETA for delivery means you can then present solutions to customers quickly, too.
This is a preventive move to assure the success of your customers' journey.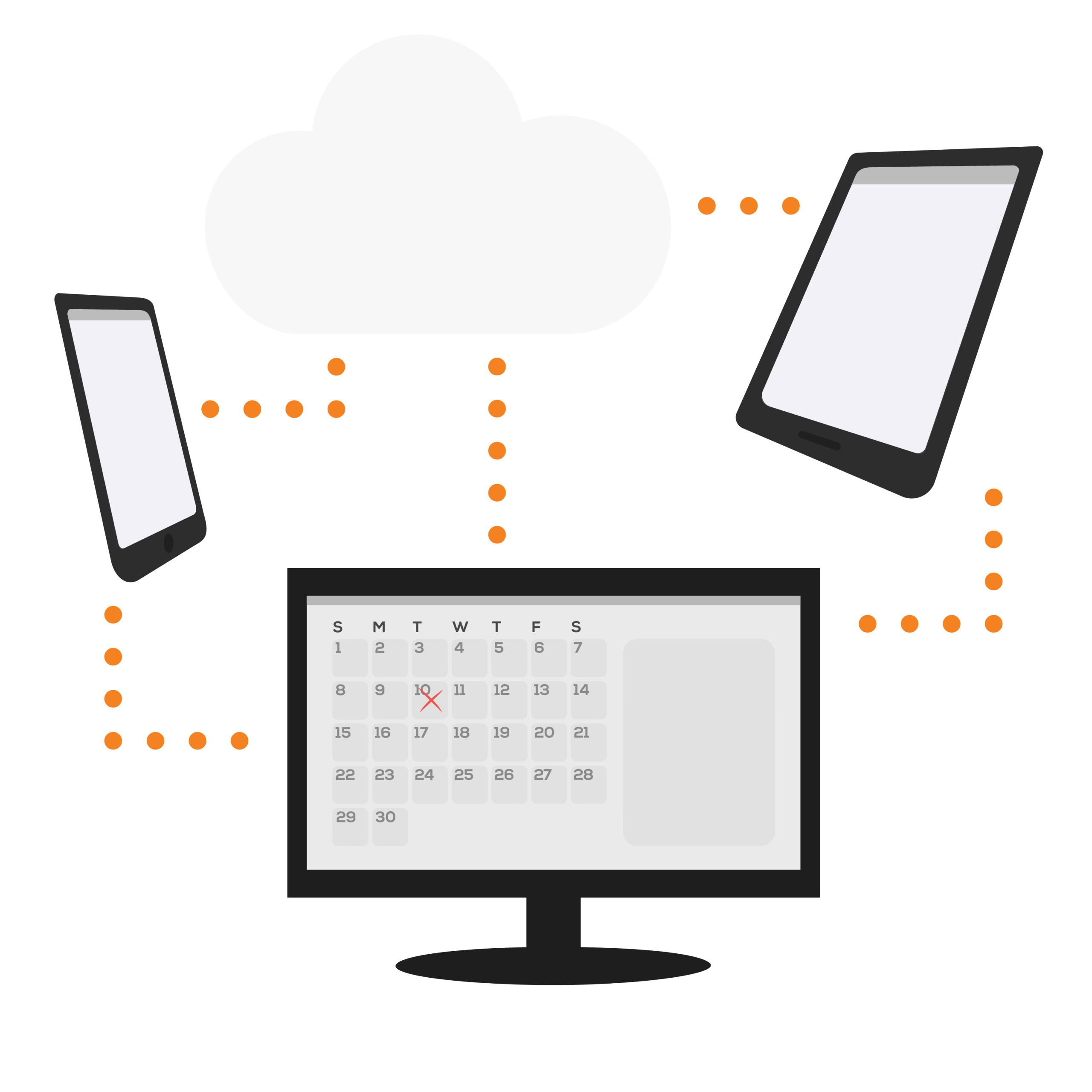 After all, being unable to get a job done due to not having the right parts will be a nuisance for your customers—who may get frustrated by delays—and, for your engineers, it's an undeniable waste of their time.
It will also affect the professional image of your business if your team is all up in confusion about where the right part is or when it's being delivered.
With a digital tool like stock management software, these problems can largely be avoided, and everyone can do their job faster and more efficiently.
---
More about stock control:
Further reading: 5 Suggestions to Help you Better Manage your Stock
---
7. Train your team to use your software
While all the above is absolutely fantastic, you're not going to get the most out of how to map the customer journey if you're not making the most out of your staff. And how do you do that? Well, how do you improve anything?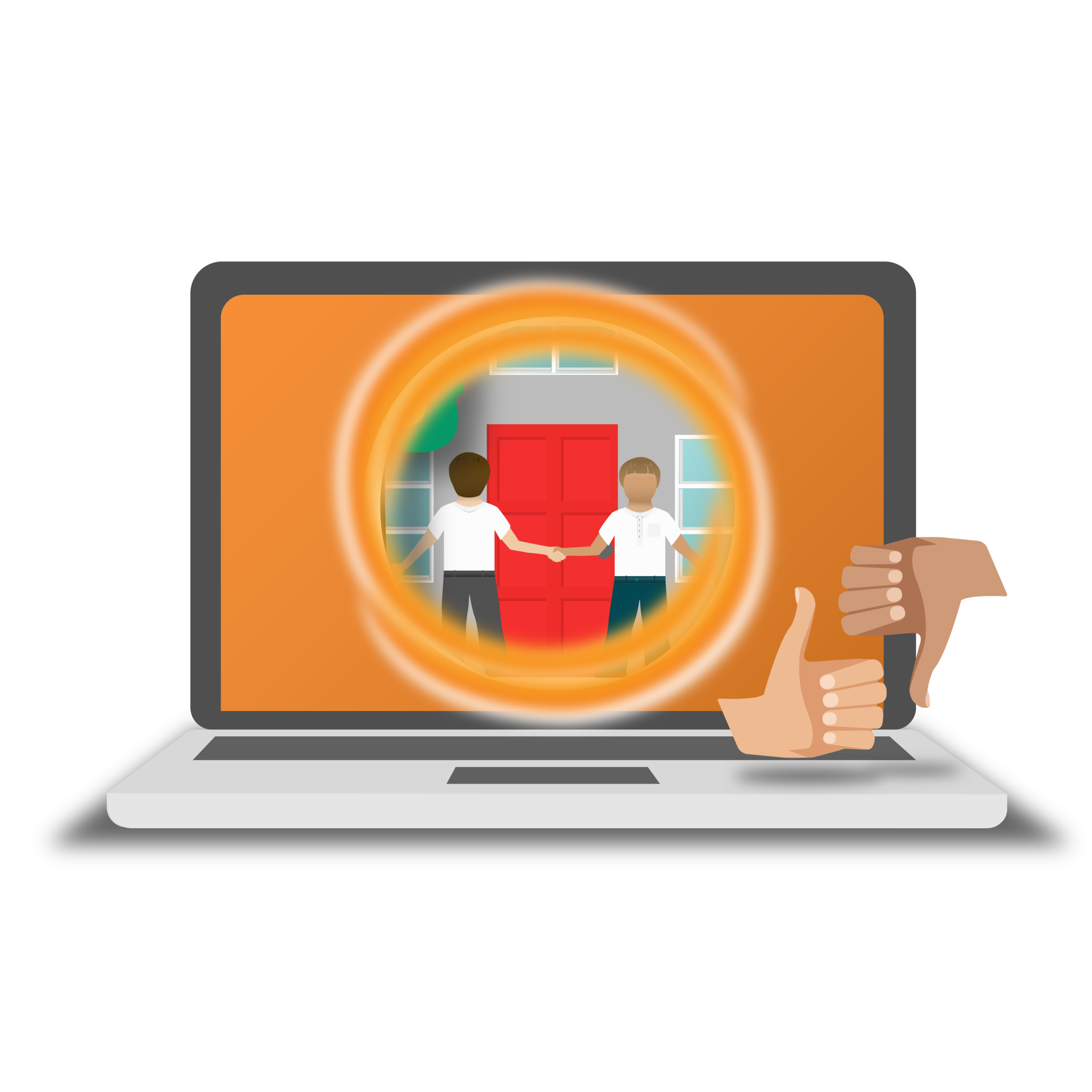 With time, practice, patience, and training. In particular, this last point, especially when it comes to learning new skills and tools.
To unlock the true potential of your staff, training is always going to be a big help, and it'll show to your customers when they're faced with an engineer or a member of your admin team who handles every situation with care and professionalism.
After all, customer journeys don't have to be just simple, nor do they have to be robotic and mechanical; they can be enjoyable and personable, and it all comes down to the people who work at the heart of them, knowing how best to engage and be of help.
---
More about training to use software:
Further reading: 6 Software Training Tips to Help You Get Started with your Job Management System
---
The Takeaway
If you're ready to tackle customer journeys, be sure to check out our feature page: The Complete Guide to Customer Journeys. You'll find even more detailed information, with videos, free resources, and additional advice.
On the other hand, you might be interested to see how Commusoft's job management software can help. Click here to watch our demo.
Finally, if you like what you read, you should know that we're continuously adding to and updating our content with news, interviews, and useful resources, all to help you! No matter which industry you're from. from plumbing, to gas, electrical, HVAC, window-cleaning, and more, you can subscribe to the Commusoft Business Blog and you'll never miss out.