6 Functions of a Customer Relationship Management System
November 2, 2022 - Software & Tech - 6 minutes
We're exploring the essential functions of a customer relationship management system (also called CRM).
We'll share 6 key features that every maintenance, service, and installation business should expect from their chosen CRM system.
Let's explore why a customer relationship management system is essential for your business.
---
---
---
What is a Customer Relationship Management System?
A customer relationship management system (CRM) is a software solution that allows you to track customer data.
A CRM is a necessary tool for any business that collects and uses a lot of data and the intention is to take customers on excellent journeys.
CRM software is all about making it easy for your staff to put data to use and lead them to have a great overall experience. Benefits and functions of customer relationship management system include:
Speeding up booking jobs
Paying invoices online
Easily collecting feedback,
Boosting customer satisfaction.
A high-quality customer relationship management system can make job management, sales, and many other tasks more efficient and rewarding.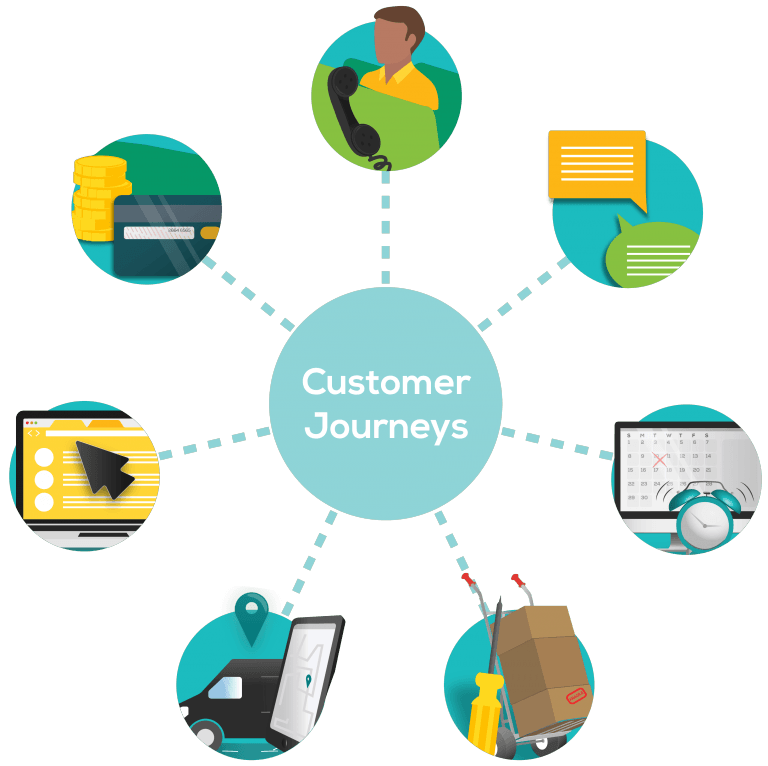 What are the Benefits of a Customer Relationship Management System?
Let's review three key benefits of using a CRM.
These benefits highlight how your staff can use data to deliver great experiences, every day:
• Offer a better customer experience and customer journey:
With the right information always at hand your entire business will be better prepared to serve your customer's needs without delay.
• Generate more revenue and optimise cashflow:
Offering a better customer service experience will often lead to more business. A good CRM will help you identify opportunities for revenue growth and data analysis can highlight potential areas to improve.
• Help employees be more organised and less stressed:
A CRM will ensure all your customer data is in one place, properly ordered, and easily accessible. Staff won't need to flit from one system to another. Instead, a single customer view makes finding and using customer data a stress-free experience.
There are lots of customer relationship management systems out there, but not all of them are a good fit for maintenance, installation, and service businesses.
That's because, unlike Commusoft, they weren't designed with your businesses in mind…
---
6 Functions of a Customer Relationship Management System
Here are the essential customer relationship management system features we think are essential for service, maintenance, and installation businesses:
1. Manage data of tenants, landlords, and estate managers:
Every CRM will record contact details like names and addresses, phone numbers and more. However, for many installation, maintenance, and service businesses, you'll work with a mix of private customers and larger companies, as well as with tenants, landlords, property managers, etc.
That's a lot of data to manage.
What you need is a comprehensive CRM capable of handling a variety of complex relationships.
When selecting your CRM, make sure it's capable of managing all sorts of different technical terms and meanings.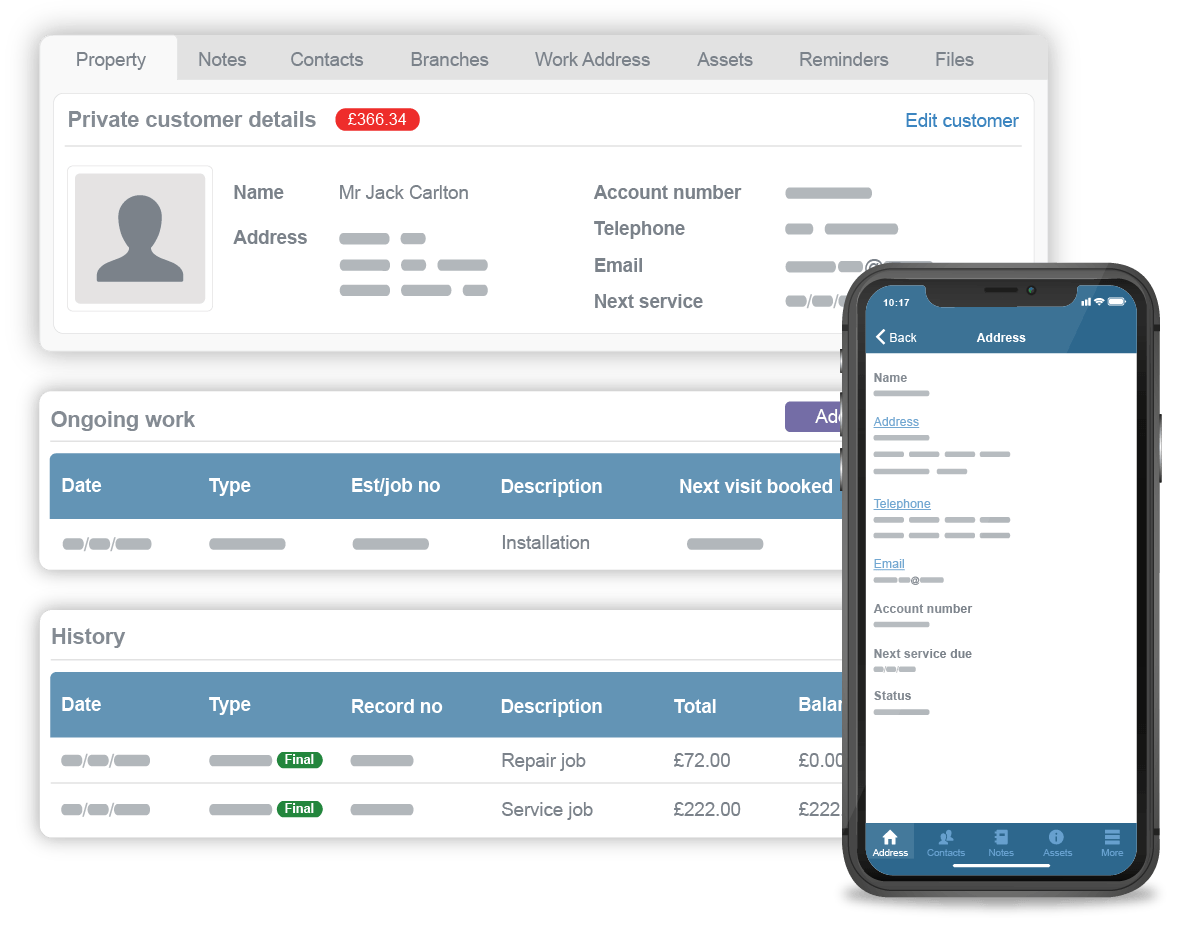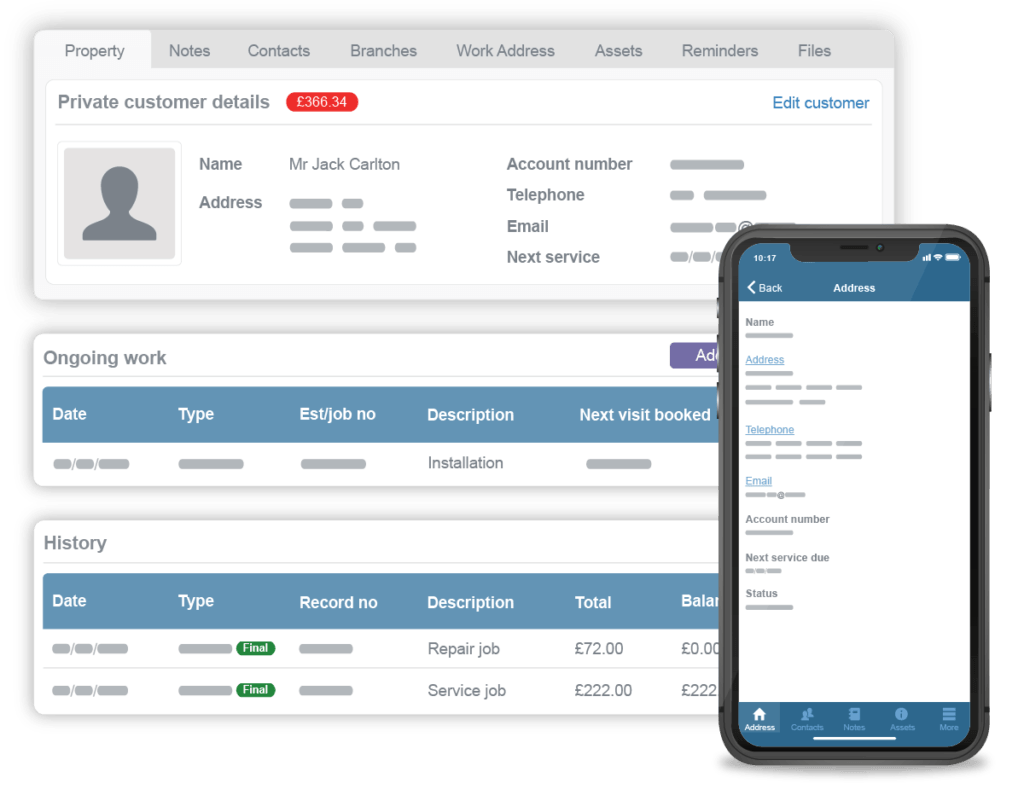 This way, no matter what industry you're in, you can be certain your solution is capable of accurately managing your workload.
2. Access work history and view upcoming appointments
The most important thing about your relationship with a customer is the work that you do for them. That means a CRM won't be of much use to you unless your team can see previous and planned jobs for a customer.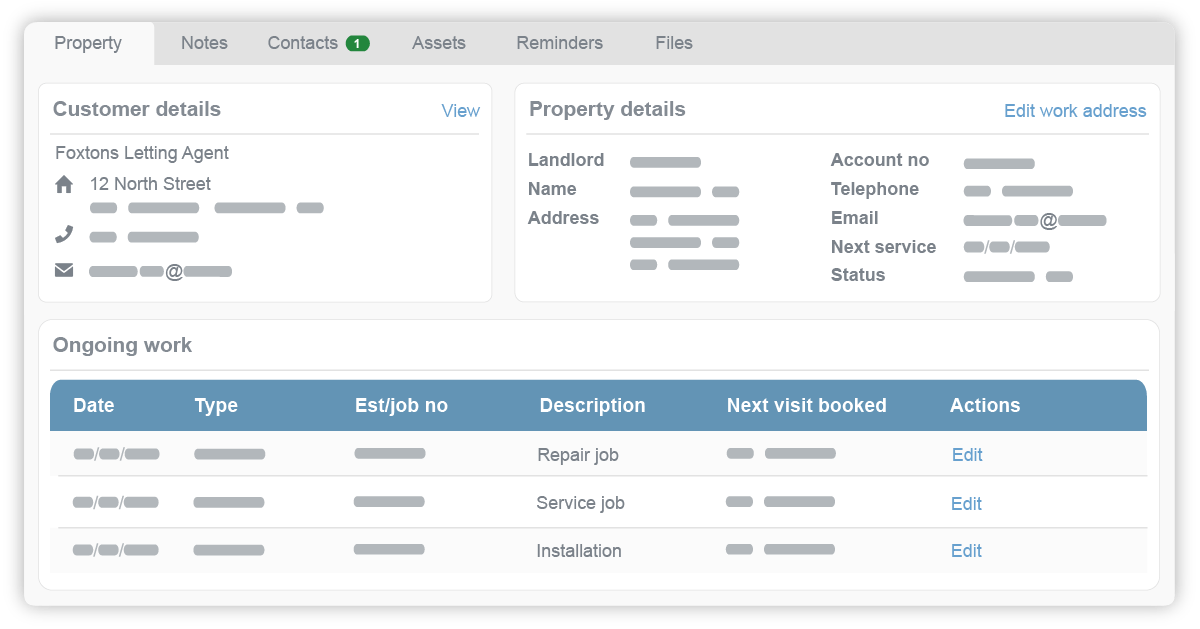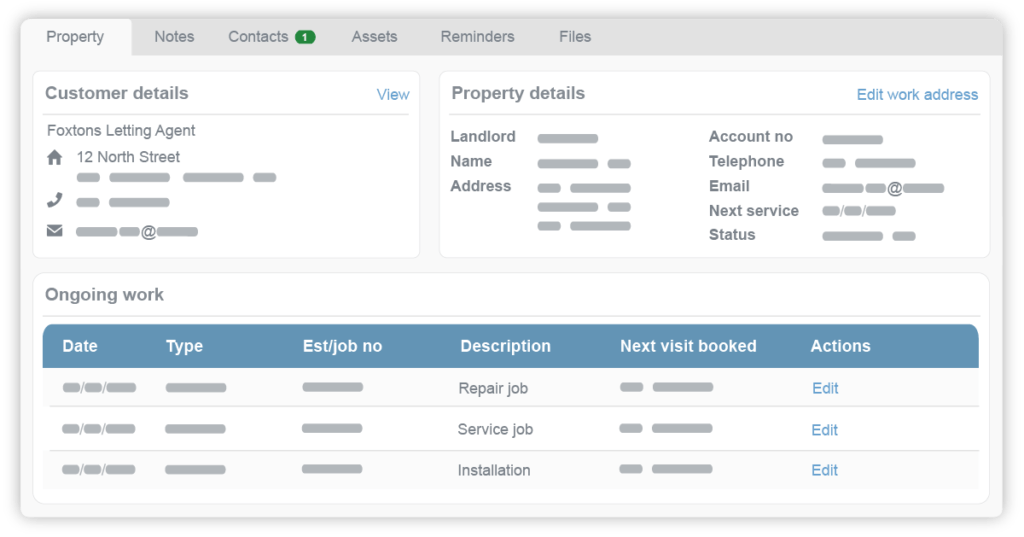 When a client phones in about a job, you'll have everything you need in the CRM.
3. Track logs of communications between you and the customer
This means everyone can see exactly what emails or text messages have been sent, giving your team total transparency.
The best CRM solutions will even allow you to send those communications straight from the customer record, too.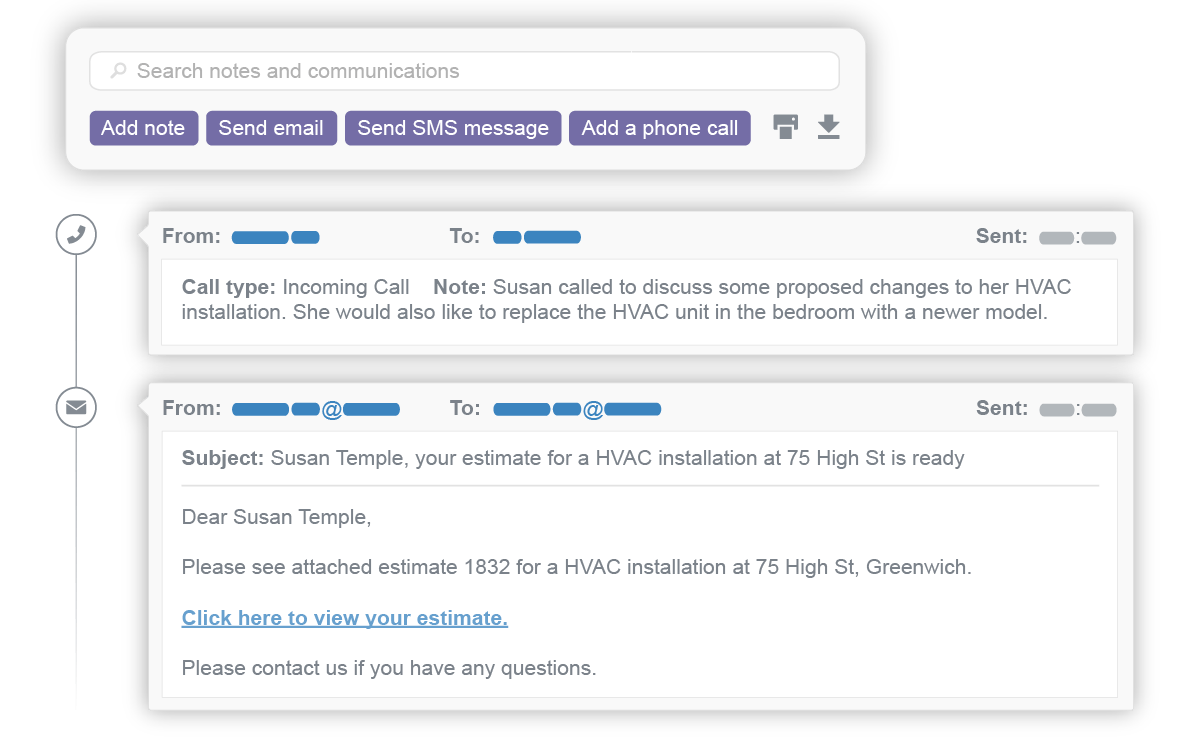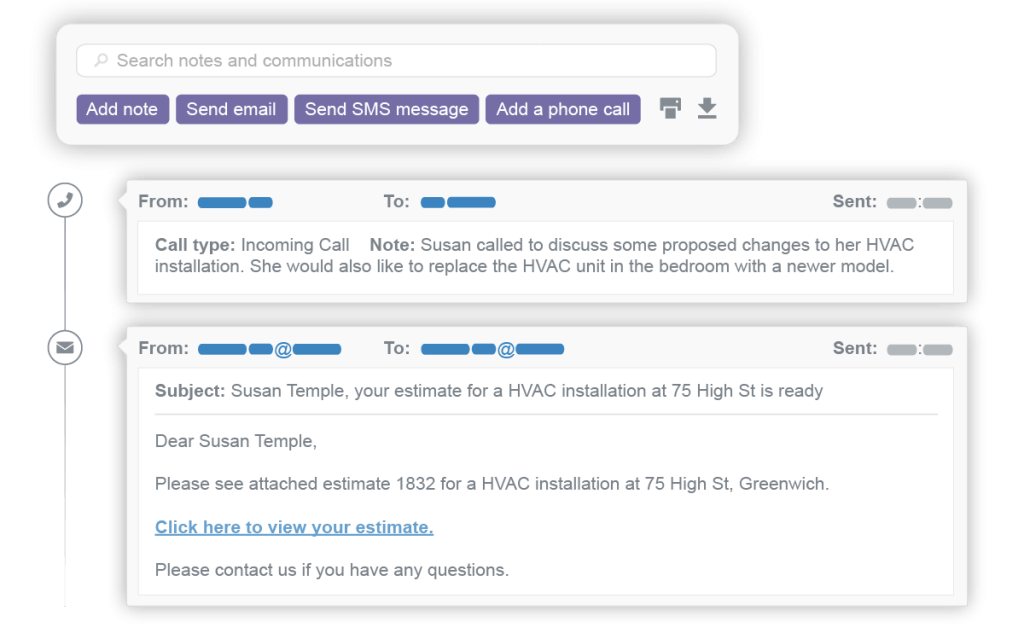 With more ways to transfer and view data, you can ensure people are always on the same page.
4. View and share technical information and assets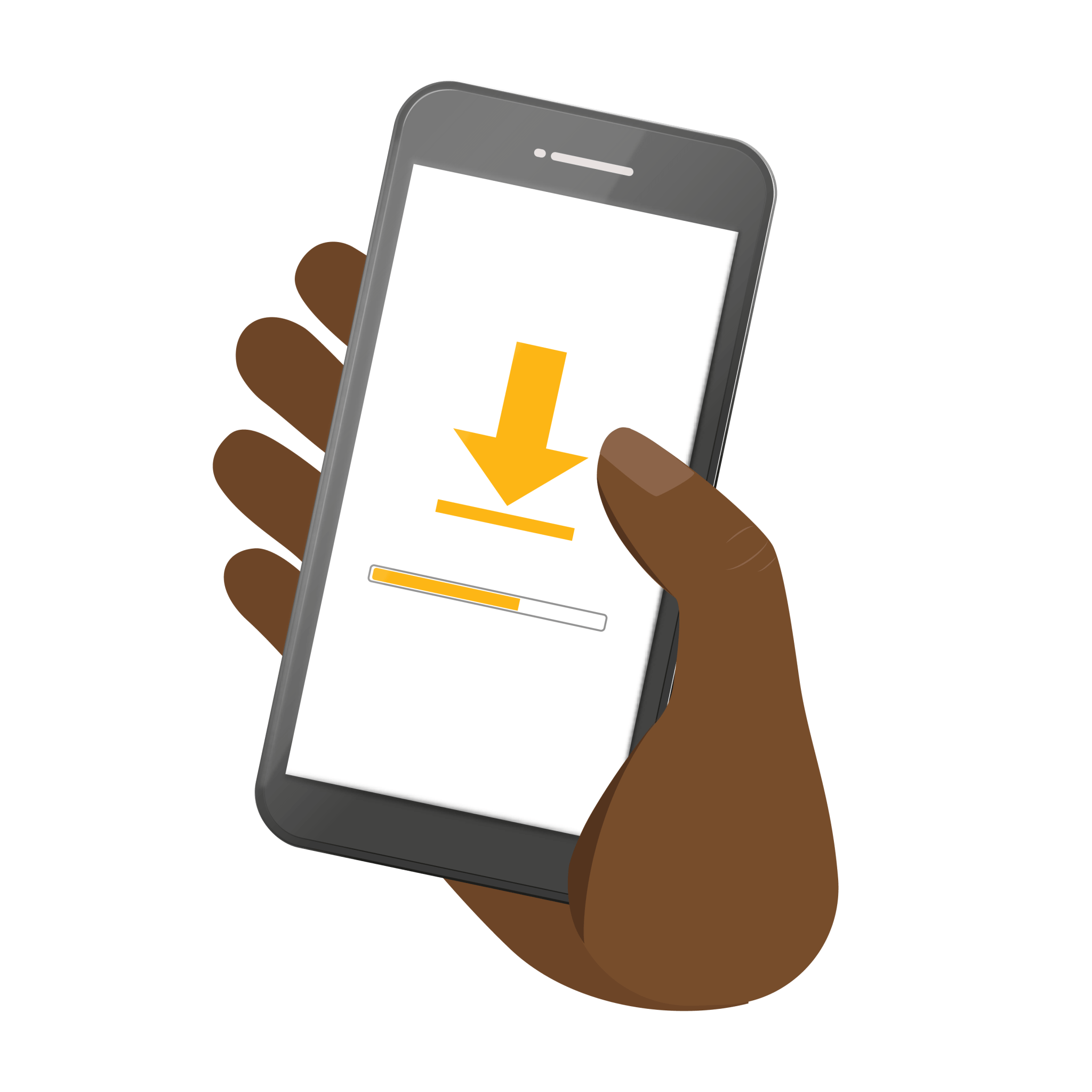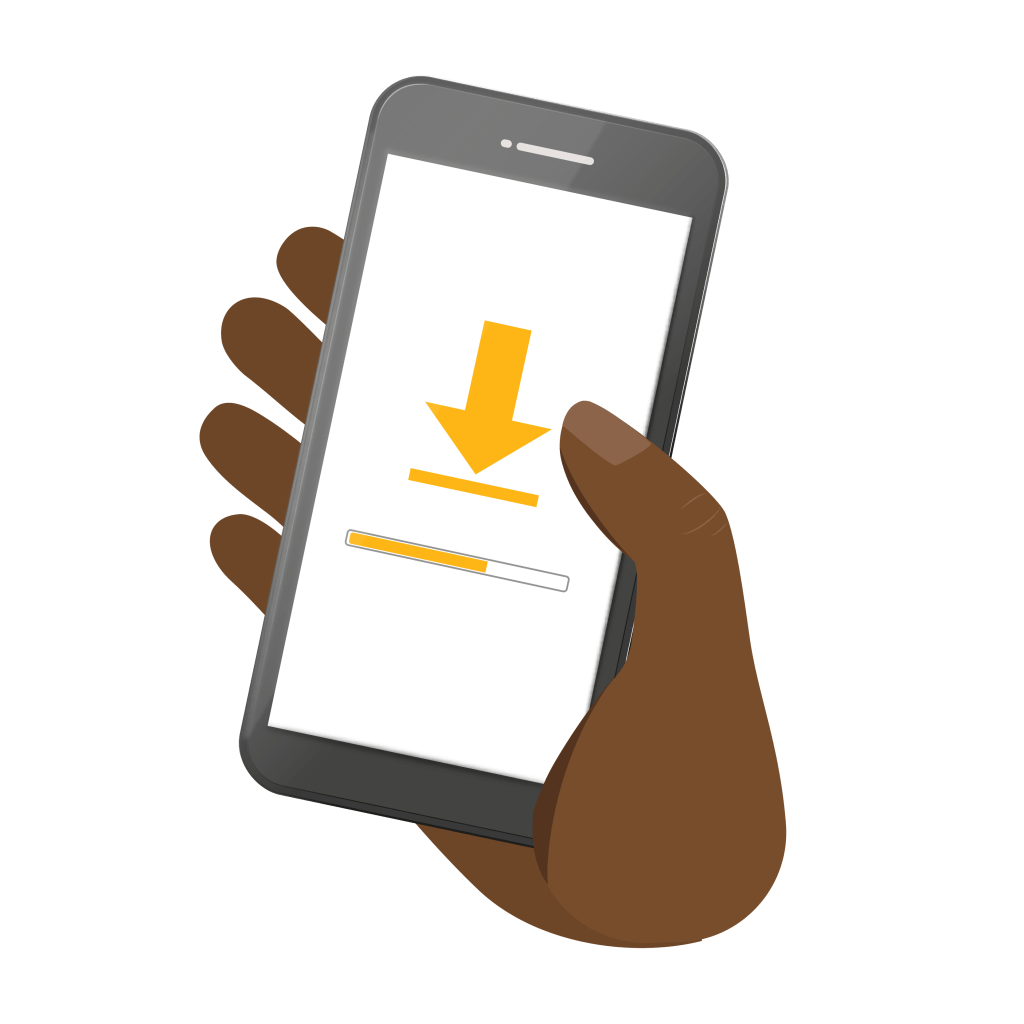 If a CRM has been designed for field service businesses, it should be able to record technical property information accurately. This includes data such as the location of fuse boxes, water mains, fire alarms and more.
With all the information they need readily available to them both before, during, and after an appointment, your team can work much more efficiently in carrying out all sorts of necessary tasks, whether they're at the property or not.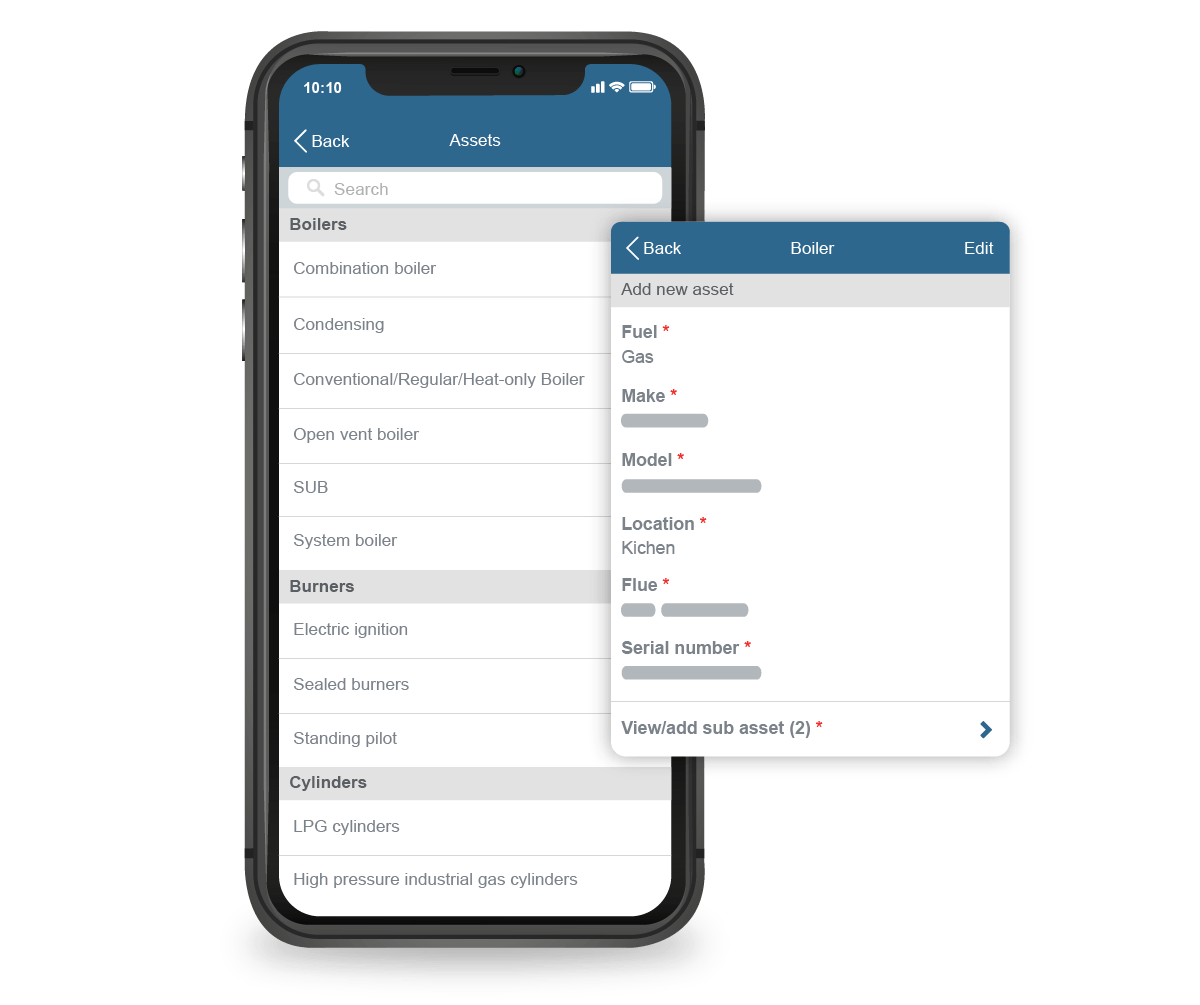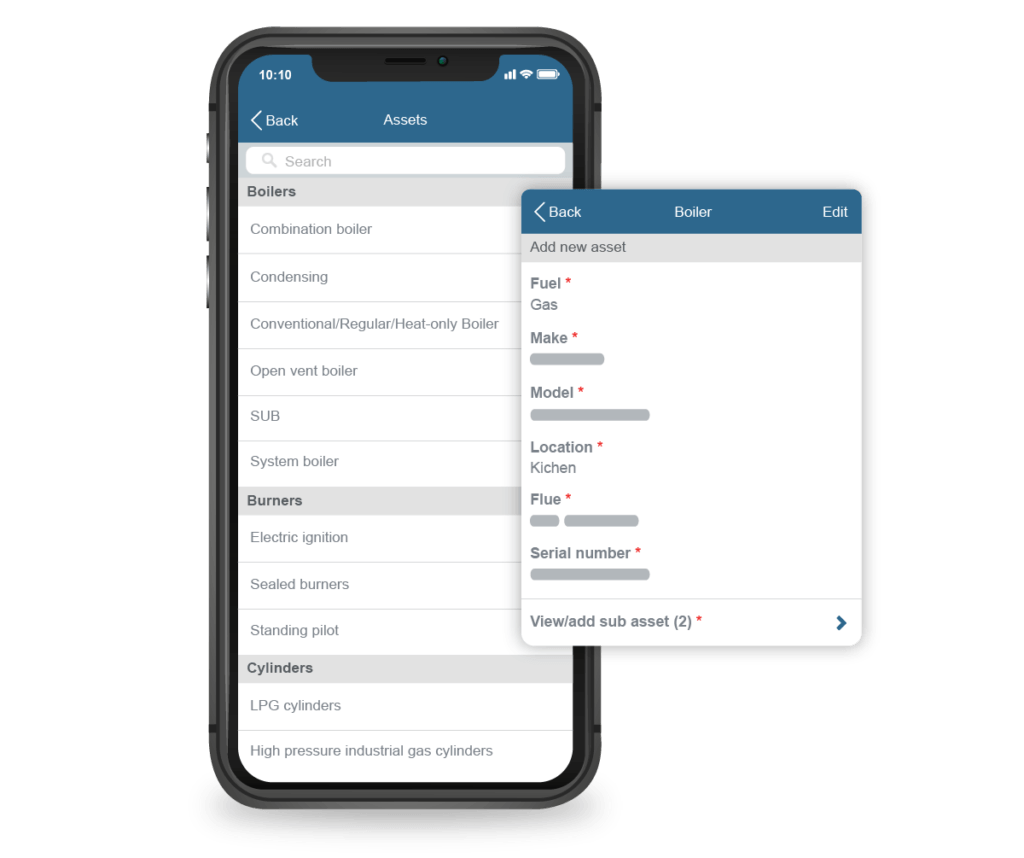 The same goes for assets. If you install or service assets for a customer, you should expect to have all of these linked to their records within the CRM.
5. Attach files and monitor documents
This is a simple one, but not always done well, so be wary.
After all, attached files, photos, and video evidence are incredibly important resources for installation, maintenance, and service businesses to keep hold of. Putting them to use can be important not just for the jobs themselves, but for educating and teaching colleagues, too.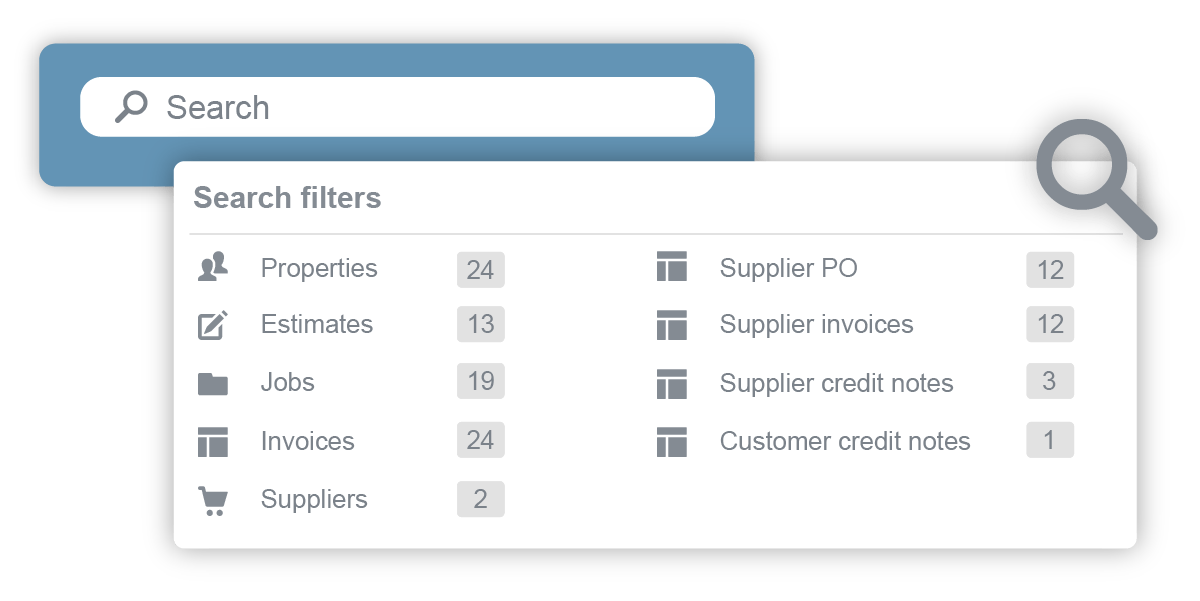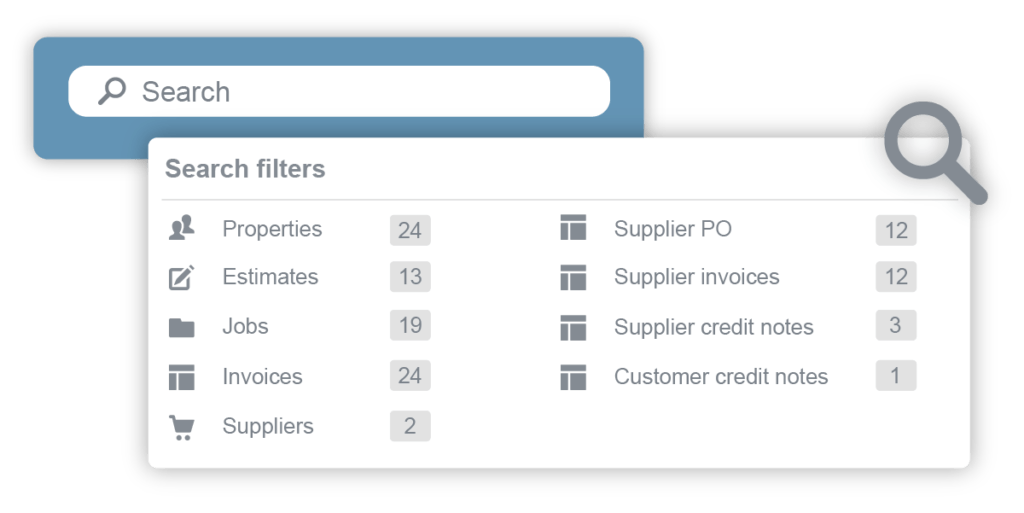 They'll also help your staff more easily review work far faster than having them read lengthy descriptions (or vague ones).
Whether it's a photo from a property, a customer contract, or a user manual for an asset, you'll want to have all of these pieces of data stored safely within the CRM.
6. Provide accessibility on the go
Our last function – and it's a big one! CRMs for field service businesses need to be accessible when you're on the road.
So, if you're at a customer's property or travelling, you can still access all those other details that I've just mentioned.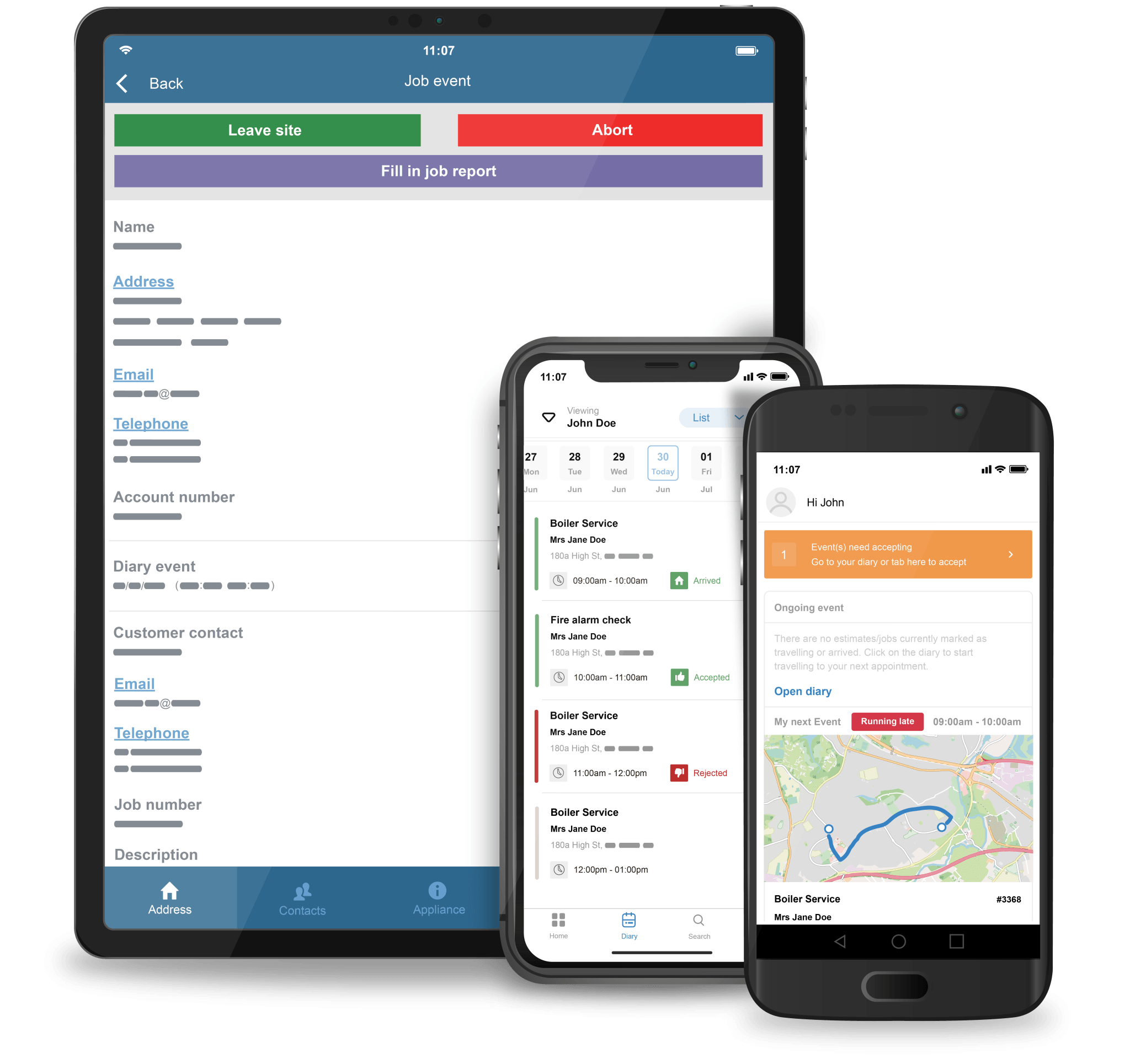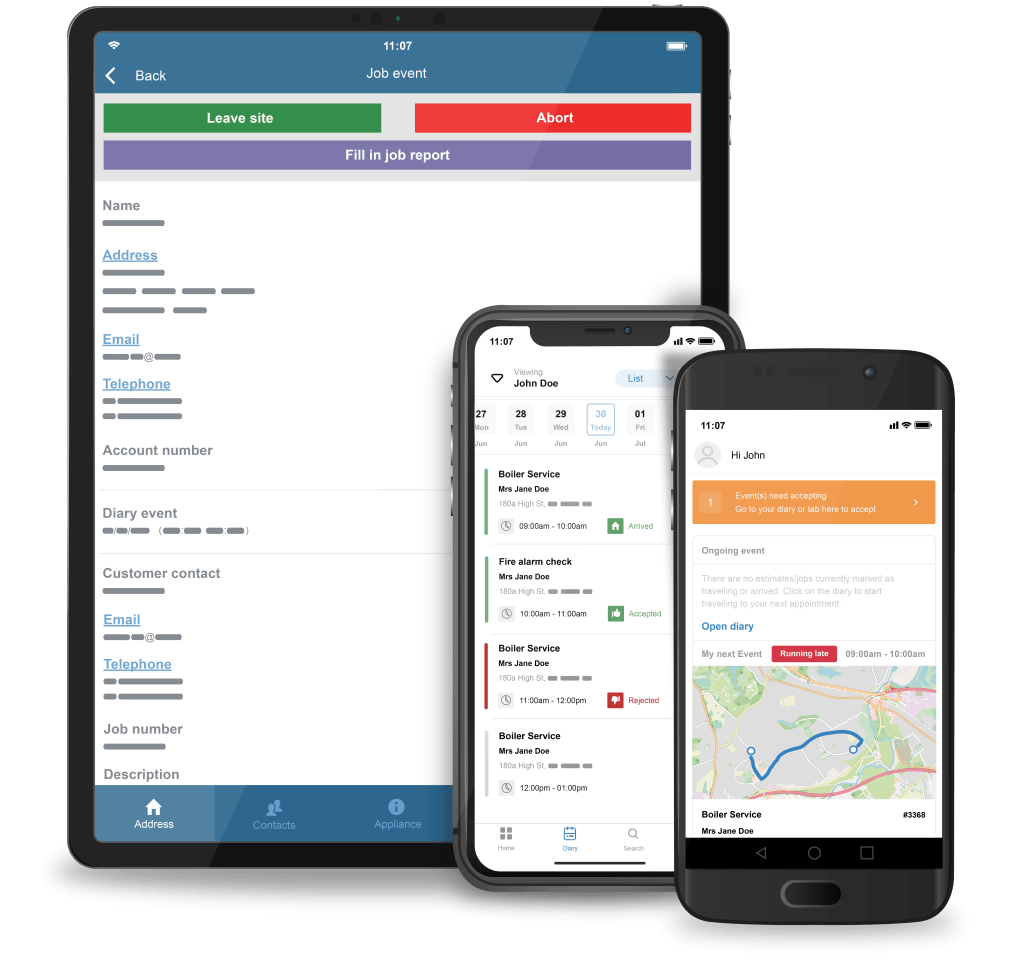 Ideally, this will come in the form of a standalone app for your smartphone. This app should sync with the CRM back at the office so that no matter where you are, customer data is always available.
---
Commusoft's Jobs CRM Can Help Your Business!
Those are just some of the things to look out for in a customer relationship management system.
If you want to improve admin, impress customers, and boost profits, Commusoft Jobs Software can help!
We've designed our software from the ground up specifically for service, maintenance, and installation business, like yours. If you're interested, click below take a tour of our website and reach out to our team.