6 Functions of a Customer Relationship Management System for Field Service Businesses
February 13, 2020 - 5 minutes
6 Functions of a Customer Relationship Management System for Field Service Businesses
Transcript:
We're taking a look at customer relationship management systems, also known as CRMs. And specifically 6 functions and features that every field service business should be looking for in their customer relationship management system.
First, quickly, what is a customer relationship management system?
A customer relationship management system is a software solution that allows you to track customer data and serves as the starting point for your business's relationship with its customers.
Why use a CRM? What are the benefits?
There's many benefits of tracking customer data. I'll give you my top 3:
Your business can offer a better customer experience and journey, with the right information to hand you'll always be prepared and organised to best serve your customer's needs – and they'll thank you for that
You'll make more money – Offering better customer experience should result in more business from customers, but not just that – a good CRM will help you identify both opportunities for revenue growth as well as potential holes in your business.
Your employees will be more organised and less stressed – So if your employees are currently pulling their hair out trying to manage customer data, a CRM will ensure all your customer data is in one place, properly ordered, and accessible.
There's lots of customer relationship management systems out there, but not all of it is great for field service businesses. This is simply because most were not designed with these sorts of businesses in mind – however, there are some great options available. Want to know what questions to ask when looking for a CRM? Check out our article here.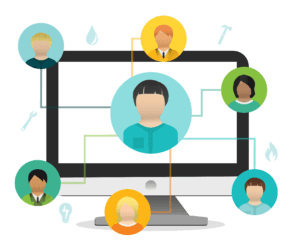 Functions of a Customer Relationship Management System
You should be keeping your eye out for a customer relationship management system with some of the following functions, which we think are essential for field service companies…
Function 1. Handles tenants, landlords, and estate managers
Every CRM will record contact details like names and addresses, phone numbers and more. However, in field service you'll work with private customers and companies, tenants and landlords, property managers etc. So your CRM will need to handle those complex relationships – can you quickly see who a tenant's landlord is? Or see a list of all properties managed by a specific company?
Function 2. Work history and upcoming appointments
The most important thing about your relationship with a customer is the work that you do for them. That means a CRM won't be that much use to you unless your team can see previous and planned jobs for a customer. When a client phones in about a job, you'll have everything you need in the CRM.
Function 3. A log of communications between you and the customer
This means everyone can see exactly what emails or text messages have been sent, giving your team total transparency. The best solutions will even allow you to send those communications straight from the customer record too.
Function 4. Technical information and assets
If a CRM has been designed for field service businesses, it should be able to record technical property information such as the location of fuse boxes, water mains, fire alarms and more – so your team has all that info available to them when they're at the property. The same goes for assets – if you install or service assets for a customer, you should expect to have those linked to their record in the CRM.
Function 5. Attached files
This is a simple one – but attached files, photos, and videos are really important for field service businesses. Whether it's a photo of part of a property, a customer contract, or a manual for one of their assets – you'll want to have all of this within the CRM.
Function 6. Accessible on the go
 Our last function – and it's a big one! CRMs for field service businesses need to be accessible when you're on the road. So if you're at a customer's property or travelling, you can still access all those other details that I've just mentioned. Ideally, this will come in the form of a standalone app for your smartphone, which stays in sync with the CRM back at the office. So no matter where you are you have the required customer data available.
Those are just some of the things to look out for in a customer relationship management system. If you want to improve admin, impress customers, and make more money, why not check out Commusoft's own software solution.
Our customer database can handle all of the above and much more – and has been designed from the ground up for field service businesses like yourself. If you're interested, take a tour of our website as we have loads more information available; you can also download our checklist, below: