How HVAC Companies Can Use Software to Keep Track of Customers
February 12, 2020 - 8 minutes
Managing customer data can be a significant challenge for any service business – and this is no less true for HVAC companies. Whether you primarily service home AC units for residential customers or install complex ventilation systems for commercial customers, keeping track of those clients and their data is essential to running a successful (and profitable!) business. Keep reading to learn how you can use software to keep track of customers.
The challenges of managing customers
If tracking customers is an area of your business that you currently struggle with, you may be familiar with the telltale signs of inefficient customer management. These include (but are certainly not limited to):
Frustrated staff

who waste time trying to locate customer data

Annoyed customers

that find you unprepared to assist them

Bad reviews

because your poor customer service is damaging your reputation

Low profits

because you can't operate your business efficiently
If even one of those points describes your HVAC company, it's not surprising that you are investigating how you can use software to keep track of customers. After all, effective customer management can lead to streamlined admin and organisation, happier customers, and an overall more profitable business.
So, how exactly should HVAC businesses best keep track of customers?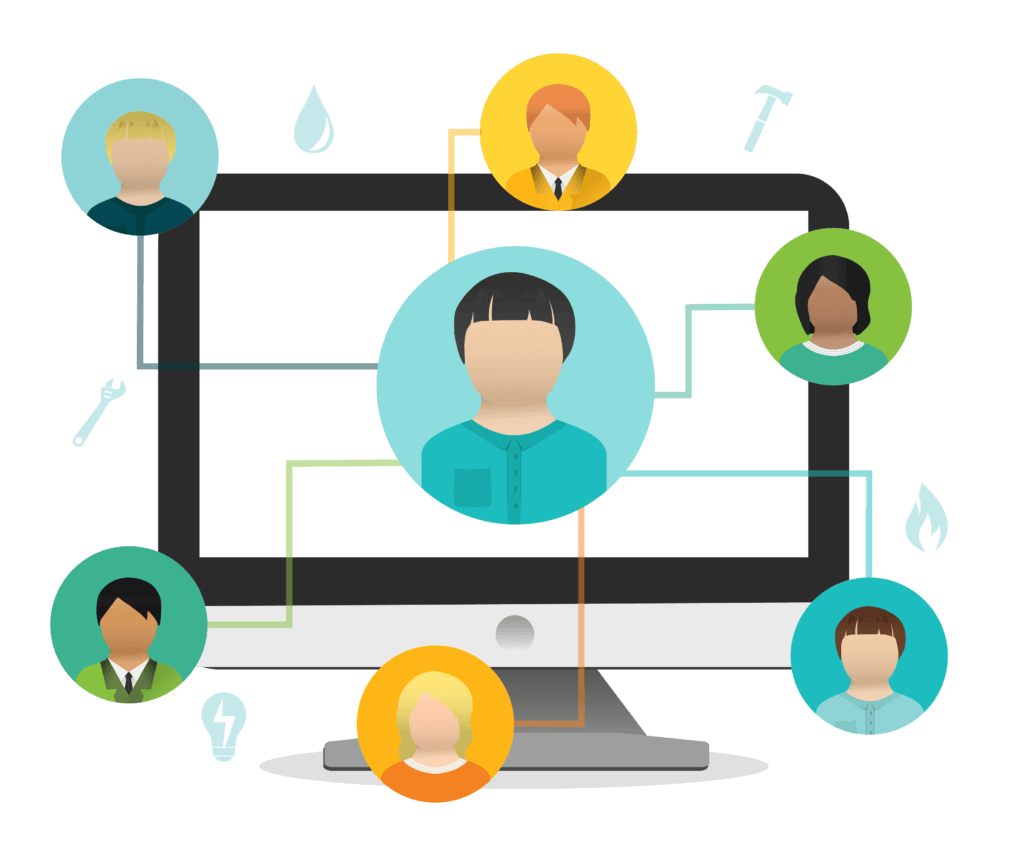 Software to keep track of customers is the solution
The answer, unsurprisingly, is software that offers a comprehensive customer database. Software solutions (particularly those that utilise cloud technology) offer many advantages over their paper-based ancestors, such as:
Customer information that is accessible from anywhere

Safe online storage (and backup) of data – so no more spilt coffee destroying your records

A searchable database to help you quickly find what you need

Less physical storage required – you can forget all those filing cabinets!
If software to keep track of customers is the answer, specifically what sort of software should you be looking for?
What sort of software do HVAC companies need?
You will all be familiar with basic software for managing contacts, take for example the contact records you store in your smartphone or through your email client. These can all store names, addresses, contact details, and additional notes on a person – great for friends and family, but not so much for a professional service business looking to impress. What you need is software that has been designed with HVAC companies like yourself in mind and customer database features which reflect that.
So then, exactly what functionality should you look for when considering software to keep track of customers? We've put together a list of features that we think will be essential for HVAC companies hoping to better manage their client information.
Work history and upcoming appointments
Every customer database will track your contacts' basic details, but if you want to truly understand what's going on with your customers, you'll need a record of their work history and any upcoming jobs as well. This gives your office team insight into your company's past dealings with each client, allowing them to offer a more personalised customer experience.
Imagine a client calls you regarding a faulty air conditioner that you installed, through the customer database you can quickly check exactly when it was installed or last serviced. You may be able to see more details too like precisely which of your engineers installed it, so you might reply with something like: "Is this the air conditioner that my colleague John installed last year? I can see that the service is due in 3 months, but we will send someone straight away to check it out…" With a response like that, you're showing your customer that you're both organised and prepared to help them with their query.
Handling of tenant addresses, landlords, and estate agents
Do you work with tenants, landlords, or estate agents? If so, you will want to consider software that can organise and group properties in more ways than just individual records. For example, does the software allow you to view the customer 'XYZ Property Management' in your database and also see every property that they manage? If the answer is yes, the next thing to check is the level of detail you can record against those sub-properties (such as tenants). You should expect to be able to log just as much information against a tenant property as you can against a private customer. This means when dealing with XYZ Property, you'll be able to quickly search a list of their tenant properties, each filled with relevant information.
Record multiple contacts at the same property
No doubt your HVAC business deals with multiple contacts at the same property. If your customer database requires you to save a completely separate record for both Mr. Brown and Mrs. Brown (despite living at the same address), you might want to rethink your choice. Having multiple records for the same property will only lead to confusion. The best software to keep track of customers should allow you to record any number of contacts against a single property record. This means you can maintain a singular record for the property, but can still see the name and details of everyone you may need to contact at that location.
Track every communication sent
If you're having difficulty keeping track of customer data, one of the areas that is notoriously challenging is communications. Knowing what was said to who (and when!) is critical for offering the level of customer service that your clients expect. If software tracks each email, text message, or letter you send to the customer, as well as allowing for phone call notes to be saved, you'll be able to track customer communications effectively.
This means your team can easily check when a customer last phoned in, can confidently reference past conversations, and will know if emails (like appointment reminders and confirmations) have been sent. With a more comprehensive software, you may also be able to send emails and text messages directly from the customer record and have those automatically logged – meaning less admin time for your office staff.
Save technical references and detailed asset data
With a customer tracking software that is designed for service businesses, you may be able to record technical data regarding the customer's property, such as the location of fuse boxes, control panels, or thermostats. This gives your staff access to useful industry-specific information when they're on site, so they don't waste the customer's time asking where to find them during each visit. Simply log these technical references during the first appointment at a new property and they will be available to your engineers during any future visits too.
It's equally important to be able to track any appliances or assets installed at the property, such as air conditioners, ventilation units, and fans. With this information available, both your office and field teams can see every customer asset, including make and model, installation date, last service date, whether your business installed it, and much more.
Ideally, your software should make these technical references and asset records fully customisable, so you can choose to save exactly the type of data that your business needs, no matter how specific.
Attach files, photos, and videos
Attaching files like PDFs, photos, videos, and more to a customer record is straightforward, but allows you to enrich your database with additional types of content. This is useful for various reasons, such as attaching a copy of a contract, uploading installation guides for the customer's appliances, or on-site photos and videos of the property. They say a picture is worth a thousand words, so it's a no-brainer how attached files can strengthen your customer database.
Customer data on the go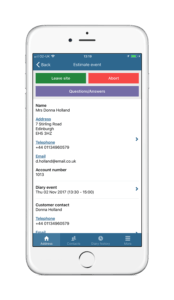 Last, but not least, is the ability to access customer data whilst on the move – we're talking about mobile apps that keep track of customers. In fact, for many HVAC businesses, this may be one of the most important items on our list. It's not just your office staff that need to be able to access customer details, but your engineer's out in the field too. Therefore it's vital that your software doesn't just offer a desktop or web-based experience, but also has a dedicated mobile app where engineers can search for customers and see more-or-less just as much information as is available from the computer. This is crucial if you don't want your team turning up to a property ill-equipped and possibly misinformed about the customer whose needs they are trying to serve.
The takeaway
These are just several things to look for when researching software to keep track of customers. If you want to improve admin, impress customers, and ultimately make more money then this list is a great starting point to ensure that you pick the best solution designed for HVAC companies. With all that in mind, why not check out Commusoft's customer database software, which can handle all of the above and much more.