5 Tips to Maximise Sales and Increase Profit
June 14, 2023 | Read: 14 minutes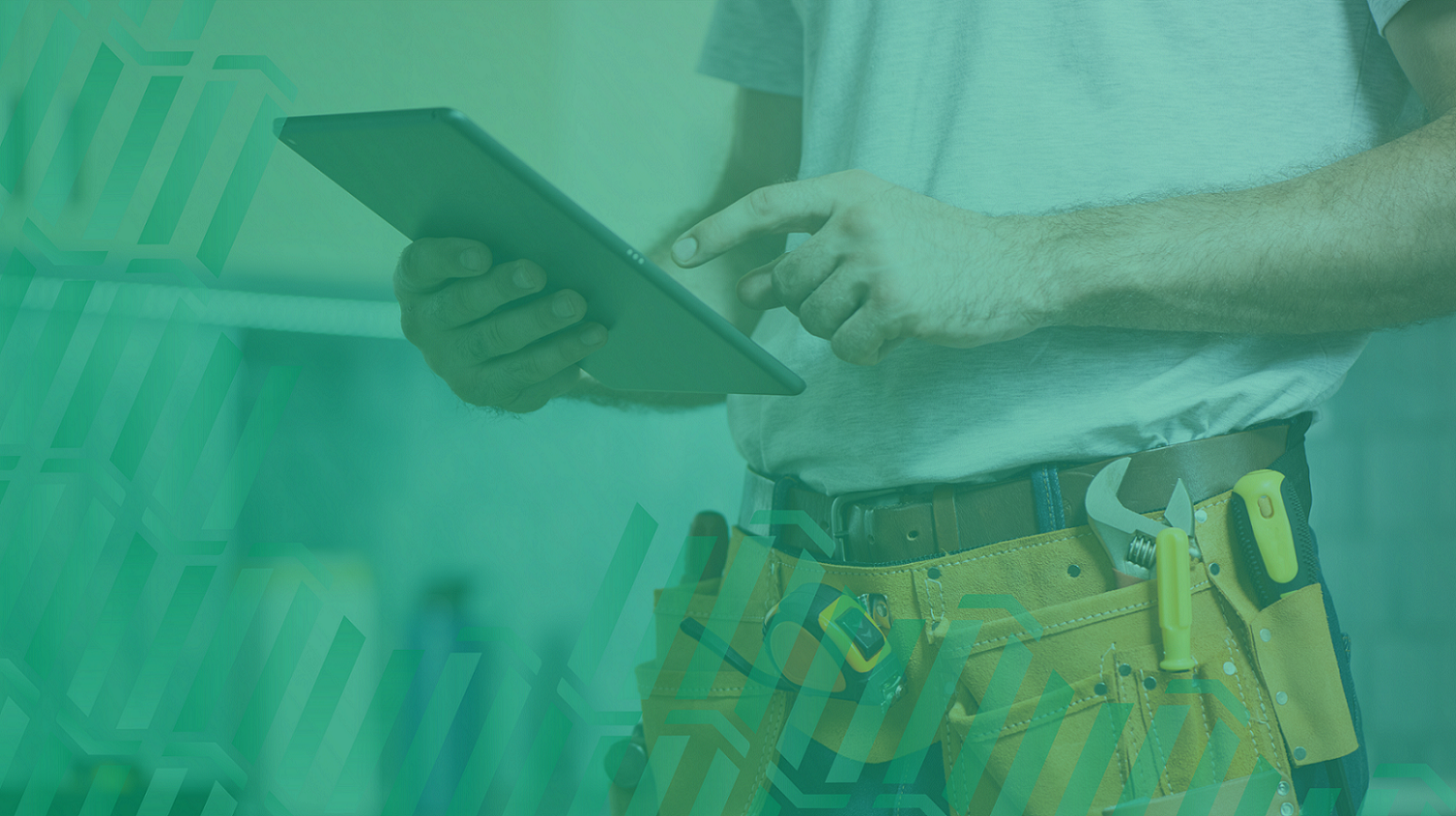 ---
If you want to maximise sales and are looking for ideas to help improve sales performance, these five tips will have a huge impact:
Promote your brand.
Create satisfying customer journeys.
Use customer data to discover new opportunities.
Display reviews that attract customers.
Incentivise customers to keep them coming back.
---
We want to help you make the most of every single sales opportunity that comes your way.
To do that, we're covering how you can boost your brand recognition, sharing strategies to improve customer communication, and we'll demonstrate how to use reviews so that you can maximise sales & increase profit.
We're also exploring the essential info you need to know about Commsoft's brand-new Sales CRM. Sales is designed to help trades businesses like yours transform how they sell!
---
---
1. Improve your brand recognition to maximise sales
Maximising sales can mean different things for different businesses.
Perhaps you want to get more customers to use your services. Or maybe you want to manage your leads more effectively.
If it's the former, then for you to maximise sales, you'll need more people to find your business.
These days, that will mean having a strong local presence but also using marketing to promote your brand online.
To achieve that goal, you'll need to use:
Be sure to emphasise your logo, share your snappy slogan, and spread the word about all the great things customers say about your services.
So long as what's shared resonates, you'll intrigue new leads and start to win them over to your brand.
Of course, brand promotion isn't something that every business has the resources to spend lots of money on.
The good news, though, is that you don't have to spend excessive amounts of money to use social media, improve your website, or use customer reviews!
These tools are cheap (or even entirely free) and will mostly require time, more than money, to set up and maintain. And it's well worth it: they're all undoubtedly effective at helping you to publicise your brand.
83% of buyers are influenced by word-of-mouth recommendations.

HubSpot
These days, word-of-mouth counts digitally as much as it does physically.
So, to further boost the recognition of your brand, it's important to have a clear identity online. After all, companies with little to no activity online—or who have boring, featureless websites—will put prospects off using their services.
Regularly updating social media, adding an image gallery, or including a blog to your website can be incredibly helpful. These methods will show customers what your business is all about and generate more recognition for your brand.
When it comes to the content you could share, be sure also to use images of your team. Share pictures and videos of the work you've completed, too. These will give new prospects a clear picture of who you are and your capabilities, which is important to building trust.
It's these simple things that will often be most effective at helping you to build brand recognition and help you maximise sales.
Next, let's explore how improving your customer service can help out.
2. Create satisfying customer service experiences to maximise sales
When dealing with customers, service experiences should be frictionless.
That's especially the case for someone who's making an inquiry or requesting a job. With this in mind, booking a job and otherwise interacting with your company should be easy, above all else.
Remember: customers love convenience.
If you want to improve sales performance, then you must make your sales process as convenient as possible.
For an example of a great service experience, consider Amazon. They provide One-click purchasing and Next-day delivery as attractive perks for using their services. It's so easy and it's no wonder that customers now want and expect a similar level of convenience from other types of services.
While the way you deliver your services is very different from buying from Amazon, you can still adopt a similar approach to help improve your customer journeys.
That's especially true if they also trust your brand thanks to exceptional customer service experiences.
73% of customers say they stay loyal to brands because of friendly customer service reps.

HubSpot
How to satisfy customers with self-service:
Giving customers the ability to control their journeys with self-service tools is another great way to win them over.
After all, when they're the ones in control and interactions are easy, they'll often be happier.
But how exactly do you create a great customer journey?
Well, you'll benefit most from using a job management software solution, like Commusoft. With our software to back you, you'll have powerful tools that help staff and customers alike.
Self-service solutions streamline all sorts of different tasks. From how jobs are booked and quotes are received, to how invoices are paid, and more! Everyone will be able to work more efficiently and get the results they want, fast.
By offering your customers convenience like this, you'll meet their expectations and easily maximise every sales opportunity.
---
Give customer service a boost! Watch Success in the Field to learn how:
---
3. Organise your data so it provides valuable insights
An informed decision is a smarter decision.
And when it comes to improving sales performance, the more information you have about a prospect the easier it is to win them over.
That's especially true when it comes to customer retention.
With accurate and useful customer data at their fingertips, staff can more easily deliver great customer experiences, time and time again.
Besides, maximising sales is about more than just attracting new customers. You want to be sure you're working with the right audience, so you don't want to forget about customer retention, either.
The probability of selling to an existing customer is between 60% and 70%.

Meanwhile, the probability of selling to a new customer is only 5% to 20%.

SEMrush
Like the sound of those odds?
A readily accessible database of information will greatly help your staff, especially when it comes to improving customer retention.
When staff have access to a shared database of information, they can deliver a better service experience. That's because no matter who's speaking to a customer, they're always ready to help with accurate info.
Organised data can help staff identify fresh job opportunities: like when they should reach out about servicing an asset you've installed for them and even what time of day is best to call!
By using your database, you can also easily filter customer data and check for opportunities. With smart software tools, you could even arrange an email campaign that lets you contact groups of customers en masse.
Ultimately, using customer data well will help your staff to make informed decisions that help boost sales and improve your service experiences.
4. Make use of customer reviews to generate a buzz
As far as attracting new customers goes, it's worth talking more about how best to use customer reviews.
In order to maximise sales, you'll want to generate and use reviews. They're essential for winning people over. After all, who do customers trust most?
It's simple: other customers.
These days, reports indicate that:
72% of customers won't take any buying actions until they've read reviews

G2
And using reviews to earn a customer's trust plays a huge role in convincing them to buy from you.
On top of that, more people are doing their research before buying a product or service and keeping a keen eye out for both positive and negative reviews. Websites like Trustpilot have made it easy for people to identify trustworthy brands and, with reports like the one below, it's easy to see why:
90% of online shoppers have chosen not to purchase from a company because of its bad reputation.

TrustPilot
Stars or number-based ratings are amazing visual cues that help sway opinions. We see them on everything: from food deliveries and restaurant reviews to ads for local plumbers, electricians, tree surgeons, and more!
Anonymous reviews are good but detailed customer reviews are even better.
The likelihood [of a purchase] increases by 15% when buyers read verified reviews over anonymous reviews!

G2
If these reviews include pictures or videos of the work done, even better! The more attention you can bring—which is also helped if you respond (even to negative reviews)—the more success you'll find, too.
At the end of the day, we're visual creatures and the easier it is for us to see the quality of what's on offer, the easier it is to make a decision.
Using reviews is another great way to maximise sales and win customers over.
5. Focus on improving customer loyalty and increasing retention
Our final tip to help you maximise sales is this: prioritise customer loyalty.
If you're ticking all the boxes with the first 4 steps above, this fifth step should come naturally.
Reports suggest that:
Delivering personalised experiences drives customer loyalty, with 70% of consumers saying a company's understanding of their individual needs influences their loyalty, and 69% saying the same of personalised customer care.

Salesforce
By building a brand that is trustworthy, pleasant to interact with, and adds a personal touch to user journeys, you're likely to find success.
You can drive loyalty by offering perks, such as discounts, or even by sending gifts to customers (and for ideas on how to reward loyal customers you can look here).
But good old-fashioned quality communication and doing a great job work wonders, too.
Ultimately, it's the more human element of your service business—even if it is supported by digital software—that will be the driving force behind your success with sales.
Draw customers in, reward them, and you might just create lifelong customers who'll never leave your side.
---
Stop Quoting, Start Selling with Commusoft

The tips above are a fantastic way to improve your success with Sales.
By taking the time to put them into action, you'll reap the rewards and generate more success with sales.
Of course, that's not all you can do to elevate your business…
If making improvements to how you manage your sales pipeline sounds ideal and you're eager to transform the way you sell, then you'll want to explore Commusoft Sales!
Not only do we create award-winning Job Management Software, but with our new Sales platform, you can totally reshape the way you engage with customers and win over new and old leads alike.
Our powerful Sales platform is designed to work alongside the job management software you already know and help your business make the most out of every customer opportunity.
With development taking place over a number of years and designed specifically with trade businesses in mind, we've developed all the guidance you need to learn more about how to Stop Quoting & Start Selling!
Curious about Sales? Start exploring the best way for you to boost sales and increase revenue, below:
---
---
Maximise Sales with Software
At Commusoft, we're rethinking how installation, maintenance, and service businesses approach selling.
And it all starts with:
Building Beautiful Proposals
As we mentioned earlier, promoting your brand plays a big part in increasing your success with sales. There's no reason why this can't extend to the proposals you send to customers, too.
With our tool, you can create captivating sales proposals that leave a lasting impression.
Our comprehensive and deeply customisable proposal builder enables you to create bespoke, beautiful proposals that get your customer's attention.
---
Watch the tool in action:
---
Take control of your sales pipeline and track opportunities
As we've said, maximising sales isn't always about getting more sales.
Whilst developing our Sales CRM, many installers told us that they don't have a problem getting job requests. Instead, it's managing the volume of inquiries that's the issue.
What if I get too many inquiries and I can't manage them all?
With that in mind, we're giving them a solution and providing the best way to take control of your sales pipeline.
With Sales, your team can manage every opportunity that comes their way: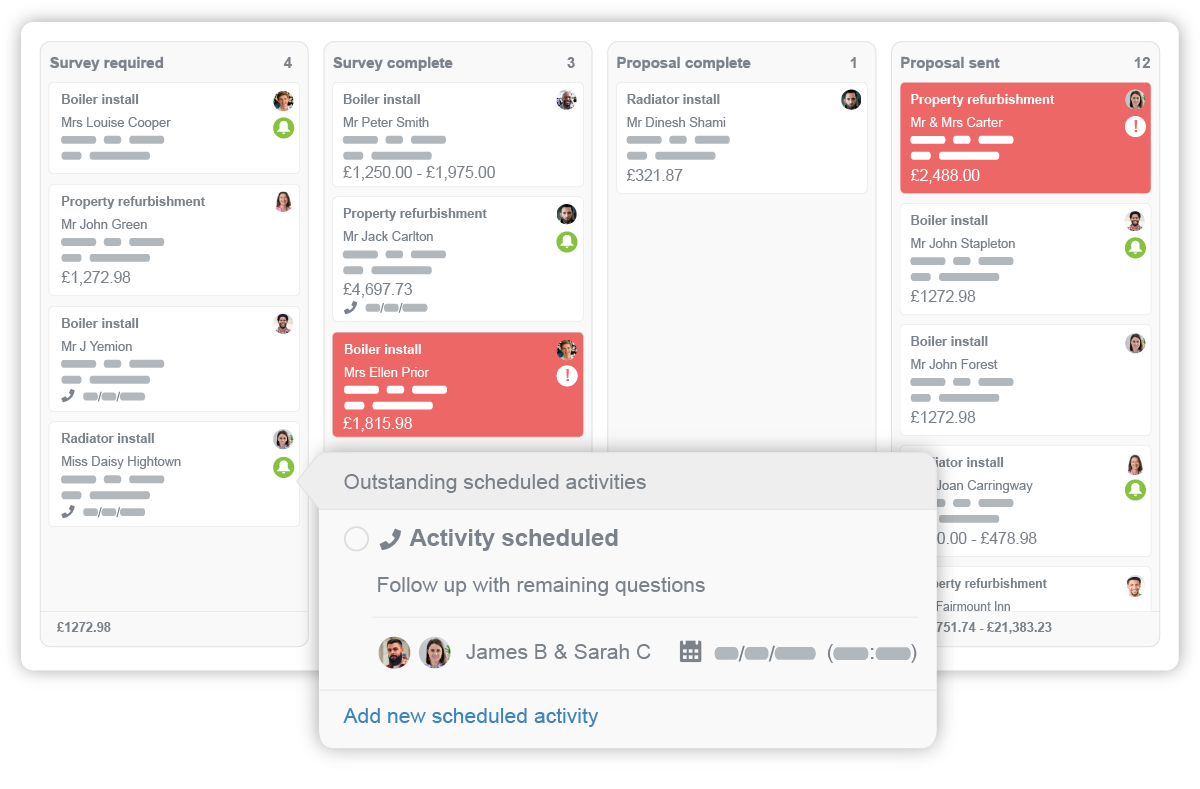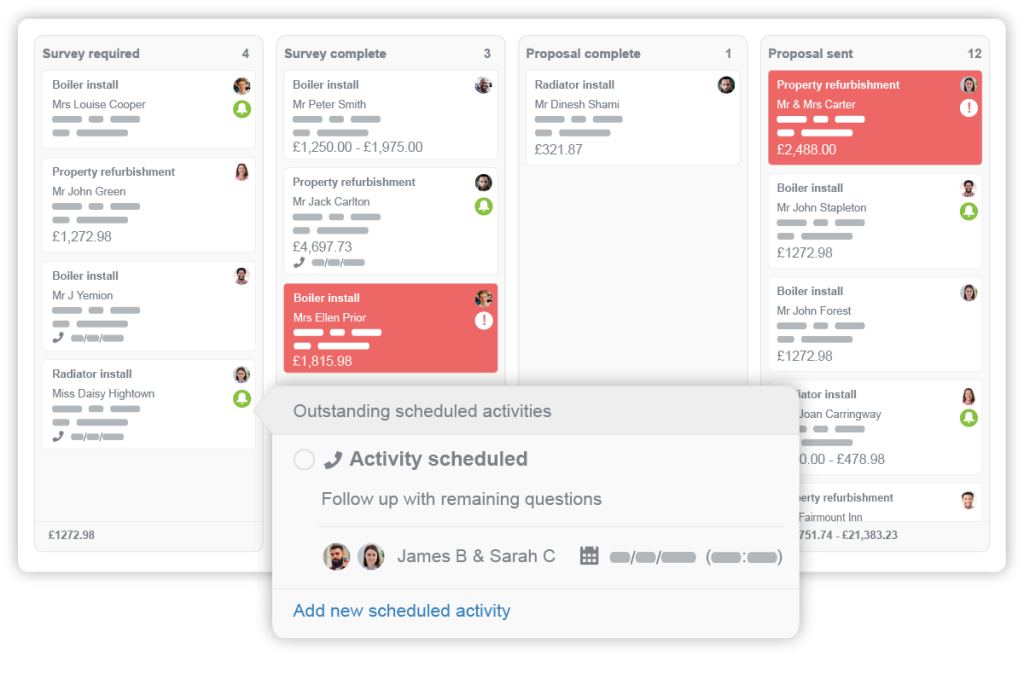 Easily track and monitor a prospect's progress throughout their entire sales journey and use a system that's designed to optimise engagement.
Teams can follow up with leads quickly and streamline every action: from their first inquiry, right through to the final sale.
Manage your budget and monitor finances
Winning over a customer is only the beginning of the sales journey. When it comes to pricing, there's a balancing act between maximising profits and ensuring customers are getting a great and fair deal, too.
After all, profitability plays a huge role in selling well. This means it's important to know what your revenue opportunities look like at every step of the sales journey.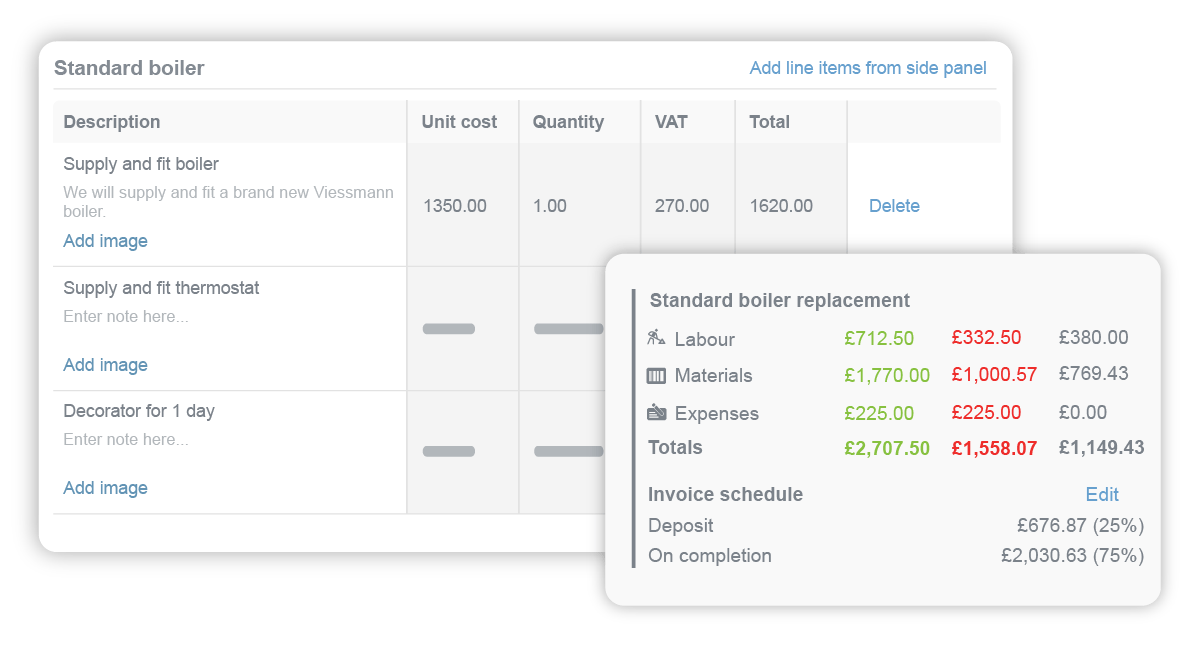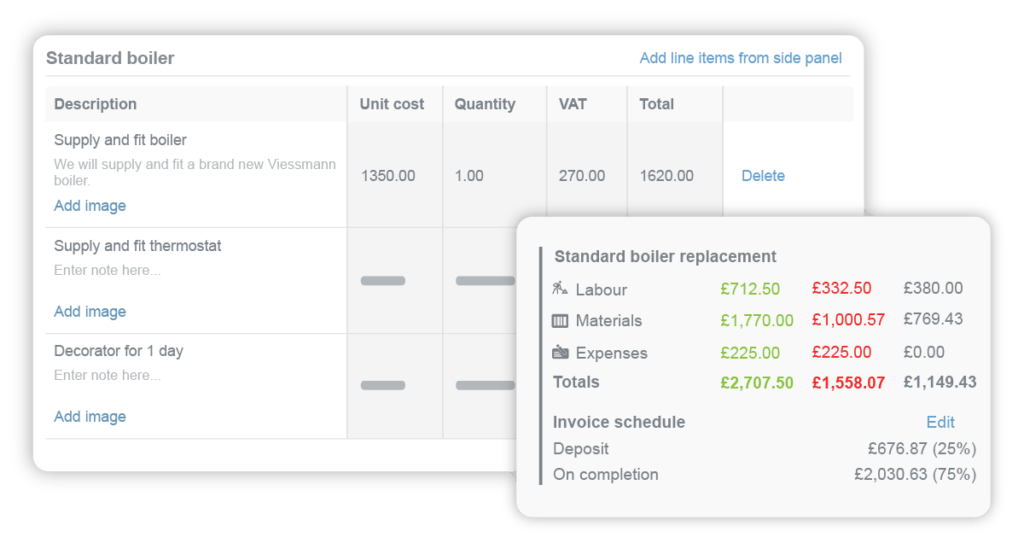 With Commusoft Sales and Jobs tools working together, you have access to all your data: from parts management to prices and labour rates, all within your proposal builder.
As shown above, you can see in real-time how much you're making on each proposal. If you're tempted to throw in a freebie or a discount to win some customer loyalty, this feature will show you if you can do that without risking making a loss.
After all, you want to earn money for your work, not spend money to work.
By using our Sales CRM, you can track every proposal and see detailed data to help you better understand the financial impact of a job, including the impact of discounts and seeing how much profit you'll make.
Commusoft Sales will give your business unique ways to push revenue even further, making it easy to cross-sell your services, upsell higher-value parts and installations, and even offer finance.
All of this can help to win more customers over to your services.
Track Sales performance with reporting tools
Do you want to keep track of your company's overall sales performance? Are you trying to motivate your sales team to do better? We've got you covered there, too!
Evaluate your performance through accurate sales reporting and gain valuable insights so you can monitor KPIs and build reports.
Use data to learn and adapt your strategies so you can find even more success:
Discover how many opportunities you're winning (and see those you're missing).
Identify who's responsible for selling the most.
See clearly how much you're earning.
And so much more…
Alongside everything else, Sales is designed to make reporting easy.
---
To learn all about how our system works and can help you effortlessly track sales, be sure to book a call with our team today.
Alternatively, you can explore Sales for yourself or dive into our Ultimate Sales Strategy Guide: it's full of everything you need to know to get started with creating your very own sales strategy.
Commusoft Sales is here to empower your business with a seamless sales tool that's dedicated to helping you manage sales and win work.